Around the World in a Weekend | By Sherrell McMillan, Kelly Twedell and Nathan Walls

08/01/2010 03:53PM ● Published by Anonymous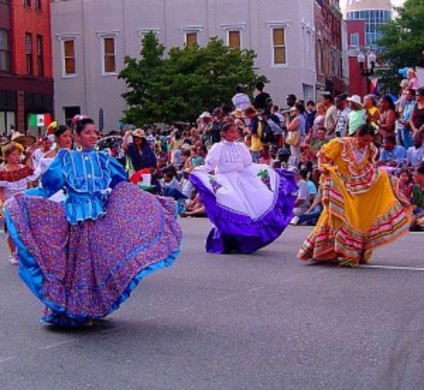 You don't have to travel the world or even leave the city  to experience the cultures of the globe. Fayetteville has a cast of characters who cannot wait to share their eclectic culture and cuisine.  On the last weekend in September, the Arts Council of Fayetteville  Cumberland County will turn downtown into an international  showcase. It begins with Fourth Friday, continues with the Parade of Nations on Saturday, followed by food, music and more in Festival Park through Sunday.
Arts Alive at 4th Friday
Three days, one big world.  You won't want to miss a minute of the International Folk Festival, starting with Fourth Friday. Fourth Friday is a Fayetteville tradition, a time when downtown shops, galleries and restaurants fling wide the doors. But there's more: special entertainment and events, including  "Cultural Expressions," an  exhibit opening that night at the Arts Council.  The Arts Council has made Fourth Friday even better with the addition of Arts Alive at 4th Friday. Watch artists practice their craft on Maxwell Street  you just might catch a  local potter spinning his wheel or a painter putting brush to canvas.  Past artists have included Greg Hathaway, Cape Fear Basketmakers, guitarist Alex Fisher, Dance Theater of Fayetteville, Lionheart Glassworks, jewelry  artist Aurora Crowell, photographer Valerie Quick, painter Brian Steverson, the Feral Art Collective and the many artisans at Cape Fear Studios.
Parade of Nations
Gloria Canonizado (left) grew up in the Philippines and has been a part of every International Folk Festival, all 32 of them.  She jokes that she danced on Hay Street in the days when that had an entirely different meaning. This year, she organizes the International Stage, dedicated to local groups with international ties. She also dances with the Philippine-American Club of Fayetteville, which is sure to be out in full force for the Parade of Nations.  The parade dates back to the very first festival in 1978 when two Fayetteville friends, one a  Frenchwoman, the other British, had the idea to celebrate Fayetteville's diverse culture. Now, more than 30 years later, dozens of countries participate in a festival that has expanded to a three-day celebration. But the  parade is still a festival favorite.  "The parade is my favorite part of the weekend," says David Wattley who will represent his native Trinidad and Tobago. "I like to see the other countries, cultures and costumes." Mary and Roger Govan represent southern India. "It's fun seeing a lot of people at the Folk Festival," Mary says, "and how they are interested in learning about other cultures."
The World on Stage
Five performance areas. Dozens of great acts.  The International, Small World and Rainbow stages, plus a Native American showcase in Linear Park and the Blue Marble children's area bring the best musicians, performers and storytellers together on one weekend. Check out the map on Page 52 to find your way but in the meantime, here's a sampling of what to listen for:  Often times, in the moments just before heading onto the stage, Mitch Capel has a decision to make.  The Southern Pines native, better known by his stage name, Gran'Daddy Junebug, doesn't plan what story he's going to tell.  "When I do public performances, I don't know what I'm going to do until I meet the audience," he said. "I mingle with them and then I get an idea of what they need to hear, pull out stories and then I try to just, off of demographics, give them something that will flow."
With more than 35 hours of material, Capel won't have a problem entertaining people of all ages at the festival. He credits his grandmother with nurturing his storytelling roots.  Now, 25 years later, Capel travels the country performing Dunbar's works, plus stories from Henry Franklin Bryant, James David Carrothers and original  works written by Capel himself.  At the festival, families can expect to hear messages of respect, faith, family and fun while listening to Capel and Gran'Daddy Junebug.  For more information on Gran'Daddy Junebug, visit www.gjbug.com.  "When you go to one of our shows, we hope that you get a creative experience," Gail said. "We hope that you will carry with you a life message that you can use in your day-to-day life. When we tell  stories and sing songs, we try to use some that have a message for people. If you weren't feeling good before the  show, we hope that after the show you will really be feeling good."  For more information on Healing Force, visit  www.thehealingforceonline.com
Sun to Son In 1994, Joe Liles, along with several other Native Americans in Pembroke, started the group Southern Sons. The group is now 16 years old. The group's name, however, isn't.  "We almost instantly had women singers too and they were so good," Liles said. So, they changed the name that first year to Southern Sun.  A key figure from the beginning was Derek Lowery, a founding member and the person who kept the group grounded in  traditional Native American beliefs.  "He was kind of our conscience," Liles said. "He was the one that kind of kept everyone in line and reminded us that this is how we're supposed to act. We were so traditional at first that we didn't even get into competitions at pow-wows, which is kind of where pow-wow's have gotten to. We'd  participate but we just wouldn't compete."  Musically, however, Southern Sun's sound has evolved over the years. The newest style they've adopted is based on Southern Plains music with roots in Oklahoma, Nebraska and Kansas. Known for its lower voice and relaxing quality, Liles hopes people walk away from a show feeling  comforted and relaxed.  "One of the things that distinguish us from other groups is our strong women singers," he said. "Essentially the male voices are dominant at the beginning of the song, but the female singers come in strong as the song gets going. That kind of balance between male and female, high and low, is what I think  makes Southern Sun's music appealing."  For more information, visit www.myspace.com/southernsunsingers
 In a small YMCA in Harlem, more than 30 years ago, Joseph and Gail Anderson performed their first concert together.  The married couple and musical duo have been known as the Healing Force ever since and   havegarnered a national following.  "A friend of ours suggested that the Healing Force would be a good name for us," Gail Anderson said. "They said our music had a healing quality to it. We used it and it stuck."  The  Andersons moved from New York to Winston-Salem in 1976 where they continued to sing and play drums,  adding four children along the way, all of whom have been members of the group at some point. Today, Healing  Force includes the Andersons and their grown son and daughter, Sonji Gardner and Karim Anderson, making the performance a family affair. Since going full time in 1990, the group mainly performs at schools, reinforcing positive behaviors for children.
living