Oppulent Spaces | By Kelly Twedell

11/01/2010 10:10AM ● Published by Anonymous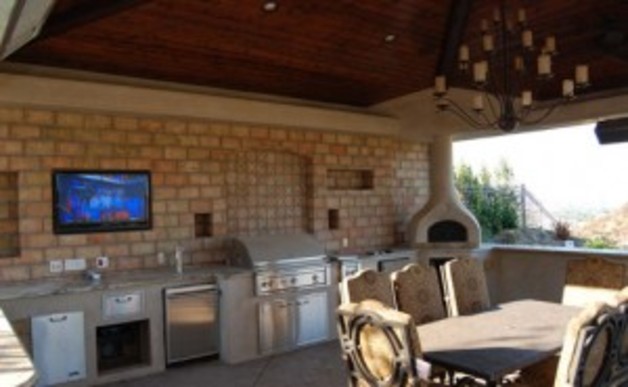 The living room isn't the only inside space being duplicated in the great outdoors. Outdoor kitchens are another emerging trend. A simple store-bought grill seems unimaginative compared to built-in grills encased in  stonework and surrounded by granite countertops.  Water features are an elegant way to jazz up your outdoor space. Don't think basic fountains. Picture reading a book and listening to the serene sounds of water flowing over rocks in the corner of your patio. The possibilities are endless.  "People want to literally live outside, bringing the way they relax outdoors whether it's with an outdoor kitchen or outdoor television in their outdoor rooms," said local designer Tom Watkins of Kornerstone Designs, Inc.
After finishing a backyard project in Anderson Creek, Watkins and his spouse were invited back to the celebratory party showcasing their new backyard to their friends and neighbors. Watkins watched in delight as the crowd enjoyed the fruits of his labor and were seated around the decorative concrete benches he built around the patio fire pit.  "I take pride in being environmentally friendly," said Watkins. "All the concrete forms I use are made from recyclable plastic and I can reuse them." Kornerstone Designs, Inc. has flourished over the past year as outdoor living has gained popularity. Watkins uses a 3-D computer software program called Viz-Terra that allows him to design each backyard hardscape to scale after he enters in precise measurements, right down to where trees and shrubs are currently placed. He comes up with innovative ideas to transform plain backyards or patios into opulent outdoor spaces based on his clients' input. 
Fire It Up: Looking to make your backyard a warmer place to entertain literally? An outdoor fireplace will round out the cozy look of your outdoor living room. If an outdoor living room is not in your budget, fire pits are a less expensive trend. By circling some outdoor chairs around a fire pit, you can create an ambient and sociable space to relax on chilly evenings with family and friends.  Whether you opt to build one yourself or buy a ready-made fire pit, be sure to check local laws for having a fire pit in your backyard.  Depending on whether you are in or out of the city limits might also determine the type of fire pit you can have.  Watkins recommends placing your fire pit where it will be easily accessible from the house and will be seen if it is going to be a decorative feature. There are also many styles of ornamental and efficient portable fire pits that can be found at hardware stores. They range in styles from rustic to contemporary. Some are as decorative as sculptures.
Let There Be Light: Like indoor light fixtures, outdoor lighting has been elevated and the consumer is left with many choices  beyond the citronella torchiere stakes. Pre-wired iron chandeliers adorn the pre-fabricated pergola displays at local hardware stores. Whether it's heavy glass lanterns on your patio, the newest trend of pendant-style  lighting or lights strung throughout the trees near your patio, adding some ambient light adds even more  warmth to the chilly autumn evenings.  "Lighting is an inexpensive addition to deck stairs or it is often tucked under the ledge of retaining walls and concrete capped seating", said Watkins."If you are just starting your outdoor room project, the wiring can all be hidden as the area is built."  Given the economy, more families seem to be spending more time at home and adding an outdoor living room, kitchen or a simple fire pit to your backyard landscape will allow you to enjoy the outdoors even as the temperature drops.
living