DELIVERING HOPE

05/14/2011 01:27PM ● Published by Anonymous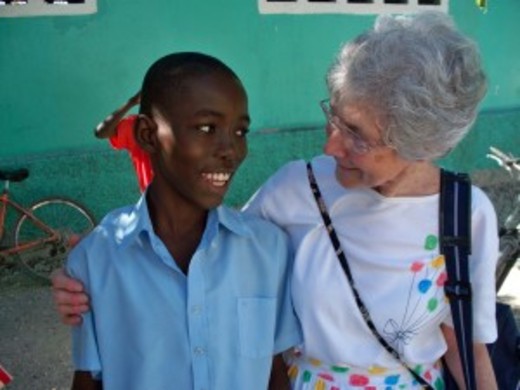 Three a.m. wake-up calls are not typically welcomed in the middle of the night, but on February 2 those wake-up calls came with a powerful message for 22 members of our community. The calls signaled the start of an eight day mission trip to Haiti, organized by First Presbyterian Church, to improve lives through evangelism, encouragement and hard work. The group was divided into two teams: A construction team and a medical team. Both sets of skills are direly needed to address Haiti's unwavering poverty and myriad of health issues. The diverse backgrounds and personalities that converged to make up the mission team was something to behold. Members ranged from 20 to 79 years old and were Fayetteville natives and transplants, sports fans, animal lovers, doctors with varied specialities, Presbyterians, Baptists & Methodists, veterans of different branches of the military and an aspiring Marine. A devoted team of church staff and volunteers worked tirelessly to plan, prepare and coordinate every detail of the trip and, when alarms started ringing at 3 a.m.or earlier, everyone knew the time had come to start the journey to the third world.
First Presbyterian Church, with pastor Dr. Jay Coker and physician Dr. Chris Aul, has taken mission groups to Haiti for over a decade and currently work with Haiti Outreach Ministries (HOM), throughout the Port-Au-Prince area. HOM's director, Pastor Leon Dorleans, and a team of drivers and interpreters gave the anxious team from NC a warm welcome at the airport and constantly guided the relief efforts during the trip. Just a few hours after landing in Port-Au-Prince the crew began looking for ways to help in the community of Repatriote. They assembled a plan to examine, treat and fill prescriptions for hundreds of patients each day. A handful of doctors, half a dozen nurses and a patient pharmacy staff used local interpreters to navigate the language barrier. Seemingly every patient described symptoms of dry eyes, headache and stomach pain; and serious conditions were treated nearly every day, ranging from a severely dehydrated and unresponsive infant with cholera to grandparents with grave heart conditions and minimal mobility.
Across town in Cite Soleil the construction crew was tasked with a list of improvements to be made. Carpentry, roofing and painting were the primary tasks at hand and it didn't take long before progress became evident. Headquartered in complexes comprised of a school, church and medical clinics, each team reported to duty around 8 a.m., ate lunches of peanut butter and jelly and tuna salad sandwiches on site, and worked vigorously until 5 p.m. each day. While making progress on the assigned tasks was at the forefront of the effort, developing relationships with the Haitians and showing how a concerted effort can lead to consistent improvements and personal development were a primary focus of the team. Haiti has received an outpouring of love, financial support and relief assistance in the aftermath of the devastating earthquake that struck in January 2010. The heartbreaking loss of 300,000 people and the widespread destruction that resulted from the earthquake has left a mark on Haiti that will remain forever, but the overcrowding, poor sanitation, food shortages and corruption have persisted for centuries and there is no end in sight.
Members of the mission team who have returned to Haiti year after year note modest improvements and wholeheartedly believe in the efforts that are made. It is easy to measure the success of the mission trip to Haiti in tangible statistics, such as the 5000 prescriptions filled or the dozen new roofs installed or the new library being finished, but it is in the faces of the Haitians that the value of their work is really seen. With few reasons for the people of Haiti to believe in themselves and in their country, groups like the one from First Presbyterian put a sparkle in the eyes of the Haitians, one person at a time. Through these same eyes it is clear those eight days were well spent because they gave each Hatian reason to hope for a better tomorrow.
For more information please contact First Presbyterian Church at 910.483.0121 or visit HaitiOutreachMinistries.org. By Mitch Guy
giving