Crafting a Friendship

12/01/2011 05:54PM ● Published by Anonymous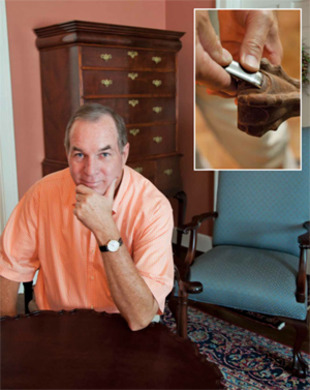 Jerry Dean literally barged into Rick Booth's life. There really is no other way to describe the beginning of their friendship.
Booth, a Hope Mills dentist, was in his woodworking workshop enjoying what is perhaps his favorite pastime. A wide open door allowed Dean, who was passing by, to catch enough of a glimpse inside to pique his interest.
It was an excusable intrusion. Dean is an avid furniture maker himself, and a quick glance at some of Booth's tools and machines got him thinking that he may have stumbled upon a kindred spirit from what little he saw.
"I saw some of the tools and machines, and I knew that you have to be a pretty serious woodworker to have some of those items," Dean said.
So he poked his head in and introduced himself to Booth.
It's hard to imagine more of a chance encounter. Dean, a bank executive who was returning to his hometown of Fayetteville to become Wachovia's market president for the area, was only in the neighborhood because he was house hunting nearby.
Turned out the house had already been sold, but it certainly wasn't a wasted trip.
In the eight years since that day, Booth and Dean have forged a friendship that, at its core, revolves around the art of furniture making. And, in reference to the woodwork Booth and Dean strive to produce, terming it "art" is appropriate. We're not talking about your everyday, utilitarian furniture. (IKEA has the world covered in that department.) We're not even talking about the carefully-designed and well-crafted furniture North Carolina has had a reputation for producing.
Hearken back to a time when furniture, and the craftsmanship that went into a finished piece, may have been as valuable as, say, a commissioned oil painting by a prominent artist. Furniture constructed not only with hammers and saws, but also more precise instruments such as chisels and files. Booth and Dean are members of a dedicated group of woodworkers whose furniture-making focuses on recreating period pieces. It's a hobby that's not just about the finished product — a carefully chiseled inlay on a grandfather clock or an expertly executed dovetail on a cabinet, for instance. For woodworkers like Booth and Dean, developing the skill and expertise to mimic the unique flourishes and remarkable detail early American or European artisans incorporated into their work is the real thrill. The process is their passion.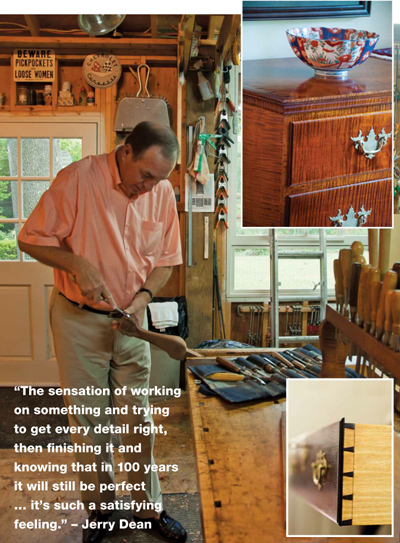 "It's my therapy," Booth said. "I'm glad my wife puts up with it."
Said Dean: "The sensation of working on something and trying to get every detail right, then finishing it and knowing that in 100 years it will still be perfect … it's such a satisfying feeling."
Both men grew up working with wood and tools. Dean began learning carpentry from his father, who kept his skills sharp in the maintenance of the numerous rental properties he had in the area. After picking up some of the basics, the younger Dean, just 11 or 12 years old at the time, tackled his first building project: a rabbit box.
"He taught me how to build rabbit boxes," Dean said of his father. "His rabbit boxes weren't very good. I believe my rabbit boxes were better than my father's. Mine never failed. He liked to hunt so that's something that we did together. I was not a gun person. But I could build a mean rabbit box."
Soon after, Dean began building things like birdhouses and doghouses. In his twenties he began tinkering with building furniture.
A Texas native, a young Booth often found himself carving or whittling in an effort to transform any old stick into, well, anything else. He continued with the hobby, eventually moving onto bigger projects — a boat built from plans and instructions out of an issue of "Popular Mechanics" in 1968 was a major accomplishment for him. Cabinetmaking followed before Booth eventually graduated to furniture-making.
But both gentlemen had an interest a particular kind of furniture-building. In the world of the period woodworker, finishing a project like a desk, cabinet, or dresser is a study in patience, precision, skill and artistry. It requires a level of commitment that certainly surpasses most other forms of woodworking and furniture-making. That's what bonds members of this small, disparate community. Booth points to Dean's influence, since that day he walked into his workshop as a complete stranger, as critical in his development.
"When Jerry moved to town he didn't have a workshop because he was renting," Booth said. "Over the next year, we shared the workspace and he taught me so much."
Sharing Techniques
Dean exposed his friend to more complicated and intricate styles and designs. They would take trips to the workshops of like-minded woodworkers to get tips and learn new techniques. Booth began working with higher-quality woods to use as building materials. The sharing is par for the course in the woodworker world.
"Woodworkers are just like baseball collectors," Dean said. "There's not a lot of us. But we're interested in what everyone is working on. So you may see something interesting online and email the person who made it. And they'll say, 'Sure, come on down. Bring pictures (of your work).'"
The amount of work, the skill needed to execute a building plan, and the expense associated with the hobby cannot be overstated. Between beautiful, high-quality woods — two-thirds of which wind up discarded, according to Booth — and specialized tools and machines, period woodworkers get walloped in the wallet quite a bit.
"You can't just go down to Home Depot to get the wood that we use," Booth said. "The tools that we use can be very expensive. So you build up your tools over time. And your skills can improve over time."
In the time they've been, as Dean put it, "woodworking buddies," Booth said he's seen an improvement in his skills. But the dentist added that what he's capable of is nothing compared to Dean's ability. Because the intricacies of period woodwork require an attention to detail and a deftness with precise tools, a steady, refined hand is a major asset. Booth said Dean is blessed with such a gift.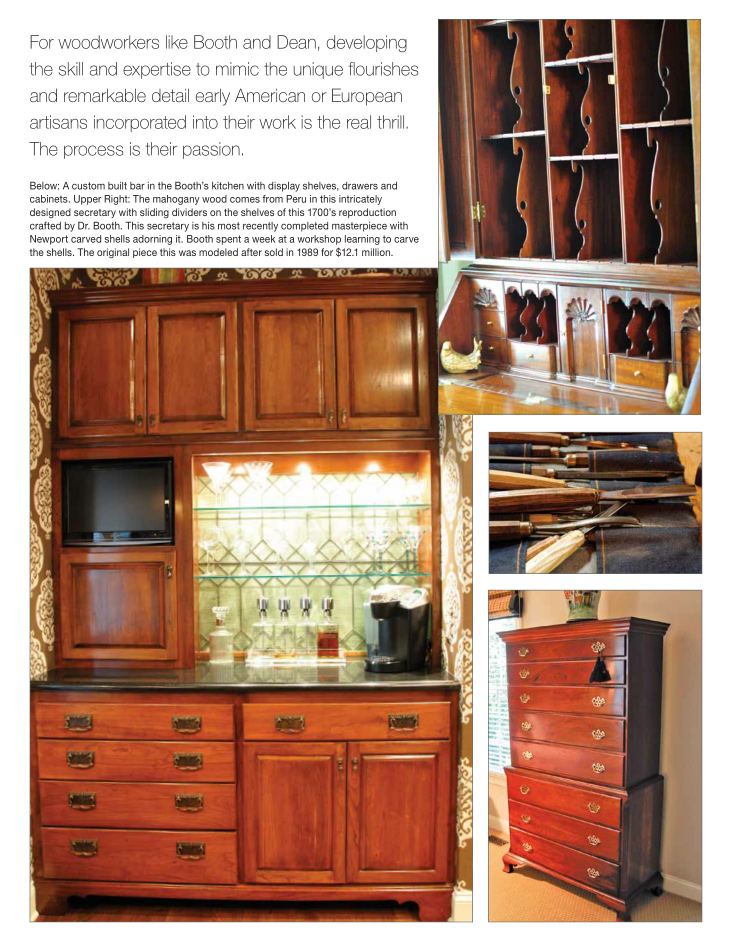 "I teach up at UNC (School of Dentistry), and I don't think I've ever seen anyone with better hands than Jerry."
"When I first started I didn't view myself as much of an artisan," Dean said. "I thought anyone who wanted to build furniture could do it. I sort of take this for granted."
Neither man takes for granted the feelings of contentment they get while they're busy at work in their workshops or their deep satisfaction when a project is completed. But Booth and Dean don't get nearly enough time to enjoy the craft. Booth is busy with his practice, Stout and Booth Orthodontics, and its offices in Fayetteville and Hope Mills. Dean recently retired from Wachovia — now Wells Fargo — after 34 years with the company and will now head VantageSouth Bank's foray into Fayetteville with its first branch in the market, and he remains a member of the Board of Trustees at Fayetteville State University and Cape Fear Valley Health System.
In the moments they can spare to spend a chunk of time in the workshop, all other thoughts and cares fade away.
"It's a diversion from the stress of career," Dean said. "I may work in the shop until 2 or 3 in the morning. There's no telephone. No TV. I work hard, but I find time to do this."
Said Booth: "I have people ask me if I can repair something for them because they know I make furniture. But I really don't do that. I do this for me."
living