The Real Housewives of Fayetteville

01/03/2012 12:17PM ● Published by Anonymous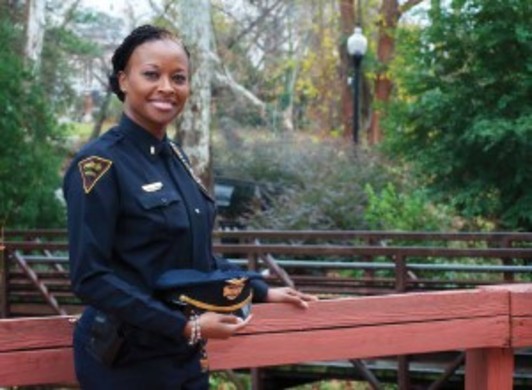 While these five ladies do not star in any reality television shows, they certainly juggle their careers, family and volunteer endeavors with style. Join CityView as they give us a glimpse into their everyday lives.
Tracey Bass-Caine
Don't let the pretty face fool you. While Tracey Bass-Caine has done some modeling in shows from time to time as a hobby, she is a force to be reckoned with and uses her super sleuth skills to make life better for many in our community. Lieutenant Bass-Caine has worked for the Fayetteville Police Department for 22 years and is the highest ranked black female on the department – there has not been another black female lieutenant since 1995.
Currently she is assigned to the Operations Support Bu­reau and is responsible for supervising three units: Homicide, Special Victims and Cyber Crimes. Most recently, the major­ity of her time has been dedicated to coordinating and pre­paring the historic Beldon-Horne house to be the site of the first Family Justice Center in Fayetteville.
Like many others on the force, she landed in Fayetteville after leaving the military behind at Fort Bragg in 1989. She sailed through the qualifications process after seeing a listing posted for police officers with the Fayetteville Police Depart­ment. And that's when this law enforcement star was born.
"Although I thoroughly enjoyed my time as a patrol officer, I really found my niche as a School Resource Officer; where I was assigned to the former Hillcrest Middle School, which is now Max Abbott Middle School," said Tracey. "I loved work­ing with children, so I decided to apply for a detective posi­tion within the Youth Services Unit, where I spent 11 years as a juvenile detective, investigating physical and sexual abuse of children."
She has learned the complicated and delicate balance re­quired to juggle work and family. Tracey is married to a re­tired U.S. Marine and has an adult daughter. Tracey jokes that having two type-A personalities in the house makes for interesting discussions. With her ten years of supervisory ex­perience under her belt on the force, her retired career Ma­rine seems to have met his match.
While Tracey really enjoys cooking, her job duties do not allow her the time to indulge in it as much as she would like. Her friends and family sing her praises when she does cook, but at this stage of her life, she said she is lucky to have a spouse who takes on the cooking and household chores.
Her experience being part of the Fayetteville Police De­partment team has aided her personally as well. "It has al­lowed me to grow into the person, leader, and friend I pride myself in being. Through my mentors (past and present) I have become a person who is sought out by my peers, as well as those within the higher echelon of the department," Tracey said.
Outside of work Tracey has numerous interests and hob­bies to include her love for fishing, making jewelry, modeling, drawing, working out, badminton, basketball, gardening, puzzle books and other word games along with spending time with her family and friends — especially her three nieces.
Tracey plans to retire from the Police Department in eight years, but has no plans to slow down. Instead she would love to use her masters degree in Criminal Justice Administration to teach. She also has penned several short stories over the years and would like to finish and publish some children's books. This city gal knows how to kick back too – she hopes to buy a small fishing boat and spend time nabbing the not­so-deadliest catch.
Mandy Campbell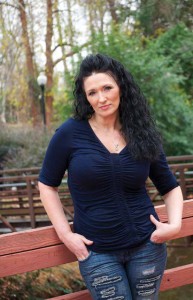 Last spring, Extreme Cakes was selected by the Smithso­nian National Museum of Natural History to make a replica cake of their building to commemorate the museum's 100th anniversary. The cake had to feed at least 500 people, and be at least 5 feet long. Its final dimensions ended up being 6 feet long and 3 feet high.
"Knowing now what I didn't know then, I doubt I would have attempted to do such a huge cake basically by myself," recalled Campbell. "That was the hardest I have ever worked in my life. It took a total three weeks to complete, working round the clock with short breaks for a nap here and there. The last four days of the actual construction of the cake I was awake for four days straight back to back. My mistake was that last night I sat down to put the details on to the front of the cake and fell asleep sitting up in a chair. I awoke to the driver of the van who was there to get the cake and deliver it to DC. I managed to get it all on there in a couple hours and then we drove 90 miles an hour the whole way to DC and made it in just under four hours. I ended up working on the cake the whole way there, right up until 10 minutes before the ceremony started. The fun part was watching five men get it out of the van and maneuver it up into the Smithsonian."
Mandy is no stranger in the kitchen. A large part of her Acadian culture is cooking and creating many of the dishes that Louisiana is famous for. Louisiana Acadians are also known as Cajuns and descend from French settlers to the New World. While living with her Acadian family, Mandy learned to cook and her baking skills are primarily based on the knowledge that was imparted from her grandmother. She still creates most of her cake recipes based on taste, look, and consistency, rather than by measured ingredients.
"An Acadian recipe goes something like this: a little of this, a lot of that, rather than a teaspoon or a cup," she quipped.
Artists of any kind need inspiration and stamina while they create and plot the course — and Mandy's often comes from music.
"Good old '80's music to start. Songs I've heard 1000s of times so they don't grab my attention, but they drown out the distractions of the outside world. Any one aspect of a cake can ruin its flow," she said. "This makes it extremely impor­tant for me to be able to actually visualize the way different design concepts incorporated with the client's preferences and colors, different shaped tiers, flowers, jewels, embossing, and any number of other elements will combine to create the effect that I am aiming for."
Once the design process is complete, she moves into phase two: the creation of the cake, which can take days to do. For this she has to have her music on and loud. Some of her fa­vorite bands include: Audiovent, Rivas, Breaking Benjamin, Seether, Five Finger Death Punch, Skillet, Sevendust and Crossfade, all as loud as the speakers will go.
Hurricane Katrina brought Mandy back to Fayetteville af­ter her house was destroyed by the disaster during her senior year at North Western State University in Louisiana. Previ­ously she had been stationed at Fort Bragg as a Combat Medic and had fallen in love with North Carolina. In the days after the hurricane she decided to move back here, turning her loss into our community's gain. A few months ago Mandy got the keys to her new storefront downtown across from Circa 1800, in the location of the old Cupcake Gallery.
Joanne Chavonne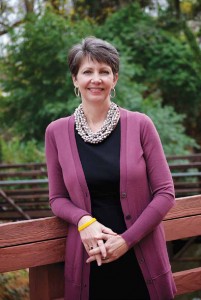 Everyone has heard of Fayetteville's First Lady, or possibly has been on the receiving end of her charity, Fayetteville Cares. Joanne's smartphone calendar stays quite full with her many volunteer and charitable endeavors, and that's just how she likes it, she enjoys putting others' needs first.
"Over the years it became apparent that this community wanted to support our military neighbors but often did not know what or how to do it," said Joanne. "In 2007 a group of us — George Breece, Kirk deViere, Tony and me — decided to form Fayetteville Cares."
Much like the Family Readiness Groups in the units, Fayetteville Cares is a Community Readiness Group for Fort Bragg. In their first four years they have hosted two "Boots and Booties" baby showers for 1,000 military moms each, sent 10,000 care packages in November 2009 for "Operation Holiday Cheer" plus hundreds more throughout the four years and supported almost 10,000 single soldiers (6,800 in 2010 alone) with their Basics for Barracks program. Fayetteville Cares also has assisted dozens of businesses and organizations to donate entertainment tickets and other items to their military neighbors.
"Anytime you help others your own life is enriched. My work with the military and their families has been rewarding and humbling," Joanne said. "Seeing the challenges many of them are facing and their commitment and strength has inspired me. I have a husband who comes home every night and is there to share the ups and downs of daily life with. I am not concerned his job may seriously injure him or has the potential to take his life. For many of the spouses and children these are real and "normal" situations. Being able to get to know some of these brave men and women, the ones that raised their right hand and the ones that love that soldier or airman has been a gift to my life."
Like every real housewife, Joanne shared how she has transitioned over the years. When her children were young she was a more traditional housewife, cooking dinner most nights, helping with homework, and volunteering in class­rooms. Now as she and her husband have become empty nesters, she does not do a lot of cooking. In fact, Tony teases that they should just get a picture of an oven for their new house instead of buying a real one. With their schedules they tend to eat out more and do a lot on the go, but still manage to have dinner with their sons most every week. Sometimes she cooks, sometimes they go out and occasionally their boys cook too. Joanne's most requested meal? Her chili. Her banana pudding however, gets rave reviews as well.
The Chavonne's lead pretty busy lives, but Joanne keeps her marriage balanced by getting away for long weekends to the beach to recharge and reconnect. She enjoys reading and spending time with her friends and keeps it altogether with her smartphone. Now that's a great strategy to employ from one smart housewife.
Lora Lewis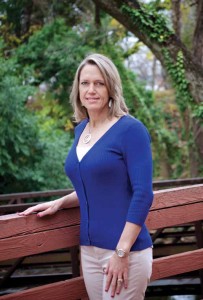 ll of us strive to be a good example for our families and we all talk the talk even if we sometimes fail to walk the walk. But Lora Lewis does more than just walk – she runs, bikes and swims that example for her family.
This busy housewife/coach/homeschool mom/director gave us a look into her average daily routine. On a regimented schedule like this, it's actually easy to see how she accom­plishes so much!
5 to 5:30 a.m. — Get up; morning workout (swim, bike or run); kids go to running group on Thursday mornings
8 a.m. to noon — Home, shower, breakfast; get laundry started; plan dinner; check to make sure kids have started school lessons; teach and grade lessons.
Noon to 3 p.m. — Phone, email, and/or appointments for Girls on the Run; finish school lessons; house cleaning chores
3 to 6 p.m. — Take kids to sports practices; errands, gro­cery shop, etc.; make training plans or send workout group emails; cook dinner; prepare for evening workout (M & W).
After dinner — Finish laundry, cleaning, etc.; more GOTR admin; workout M & W; grade any schoolwork not finished earlier.
As a coach of Fort Bragg's Men's Army 10-miler team, Lora inspires others and knows how to train them for success. It had been 27 years in the race's history and the Fort Bragg team had never won the Commander's Cup trophy.
Then, in walked Lora Lewis.
She went through Fort Bragg's Morale, Welfare, and Rec­reation department in June and offered to volunteer to coach the team, just until they found someone else, mind you. But pretty soon she had worked herself into the job and helped lead not just the men's, but the women's and masters teams as well, to victory. All three teams brought home their division trophies this year.
"The men were very hardworking, dedicated, and had great team spirit, encouraging each other through the hard workouts in the heat and humidity of Fort Bragg summers," Lora said. "The win was especially rewarding because it rep­resented the whole team giving it everything they had."
Before Lora was a coach, she was an athlete and she said that experience helps her better understand those whom she coaches. Lora has completed three Ironman triathlons, one in North Carolina and two in Florida. She has also competed at two Triathlon World Championships in 2005 in Denmark and in 2007 in France.
Endurance sports have been a part of the Lewis family from their early days of homeschooling. When she first began running, Lora would take the kids to an exercise track on the base where they were living and let them play while she ran. By the age of 7 or 8, each of her seven children were swim­ming, cycling, and running. The activity served as physical education for our homeschooling, and is still something they like to do together. Her children attend some of her workout groups each week, and have even led such groups in her ab­sence. Her children have all completed triathlons, running races, swim meets, and bike rides.
"Like many women, I'm wired for "multi-tasking", and there is very little wasted time in my life. We also emphasize teamwork at home, and do not allow the phrase, 'that's not my job'," Lora said.
With such a large household Lora came up with a menu system 10 years ago that greatly simplified the planning and executing of grocery shopping and meal preparation. She has six monthly menus that the family rotates through, twice per year.
"When all seven children lived at home, each was assigned specific days to make breakfast and/or lunch, and to help with meal cleanup. As we are emptying the nest, the younger boys and I take turns with breakfast and lunch preparation, and I usually make all the dinners — and do a lot of crockpot meals," said Lewis. "Normal household chores are divided up and assigned specific days, floors Monday, bathrooms Tues­day, etc."
Outside of her own family, Lora has found a worthwhile organization to dedicate (what remains) of her time and tal­ents: Girls on the Run. As the Director for our area, this non­profit organization is dedicated to educating and preparing girls for a lifetime of self-respect and healthy living, using a creative, experienced-based curriculum led by mentoring coaches in an after school setting. In the fall Fayetteville had four locations with just over 60 girls and volunteer coaches that ran the 5k Turkey Trot in Southern Pines. The program will take place at area schools again in the spring.
Melissa Helmick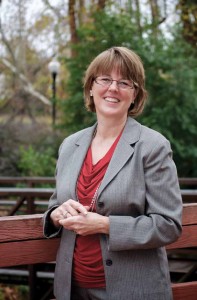 Behind every great man is a strong woman – and that certainly is true of Melissa Helmick. This Fort Bragg housewife might hail from New Jersey, but Melissa has more charm than all those television divas combined. She has many titles and wears many hats — among them, wife of Lt. Gen. Frank Helmick, the Commanding General of the 18th Airborne Corps — but she also spends countless hours vol­unteering in our community as the senior spouse advisor for Family Readiness Programs at Fort Bragg and working with the Bragg and Barn Thrift shop, the Fort Bragg Area Commu­nity Foundation, the Fort Bragg Area Officer Spouses Club, the USO, the Partnership for Children and United Way.
From stuffing goodie boxes for deployed soldiers to rub­bing elbows with other military spouses at family events, her pleasant, down-to-earth persona makes her one of the most approachable General's wives around. And, in direct contra­diction to the white-gloved image of General's wives in the past, Melissa admits that the most prized shoes in her closet are a pair of flip-flops.
Having raised two daughters through 22 military moves to 19 different places, Melissa has mastered how to quickly turn each new home into a sanctuary for their family.
"Oh my," she said, "we have lived in 19 places and carry a rucksack overflowing with wonderful and poignant family memories. Over the last several years deployments and our girls attending college have put a kink in our family time. However, I would say our most recent memories are from our time living in Italy as our girls were in high school. One that comes easily to mind is our trip to the Almalfi Coast on East­er weekend. I brought our eggs to decorate and we sat over­looking the coastline decorating Easter eggs! We were awed by Pompeii and the coastline, hiked up the volcano Mount Etna and experienced southern Italy traffic."
Another way she said she's found to forge family ties is by having a 'You Are Special Today' plate that they use for fam­ily members' birthdays and other highlighted moments. Each person gets to choose their favorite meal to eat on their birth­day. "My husband picks grilled cheese and homemade tomato soup, one daughter always chooses eating out and the other one chooses German potato salad and bratwurst," she said.
Despite the relative simplicity of her family's favorite meal requests, Melissa is a gifted hostess who enjoys entertaining, a skill she said she inherited from her own mother.
"My mom taught me aspects of protocol and entertaining — she tended to be more formal in protocol, yet she created a very relaxed atmosphere," Melissa said. "Her home was al­ways open to friends, family and even strangers for a warm, delicious meal and good conversation. Because I especially enjoy entertaining, I believe I have spent a military lifetime of watching others and reading magazines, taking what I liked and what I didn't like and incorporating that into my own style and preferences."
Much like during their courting days when Frank attended the United States Military Academy at West Point, Melissa spent more time talking to him on the telephone last year than talking with him in person. As the Deputy Command­ing General for Operations in Iraq, he was among the last of the American troops to leave there in December.
"I married Frank 33 years ago, however I knew very little about the military and military life so I had no expectations of where we would go or what we would do," Melissa said. "I was in love, just happy to be with him and looking for my first job as an occupational therapist. We were married two years after he graduated from West Point in my hometown in New Jersey."
She continued, saying, "One of the positives about a mili­tary lifestyle is that you learn to be resourceful and you also learn that although you may not want to figure 'it' out or learn how to do something new, you can do most anything you put your mind to. There is a certain sense of comfort in knowing that I can tackle anything that comes my way. Army spouses, of any age, are a resilient group of people!"
living