Southern Lit

01/03/2012 03:27PM ● Published by Anonymous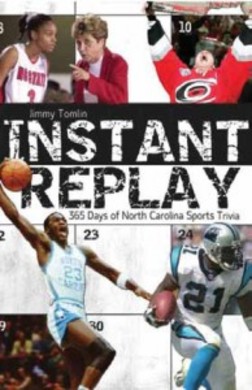 The holidays are over and there's still a lot of time until the grass needs to be cut every weekend. The couch or the chair by that window that lets in that steady winter sunbeam is beckoning for you to sit for a spell. It couldn't be a better time to relax with some hot chocolate or tea and read a good book. Liv­ing in North Carolina means that we have an abundance of authors to choose from, who've all been busy writing novels, mysteries and humor books.
Not only is North Carolina rich in writing, it is also rich in sports. Jimmy Tomlin, in his first book, Instant Replay, 365 Days of North Carolina Sports Trivia, has filled the calendar with North Carolina sports stories dating back to the early 1800s when horse racing was the most popular sport in the state. Tomlin, who has worked for more than 25 years as a newspaper and magazine journalist, says his love of North Carolina and interest in sports made the book a breeze for him to write.
"When I came up with the idea, I was thick-headed enough to think I could find something for everyday and even came up with trivia for leap day, which is a story about a high school basketball game going into 13 overtimes," Tomlin said. Find­ing all the facts did take some digging. "I knew a core group of sports stories, like Babe Ruth hitting his first professional home run in Fayetteville," he said. But don't let this Univer­sity of North Carolina graduate's modesty fool you; he has covered all the local ACC teams, stock car racing, tennis, high school football, and ice hockey. "We have a very rich and wide spectrum of sports in North Carolina; I can't imagine another state having as much," he said. He smiles when he thinks of North Carolina's only professional championship. "I think it is ironic that North Carolina's only professional level national championship is the Stanley Cup, which the Carolina Hurricanes won in 2006. Who would have thought that ten years ago?"
You don't have to be a sports enthusiast to enjoy Instant Replay. The stories in the book are full of dedication, triumph, and humor. Check out the story for May 16th and read about how Jocko Flocko became the only monkey ever to win a NASCAR race, or the entry for March 12th to read about the first integrated college-level basketball game. "Many of the stories are so compelling because they are as much about hu­man nature as they are sports," said Tomlin.
Reading Sarah Shaber's Simon Shaw mystery series is like eating homemade cinnamon jumbles on a winter's day, you can't stop with one. When Shaber created Simon Shaw, an American history professor-detective, she created a character you find yourself rooting for in spite of all his idiosyncrasies. Simon teaches at a small college located in Raleigh, where he is surrounded by friends and colleagues who have become patient with and intrigued by his side job as a "forensic his­torian", investigating decades old murders and mysteries. Simon has appeared in five books and gained a loyal follow­ing. The mysteries all take place in North Carolina from the mountains to the coast. "Simon is such a believable character. I made sure he had real things happening to him so the read­er could really connect with him," Shaber said. This includes having relationship trouble with his lady friends and living with three cats. Though the series has ended, Shaber admits that Simon is still in her head.
Shaber's latest book, Louise's War, takes place in Washington D.C during World War II. Louise, a recently widowed young woman, has moved to D.C. to help with the war effort by working at the Office of Strategic Services, which later evolved into the C.I.A. "It was a very scary time for everyone, and Louise is faced with being a woman gaining her independence during the 1940s while trying to solve a murder," Shaber said. As in the Simon Shaw series, Shaber makes her characters very believable through the details of their daily lives. But don't fret when you finish Louise's War, Louise will be back in May; Shaber's next book in the series is, Louise's Gamble.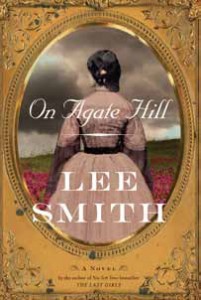 Lee Smith has written a treasure chest of books to choose from for a winter's afternoon, twelve in all, along with four collections of short stories. To read a book written by Smith is to get lost in the author's remarkable gift for creating char­acters and spinning tales you'll never forget. Fair and Ten­der Ladies, which was written in 1988, is one of Smith's most widely-read novels. "I still get letters from readers telling me how much they enjoyed reading about Ivy," Lee said. Ivy Rowe is a woman living in the Virginia Mountains in the late 1800s. The book is a collection of letters she writes to friends and family members throughout her life. "Ivy is a strong woman, who gets so much of her strength from her writ­ing," said Smith. Ivy was even an inspiration to Smith while she was writing the book. "I was going through some hard times with family members being sick. While creating Ivy, I gained strength from her." The book takes Ivy through her life including childbirth, raising her children, and dying. It is hard to put the book down and hard not to be changed some by Ivy's inner strength. Smith said Fair and Tender Ladies is the perfect book to read during the cold months because "so much of it takes place in the winter."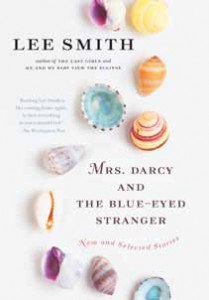 Smith's latest book, Mrs. Darcy and the Blue-Eyed Stranger is a collection of short stories filled with humor, life dilemmas and engaging characters. "House Tour," for instance, is full of witty conversation and observations on life. The first paragraph makes you want to know more about Lynn and her life, which Smith lets you in on by guiding you through Lynn's crazy but believable afternoon, which includes a traffic jam because of the town's Christmas parade and a group of women who show up at her Victorian house thinking it is part of the Christmas tour. Lynn's quirky sense of humor in these situations will make you laugh out loud.
Smith's novels include On Agate Hill, which is about a young orphaned girl who lived through the Civil War and struggles to survive during the post war South, and The Last Girls, a novel, introduces readers to a group of friends who recreate a raft trip they took down the Mississippi as college students by taking a cruise on a steamboat down the river for a 30th reunion. It doesn't matter if Smith is writing about the struggles of an orphaned girl or the reuniting of a group of friends; she has the ability to master dialect, conversation and the human nature of all her characters.
Grab that blanket and pour that cup of tea. There's no grass to cut and no presents to wrap. Turn off your television and cell phone. There are too many wonderful North Carolina writers — and their characters — to get to know on a chilly winter afternoon. Relax and let some of our state's wonderful writers take your imagination for a ride.
Page Turners
The Hunger Games by Suzanne Collins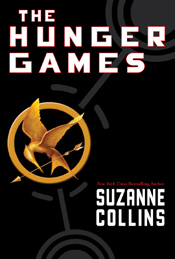 Is there anyone who hasn't read this blockbuster book yet? If you're simply avoiding the band-wagon, I get it. But if, alone one night, you find yourself craving a little bit of pure, unadulterated fun, sneak this onto your e-reader. You won't regret it. A sort of gladiatorial take on the overdone post-apocalyptic theme makes this plot-driven book, and later sequels, a pleasure to read for both young and old(er) adults. The protagonist is a young woman who lives in poverty under a harsh regime. For the entertainment of the superficial upper class, she and a bunch of other young people are thrust into an arena and told to fight to the death. All things good – love, loyalty and friendship – are threatened by this wicked game, and the characters must find a way to stay true to themselves while staying alive. It is action-packed and full of suspense … the perfect combination to keep you up all night until the very end. The movie comes out March 2012, and I highly recommend reading (or re-reading) the book first.
Fall of Giants by Ken Follett
Established author Ken Follett perfects the art of storytelling in his historical fiction, introducing readers to eras past. He emphasizes the politics of these times, showing us how interactions and decisions between key people can change the course of history. This newest book is a mammoth historical fiction, chronicling the First World War through the alternating perspectives of a believable and enduring cast of characters. Through their voices and interconnected stories, he brings to life the shortsighted politics and grisly trench warfare that tore through a continent. The military enthusiast, women's historian and European scholar will all find something to love. But beyond the impressive research, this is a book about people, their relationships and how they cope in times of change and struggle. Fall of Giants is long enough to last you through the winter months, and good enough to make it worth your while. Don't be surprised when you're left wanting for more. Luckily, the sequel is due out late 2012.
Catherine the Great by Robert K. Massie
This is a true biography, in the best sense of the word. Massie's skill is remarkable. Every sentence delivers new information, historically researched and artistically delivered. But this isn't a flood of facts, overwhelming and unapproachable; it's more like a subtle immersion into the elegant, high-stakes world of Catherine the Great. Readers will not only feel like eighteenth-century Russian scholars, but they will feel like they know Catherine as well…just as she was – intelligent, ambitious, political and real. Massie scatters excerpts of Catherine's writing throughout the biography, her own voice substantiating his meticulous research. Catherine was the longest ruling female leader in Russian history and helped establish the country as a European power. It is a perfect linear biography, beginning with her birth and ending with her death. Massie leaves out nothing, exploring all facets of this leader's life and everyone in it. It is part history, part psychology, part drama and pure enjoyment.
Rin Tin Tin: The Life and The Legend by Susan Orlean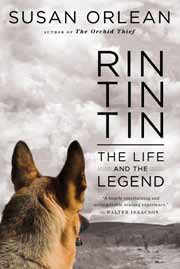 Susan Orlean (author of The Orchid Thief) re-introduces audiences to Rin Tin Tin, the dog that stole America's heart. This book is not just for the dog lovers, but for people who enjoy history, cinema, and American pop culture at its finest. Rin Tin Tin was a newborn puppy in 1918, abandoned on a ruined battlefield in France when he was found and adopted by a young American soldier, Lee Duncan. The luck and love that forged his beginnings remained with the German Shepherd throughout his life. He rose to stardom in the early days of Hollywood cinema, and he and his successors made the transition from silent film, to talking movies, to TV, and into color. Besides describing the dog's rise to fame – at his height Rin Tin Tin earned more than his human co-stars and was a regular in tabloid magazines – Susan Orlean discusses the psychology of America's love for the dog. His was a rags-to-riches story that personified the American dream. An immigrant of sorts, and a war hero to boot, it is no wonder Rin Tin Tin was embraced so completely. With his master and trainer by his side through it all, this dog represented all that was innocent and true, and Americans loved him for it.
You Know When the Men Are Gone by Siobhan Fallon
For members of a military community, this book is a must read. It is a collection of fictional short stories that tells the tale of what it's like when a piece of your family goes to war. Through the voices of those left behind, Fallon expresses the struggles, changes, emptiness, and fulfillment that accompany a loved one's deployment. Fallon is an Army wife with firsthand experience. The simplicity of her words describes the complex relationship between the soldier and family. Each story introduces new characters, new relationships, and new struggles. They share a locale — Ft. Hood — as well as an honest look at the lives our military families lead and the bonds forged, and sometimes broken, through their trials. This is a beautiful book, worth savoring slowly and repeatedly. The paperback is set for release January 3rd.
11/22/63 by Stephen King
In his most recent novel, Stephen King combines a high school English teacher, a time portal, and the simple question: "What if JFK was never assassinated?" Fans of the prolific author will recognize the readable prose and fast-paced plot, but will also notice a slightly different theme for King as he deals with a real-world occurrence. Surrounded by the "what-if's?" and butterfly effects of time travel, this book is entertainment at its finest. If King's writing can at times feel a little predictable, this book stands out among the rest with its exploration of America's yearning for times long gone. The protagonist and King share many similarities, and you quickly get the feeling that King put much himself into this project. Because, really, who wouldn't want a time portal in their pantry that could transport them to a sunny day in 1958, and back again? He brings readers back to the time of Elvis and five cent root beer, without losing the dramatic tension and suspense we've come to expect from his novels. King gives readers a chance to reexamine the past and discover what would happen if one of the most pivotal assassinations in American history never even happened.
living