The Kids Stole The Show

06/07/2012 11:48AM ● Published by Anonymous
Maestro's Blog
[scroll down for info on this Thursday's Wine Gala]
June 4, 2012
For those of you who joined us on May 22 for Salute to Broadway, you'll know that the kids stole the show. Kindergartners and 3rd graders from West Pine Elementary, and Middle and High School instrumentalists from around Moore County joined me and the Philharmonic onstage for a heart-warming rendition of selections from The Sound of Music. I suspect that each one of them will remember that night for a long, long time - who knows - maybe down the road, one of the five- and six-yr-olds that made their conducting début may take over the reigns of the Orchestra.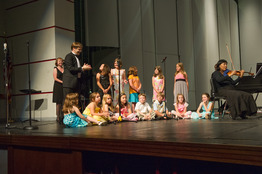 I hope that you'll support me as I reach out to children across Moore County and throughout the region and expose them to active participation in live Symphonic Music onstage. One by one, we'll plant seeds for the future of exceptional music and a long-lasting appreciation of Music and the Arts. In additional we'll send ambassadors into the schools and form ensembles in the community for them to participate in free of charge.
We are dramatically expanding our Educational Outreach activities over the Summer and into the next school year even though our budget cannot yet afford to - I'm taking a leap of faith that our patrons will join me and support these programs. The other day in The Pilot, three very generously worded pieces about CP came out: Andy Thomas (read here), Marge McGill (read here) and Joan Bruno (not yet online). My gratitude to them and to all of you in the audience, and also to The Pilot.
Our next Pops Concert, on Fri July 27, 7pm at Lee Auditorium, will feature selections from Oklahoma! and The Wizard of Oz, a Salute to Ol' Blue Eyes, Rimsky-Korsakov's Russian Easter Overture, and I'll lead the orchestra from the keyboard in the first movement of Rachmaninoff's 2nd Piano Concerto.
But first, we're just a few days from our Wine Gala and we have 125 tickets left - get tickets online . On Thurs, June 7, 7:30-9:30, join other CP patrons and for a delicious evening at The Fresh Market in Southern Pines. Remember that 100% of the $25 ticket price goes directly to the Philharmonic's Educational Outreach Programs.
David Michael Wolff
ps Read Frank Giordano's Wine Gala preview for The Pilot (also - see menu just below).
Support Music Education with Wine and gourmet accoutrements.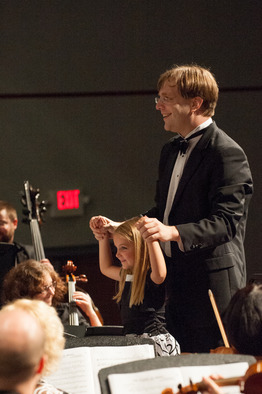 Here's a preview of the wonderful hot and cold hors d'oeuvres that our guests can anticipate:
* Classic shrimp cocktail * Prime rib carving station with European crusty bread * Fresh assortment of sushi * TFM signature preemoo cheese * Super crab dip canapes * Smoked salmon blinis * Olive capresse skewers * Maryland style crab cakes * Caramelized onion and feta perfect bites * Caramel pecan brie * Godiva chocolates with assorted signature desserts
And Wine: 40-50 varieties will be available, domestic and imported, ranging in value from $10.99 to $50/ bottle. Hot and cold non-alcoholic beverages will also be served.
Here's how it works: On the day of the event, the market will close early. When the doors re-open (7:30pm), our guests will experience TFM in a very special way. Each guest receives a program, to be used as a guide. Stations set throughout the store create a visual feast for the eyes, serving fine wines and palate-pleasing gourmet delights. A sampling of CP's exceptional music will complete this sensory feast. TFM's knowledgeable staff is sure to extend the market's trademark gracious hospitality as they pour wines so that our guests can make informed selections. 10% bottle and 15% case discounts are offered on wines purchased during the event. There will also be a 10% savings coupon on subsequent food purchases at TFM on the back of each program.
Even if you're unable to attend on the 7th, consider purchasing tickets for the cause of Music Education. Again, 100% of your ticket purchase goes directly toward Education.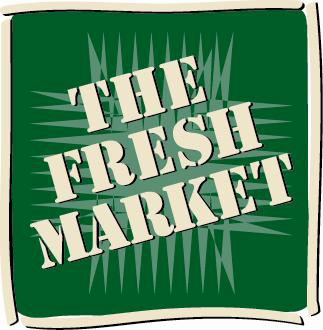 Get tickets online.
The Fresh Market is located at 155 Beverly Lane in Southern Pines.
At the Carolina Philharmonic, we believe that Music Education and Outreach should be the primary driver of Symphony Orchestras; concerts are an outgrowth of Education. As our government continues a more than 50-year annual decline in its support for the Arts and Arts Education, Symphony Orchestras have an increasingly crucial responsibility to compensate for what is being lost. By creating opportunities for young people to experience exceptional music regularly and in meaningful ways, we can guarantee that music appreciation will continue for future generations.
Together as a community we will effect real change in the Sandhills and the surrounding region.
Thank you for your support of the Carolina Philharmonic.
latest news and events