Self-serve frozen yogurt shops open just in time for summer

06/27/2012 10:50AM ● Published by Anonymous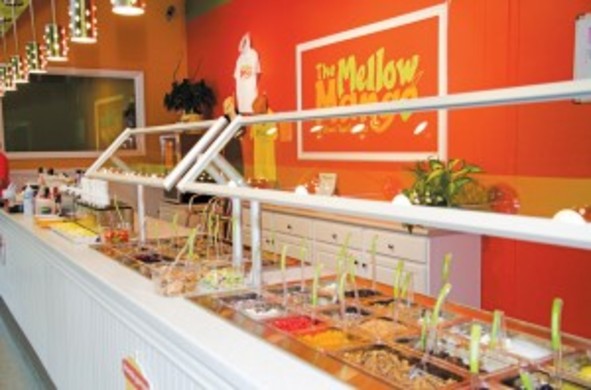 Sweetness and Light
Self-serve frozen yogurt shops open just in time for summer
The self-serve frozen yogurt craze is sweeping the nation and it's evident in Fayetteville. Within months SweetFrog, TCBY and The Mellow Mango joined Tuttimelon in serving lines of customers, all eager to fill 16 and 24 ounce cups with peaks of frozen yogurt, tempting toppings and sweet syrups. Many may remember the 1980s frozen yogurt fad, but why the resurgence of frozen yogurt now?
"Nutrition goes through cycles just like any other industry," explained Carla Caccia, a dietician at Cape Fear Valley Healthplex. While healthful eating is one factor feeding this frozen frenzy, Caccia said that frozen yogurt seems to be what nutritionists call a "halo food."
"This means that consumers take one positive attribute, e.g., 'contains probiotics,' which results in the perception that all characteristics associated with the food are positive," said Caccia. Though she hesitated to say that frozen yogurt is healthy, she did say that "it can be a fun treat to enjoy once in a while."
Bring children to a self-serve frozen yogurt store and eyes bigger than bellies take over. With SweetFrog offering 30 yogurt combinations, TCBY and The Mellow Mango offering 16 and 24 respectively, and 60-80 toppings plus syrups, portion control is difficult for even the strongest willed customer. In each of the stores customers grab a cup and fill it themselves with their choice of yogurt and then top it from the array of toppings. Then a cashier weighs the yogurt to determine the price. The heavier the cup, the more the customer pays.
SweetFrog owners Andy Barrick and Byron and Missy Davis, stress that their store is a place for fellowship, families and fun.
"SweetFrog is a destination store, not eat your dessert and leave," said Barrick, who, like his co-owners, lives in Virginia. SweetFrog has Wi-Fi and seats 80 inside and 50 or more people outside, making it a good venue for Bible studies, parties and meetings.
Barrick noted that "Frog" is an acronym for "Fully Relying on God." At the store, employees implement the Golden Rule and "treat people how you would want to be treated, like they are the first customer in line," he explained.
At TCBY, an acronym for The Country's Best Yogurt, customers enter to find a bright orange, yellow and turquoise décor; it also has free Wi-Fi. The decor, as well as the concept, is completely different from what customers might recall from TCBY stores in the 1980's. Owner Rakesh Sethi said that while health is one reason for the yogurt revival, economics is another. No need to employ servers; the customer fills this role. This cuts labor costs as fewer workers are hired to keep the stores running. Self-serve is low maintenance.
TCBY is unique because it is "the first in the yogurt industry to offer Greek yogurt in its stores," said Sethi. In April, this higher protein style of frozen yogurt favorite was added to the TCBY lineup as "Greek Fro-Yo." Caccia said she is not surprised that the frozen yogurt industry is capitalizing on another health halo food, Greek yogurt.
"Let the taste buds tell the truth," Sethi said.
At SweetFrog, 4-year-old Caroline McIntosh, her mother Angie and grandmother Mary enjoyed a plethora of flavors in their bowls. When Caroline finished her orange, chocolate and raspberry-pomegranate yogurts, she pushed back from the table and exclaimed, "This is the best ice cream ever!"
SweetFrog, with its cheerful pink and green decor, is located on Sycamore Dairy Road; TCBY is in the Westwood shopping center — and a Fayetteville family hopes to give both a run for their yogurt money with The Mellow Mango, in the Highland Shopping Center on Raeford Road. Siblings Ashley Van Wormer, Chet Jackson and Marla Rogers, along with dad Bill Jackson, are "Fayetteville born and raised," said Van Wormer. After serving Fayetteville in the construction business, the Jackson family turned their attention to a tastier form of customer service. Van Wormer stressed that, "we are community oriented."
"Yogurt stores are the new coffee shops," Van Wormer and brother Chet agreed.
The Mellow Mango's color scheme echoes the hues found in the fruity flavors and toppings: green, yellow, and light and dark orange. There is a separate party room for children's birthday parties as well as free Wi-Fi and flat screen televisions to watch. Like SweetFrog, the owners want people to come, stay and enjoy the ambiance. Inside seating accommodates 100 people and outside seats 16 or more.
All three yogurt stores have the usual vanilla, chocolate and strawberry flavors of yogurt, as well as many, many others. SweetFrog employee Shirley Tidwell said that cake batter, mango and raspberry-pomegranate are their top sellers. "Children tend toward the candy toppings, the sweeter the better," said Tidwell.
The Mellow Mango's top seller is, of course, the mellow mango sorbet. The yogurt tastes like sweetened, tangy bursts of the fruit. TCBY boasts white chocolate mousse, cheesecake and coconut as customer favorites.
All stores sell yogurt by weight at 43¢ an ounce. The average cost is dependent on the amount of frozen yogurt dispensed by customers, as well as the choice of toppings. The heavier-handed customers who choose weighty toppings will face a bigger bill at the register. Toppings include fresh fruits, Cap'n Crunch, M&Ms, gummy creatures of all kinds, Nerds, various nuts and flavored syrups.
All three stores offer customer loyalty cards for frequent indulgers. The Mellow Mango offers discounts on certain days of the week for different clientele. For instance, customers with a church bulletin receive a discount on Sundays.
The yogurt word is out; all three stores are typically packed with smiling customers. Families, groups of friends and co-workers line up to serve themselves up a frosty, self-made concoction. Every cup is different in flavors, toppings and size. Many guests are unable to finish their hat-sized bowls and leave a melting reminder of the fun and yummy treat.
Even Caccia, the dietician, is not willing to be a killjoy when it comes to this trend: "Frozen yogurt can fit into a person's eating plan," she said, noting that consumers just need to be nimble with the yogurt dispenser and opt for a smaller serving.
"Take advantage of what is healthy about these yogurt shops," emphasizes Caccia.
She warns that the serving sizes listed in yogurt stores' nutrition facts are based on a 4 ounce serving. A typical 8 ounce serving, however, contains 32 grams of sugar, not including the high calorie candy toppings. This amount of sugar exceeds the daily limit by American Heart Association guidelines. So, go light on the yogurt and top your frozen treat with heart-healthy walnuts, almonds and fruits and you'll be kind to your waistline and your wallet.
business