Fayetteville's garden clubs are known for camaraderie, benevolence and beautiful blooms

06/27/2012 10:51AM ● Published by Anonymous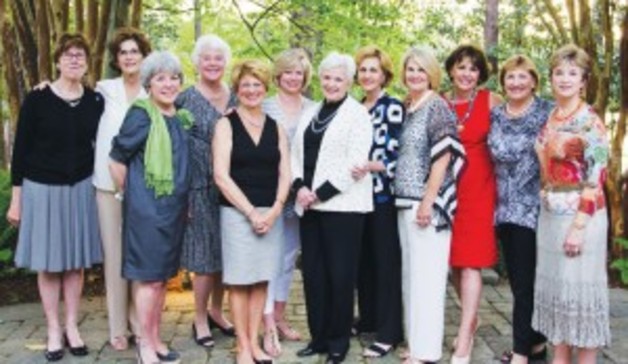 Growing Together
Camaraderie, benevolence and blooms in Fayetteville's garden clubs
Of course a celebration commemorating the 50th anniversary of The Pines Garden Club would have elaborate floral arrangements on each table in every room. That much is to be expected. And no gathering of southern ladies would be complete without silver serving dishes overflowing with petite fours, crudités and fanciful food.
Maybe it's the heat, the challenging soil or the promise of hot pink blooms and cold iced tea, but Southern women seem compelled to dig in and grow.
As Ouiser Boudreaux, played by MacLaine, says in the movie "Steel Magnolias", "I'm an old Southern woman and we're supposed to wear funny looking hats and ugly clothes and grow vegetables in the dirt ... I don't know why. I don't make the rules!"
The ladies of the storied garden club arrived at the Anniversary celebration dressed to the nines and ready to 'dish the dirt' (pun intended) and honor charter members, active members and sustaining members at Theresa Clark's expansive Lake Forest Drive home. In fact, the grand reunion was nothing short of a social soiree.
Planning for the lavish event began a full year in advance and committees were formed to divvy up the responsibilities for the grand undertaking. The chairwoman for the party was Lauren Allred.
"We wanted to make sure both past and charter members were all included," Allred said. "It's a reunion and that is the atmosphere we had hoped for."
Committees included one solely charged with gathering names and making the ornate name tags, as well as others responsible for the food, the flowers and a video that chronicled photographs of past years service mingled with social affairs through out the clubs' existence. The guest list might read like a Sandhills socialite's address book, but these generous ladies are not afraid to get their hands dirty when it comes to giving to our community.
Cultivating Friendships
Martha Spires is currently the president of the Garden Club Council of Fayetteville, an umbrella organization that organizes large events and offers speaker ideas to individual clubs. Spires grew up in South Carolina then spent eleven years battling the red clay of Atlanta. She said her garden club, The Lafayette Lady Slippers, helped her figure out what she could grow and when she should plant it.
"When you are with your club, there is amazing camaraderie," Spires said. With increasingly demanding schedules, women often look to the television for landscaping ideas. It's understandable, she said, but not as helpful as having someone next to you to answer questions while you get hands-on with a project.
As Jennifer Sullivan, a member of the Garden Club Council of Fayetteville and the vice-president and executive director of the Cape Fear Botanical Gardens, pointed out, "What's nice is that the women who acquired the more proper, formal training are eager to teach the younger women. We pair a more experienced person with a younger amateur and they learn from each other."
Programs are a staple of garden club society. Whether the presenters are national names or local amateurs-cum-experts, programs are aimed at expanding knowledge and branching out into new areas. Spires recently presented a program centered on the council, and relished the chance to dig into the council's history.
"Knowing where you've been is key to figuring out where you're going," Spires said.
To assist her research, Spires flipped through the volumes of club scrapbooks housed at the Botanical Gardens' new Wyatt Complex. Among them, the 1965 yearbook, called The Pansy Patch, holds pictures of bouquets carefully clipped from glossy magazines and taped onto wide brown paper. It is a far cry from today's craft store scrapbooks, and the simple layout allows the gardening deeds to speak for themselves. The gardeners, cleaned up and white-gloved, gather in small black and white photographs beside newspaper clippings and carefully-penned index cards.
"It used to be that every time a garden club sneezed, the paper was there to cover the event," Spires said. Flipping through the collection of articles, you would be hard pressed to find a corner of Fayetteville that wasn't planted, tended or otherwise affected by a garden club. Letters from local establishments, like one from Fayetteville's VA Hospital dated March 20, 1975, express the community's appreciation. The ribbon cutting of the Fayetteville Garden Club Center in March of 1975, located on the second floor of the new Sears store in Cross Creek Mall was well-attended. Within the pages, fashions and gardening trends change alongside each other — from bouffant hairdos and full bouquets to slick locks and stemmy arrangements. As for photos, black and white squares give way to muted palettes and rounded corners, but they all tell the same story.
"When we pull together and get all the clubs moving on something, it's amazing what can happen," Spires said.
The ladies all look lovely and content, their frustrations left behind in the dirt. Contrary to some beliefs, they are not limited to azaleas, camellias and the occasional gardenia. In the 1990s, Polaroid frames brandish typed labels of Kurume azaleas and bamboo shoots. Mandavilla vine is wrapped around roses, ferns and Harry Lauder's Walking Stick. In another snapshot, an exotic Protea bloom is placed beside tubing so bold that it's practically scandalous.
"We have a lot of talent in this town," Spires said, adding "A lot," again for extra emphasis.
Alongside the luncheons and social events, an enormous capacity for creativity has always resided in Fayetteville's garden clubs. On February 24, 1968, the Friendly Acres Garden Club held a contest where Mrs. Jack Rogers won Best in Show for an abstracted magnolia branch creation in which, as reported in The Fayetteville Observer, "fresh broccoli was used in an unusual manner to give a massive point of interest."
New Growth
Now in their 50th year, The Pines Garden Club's activities range from monthly meetings to hands-on programs, and the ladies are actively involved in maintaining the traditions while keeping up the art of entertaining and organizing grandiose events and parties.
Beverly Stewart says her favorite part of the club through the years has been the workshops. She has learned to plant an English garden, arranged fall gourds and even has made boxwood wreaths.
The Garden Club's Historian, Helen Bostic, is serving in the two year position. Helen said she has most enjoyed the programs and guest speakers she has heard over the years. Like many of the other members, Helen's warm persona and laugh carry over the crowd of chatter as the ladies caught up with one another in the sisterhood that they share through their membership in The Pines Garden Club.
Lou Tippett, charged with the duty of maintaining the club's scrapbooks and yearbooks that date back to 1962, holds the key to the clubs' history in these treasured chronicles. The 50 years of books have preserved memories, projects and garden club member profiles and awards that are brimming over with stories that practically write themselves through the photographs.
The hostess of this year's 50th Anniversary event, Theresa Clark, has a knack for raising orchids and is active in the local orchid society. Many potted varieties were on prominent display in her elegant home. Theresa's patio terrace overlooks the tranquil Forest Lake. As one might expect, the sanctuary and beauty of the outdoor oasis beckoned the guests to meander around the grounds  and admire the fountains, shrubbery and plants.
Brick paths define the space around the backyard area fountain adorned with day lilies, with a backdrop of cornflowers, calla lilies, peonies and an aster that blooms in the fall. The front of her yard is brimming over with hydrangeas from purple mopheads, oakleaf hydrangeas, lacecap hydrangeas to a white one which turns a green hue in the fall. The area is dotted with colors from her hardy gardenias, magnolias, roses, ginger lilies, butterfly bushes and daisies.
This year's Garden Club President is Melene Hatcher and members spoke highly of her leadership and planning skills as she culled innovative ideas for the club.  "The past two years, the club has had the best programs with Melene in charge," said Linda Lewis, a member since 1964.
The club's most seasoned charter member is Jean Pridgen, she has been a member since the very beginning and attends all the events and meetings. Jean has a passion for hydrangeas in her own garden and has cultivated many friendships over the years. "People have changed positions through the years, but the past few years we have had exceptional young and talented ladies," she said. "We are all good to each other; it's a good group of ladies."
Green Thumb Girls
These days, all of the garden clubs work differently than they used to, and even from each other. Some are work-oriented, while others are more focused on fundraising. Some wield impressive member rosters, while others prefer to stay small. With today's limited schedules, it's a constant challenge to make gardening exciting, be purposeful at meetings and convince people to take up leadership positions.
"Whether women are working at home or outside of the home, we're all working," Spires said. "The council and garden clubs have had to change with their membership. We're still very focused on education, beautification and gardening, though, and we take on projects that will accomplish those goals."
The clubs also are known for their philanthropy in the community. They have planted flowers in the 'Hurley pots' downtown and helped to beautify Freedom Memorial Park and the Linear Park. They have also raised money for the Cape Fear Botanical Gardens and the Poe House Gardens. They decorated the CARE Clinic entrance before the clinic's new building was dedicated and assisted in local efforts associated with Operation Christmas Child as well.
To perpetuate the long standing tradition of inspiring future gardeners, clubs develop junior gardening programs. For Dig and Dream Garden Club President Dottie Lowell, gardening is a way to bridge the generation gap. Their junior club, The Seedlings, meets at Margaret Willis Elementary School every week, and the children help plant and weed the garden there. The club includes several members well into their 80s, who remain active. After all, they wouldn't want to be shown up by 96-year-old member Betty Holloway. "Our older members provide a great wealth of knowledge and help us keep gardening from becoming a lost art," Lowell said. "They may not still be digging, but they are definitely still dreaming."
featured