A Cut Above

08/31/2012 02:32PM ● Published by Anonymous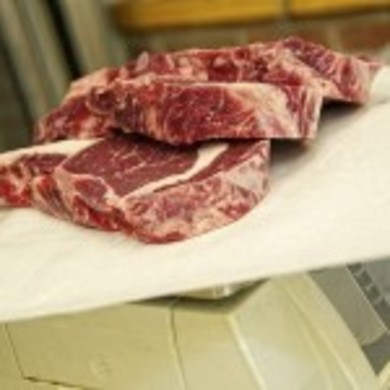 Noble Meats finds success by emphasizing old-fashioned quality
By Jason Brady
On most days around 4 a.m. or so, Nabil Noble is awake chopping about 250 pounds of pork that has cooked all through the previous night and into the early morning hours. It makes for a long day for the 67-year-old affable gentleman who owns and operates Noble's Meats and Eatery on the busy corner of Lillington Highway and Manchester Road just north of Spring Lake.
Noble is a native of Nazareth, Israel. Called an-Nasira in Arabic, it is the largest city in northern Israel made up predominately of Arab citizens of Israel. His Arabic name Nabil means "noble one" and thus he took that as his last name. "People here can better relate to that name," he said.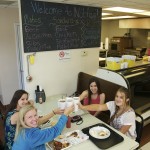 He has operated Noble Meats and Eatery at 2469 Hwy 210 North (Lillington Road) since 1987. He thought it would be a prime location for his meat shop, especially with nearby Fort Bragg and Pope Army Airfield. "I was looking for steady, consistent customers," he explained.
His father was a stonecutter in Nazareth, but he also had family in the meat business there; however, Noble did not start out following that trade. After arriving in the U.S. he earned a civil engineering degree at a midwestern college, but opted instead to work in the meat business after learning the trade during a summer job. "I never worked in it (civil engineering) a day in my life," he said.
He also met his wife, a Wisconsin native, in college. Together they eventually landed in Stanley County, near Albemarle, where he had a small farm – mostly pets, he said. To this day, Noble commutes from his business in Spring Lake to his home in Stanley County once a week.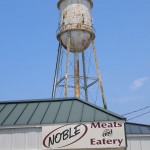 Noble recalled that in the late 1980s, Spring Lake had more of a village type atmosphere. "Everyone knew everyone, especially in the business community," he said.
But nothing stays the same. Spring Lake got its first Wal-Mart Super Store in 1989. "When Wal-Mart came, it changed everything dramatically. It took out a lot of mom and pop stores on Main Street," he said.
Noble has braved the onslaught of big chain food stores that sell meat. Initially, Noble was only in the meat business. "It was feast or famine. When it was not payday, the well went dry," he said. He decided to add a restaurant. Although still a competitive business, it provided more consistent cash flow, he said.
Noble's Meat and Eatery employs five people, including Noble himself. "Every now and then, my son Jason who lives in Charlotte comes and pitches in." His employees have been with him for years, he said. "There's not much turnover. When we train someone, we don't want to lose them," he said.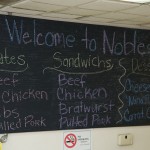 While Noble does offer a Mediterranean-style potato salad, consisting of red potatoes, cilantro, parsley, olive oil and vinegar, his restaurant staple is good old southern cuisine: rotisserie chicken, pulled pork sandwiches, BBQ beef sandwiches, baby back ribs, sliced beef brisket with sides like corn, green beans, cole slaw and macaroni salad. For desert, there's always banana pudding. The secret to his pork, he says, are the hickory chips and hickory nuts that provide the distinct hickory smoke flavor.
His meat side of the business guarantees tenderness and flavor and all cuts are done on the premises, which include custom cuts of meat from rib meat, loin, round and chuck cuts. Customers can buy cuts by the pound or even the freezer full.
He also sells scratch-made sausages and brats. "We debone it ourselves, grind it and stuff it. We know what's in those sausages and brats and guarantee it is good meat," he said, though he admits they are more of a Wisconsin cuisine. Still, Noble says, his food is a niche for that area. "You cannot sell hamburgers next to McDonalds or Burger King – you'll go broke. You have to have a niche and we offer a unique product," he said.
The philosophy to his success, according to Noble, is "don't serve anything you wouldn't feed your family. We eat what we cook. If it's not fit for us, it's not fit for our customers, whether it be meat or cooked food."
Lunchtime is the busiest except on Saturdays, when the lunch crowd is a little thinner, but the early afternoon meat buyers looking for that perfect cut of meat for their grills picks up before he closes at 4 p.m. "People enjoy working directly with their butcher for that exact cut of meat."
Noble said what makes his business worthwhile are his repeat customers who he has come to know personally. "We have the best customers in the world, second to none," he said.
In fact, customers arriving throughout the day are greeted by their first names. "It's always nice to see the soldiers and airmen coming back," Noble said. Sometimes we may not remember their names, but we don't forget their faces."
featured