Back East

08/31/2012 02:32PM ● Published by Anonymous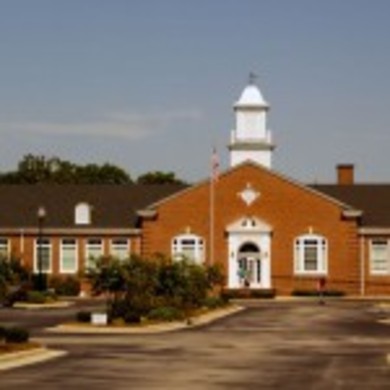 Eastover retains its connection to the past, minus the fleas
By Bryan Mims
A flea bigger than a puppy looks over my shoulder every day, perched on an office cabinet as if it's the master of all it surveys. It is brown with black stripes, has six bent legs, and is squishy as a squeaky toy – but without the squeak. The flea is filled with air and wears the Bayer Advantage logo across its abdomen, a cute promotional keepsake from the makers of a flea and tick ointment.
The mayor of Eastover gave me this inflatable flea. I interviewed Charles McLaurin just before New Year's Eve 2010 when his town raised a new tradition for New Year's Eve – dropping an oversized flea down a pole. Times Square has its ball. Raleigh has its acorn. Fayetteville has its dogwood. Eastover has its flea.
Mayor McLaurin met me that December day outside the Eastover Community Center, where a pole marked with the numbers one through ten loomed toward the gray crowns of the white oaks. It looked like one of those high striker games at a carnival. McLaurin introduced me to a three-foot tall, 30-pound flea made of foam, plywood and wire.
"Well, I think it needs to go back to your heritage," he told me. "We had to do something that was original, a little quirky." And thus the Flea Hill Flea Drop scratched its way into the annals of original-and-a-little-quirky New Year's Eve celebrations.
Long before Bayer Advantage or any other flea-fighting goo oozed beneath a canine's coat, Eastover was known as Flea Hill. Locals say the sandy area had a flea problem something awful back in the 1800s.
One story goes that hogs and goats would sleep beneath a community tavern, ensuring a robust flea population. Another tale has it that dogs would snooze under the church and unleash a plague of fleas on the flock. The pastor would hold his Bible with one hand and scratch with the other. So I've heard.
By mercy and grace the flea problem has fled Flea Hill, which long ago was itching for a more inviting name. The Flea Hill Township was eventually renamed the Eastover Township because of its location east over the Cape Fear River from Fayetteville. It wasn't until July 26, 2007 that Eastover became incorporated as a town by the North Carolina legislature. Charles McLaurin, the man with the pest on a pole, became its first mayor.
A group of local citizens called Progress Eastover had campaigned for a couple of years to incorporate Eastover in hopes of avoiding possible annexation by Fayetteville. They wanted to craft their own identity, chart their own destiny, protect the wide-spot-in-a-country-road appeal of the place.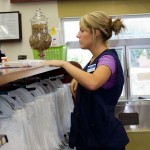 Eastover has about 3,700 residents, a number that's held steady for the last decade. Within the town limits is the Eastgate neighborhood, a modern subdivision of brick-and-vinyl two-stories on small lots.
There's an IGA grocery store, a drug store named Eastover Drug, a BP gas station, a Dollar General, a pediatrician's office, a dentist's office, even a bed and breakfast. There it is, right along Dunn Road – the main road – in Eastover: Gloria's and Edgar's Bed and Breakfast.
It's a colonial-style, two-story brick house with a white-columned porch on both levels.
Perfect for sitting in one of the wicker chairs or porch swing with a morning cup of coffee.
Stop Where the Parking Lot's Full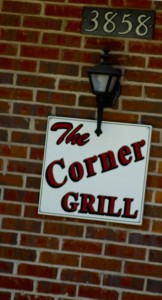 Any town worth its salt should have a meeting place, a diner where locals can go to chew the fat between gulps of coffee and swigs of sweet tea. In Eastover that place is the Corner Grill. Go there during lunch or breakfast on a weekday and it's nearly standing room only.
My son Silas and I dropped by on a drowsy Saturday afternoon, just before closing time at 2, and had the lunch counter mostly to ourselves.
Sharon Moore and her daughter Jessica Ramirez own the diner and, as usual, they were both behind the counter taking orders, shaping hamburger patties with their hands and slapping them on the grill. I always come here for the hamburgers. I get mine all the way – chili, slaw, mustard, onions. The Corner Grill draws a dedicated group of eaters from within and well beyond Eastover.
"They come from town (Fayetteville) just to eat out here," Moore said as my patty hissed behind her. "They come from Hope Mills just to eat out here."
And people come as if eating here were as routine and necessary as brushing one's teeth or combing one's hair. "We have those that we feed six days a week," Moore told me. "Yeah, we feed them the same thing."
"The same thing," her daughter chimed in with emphasis.
"If they don't show up, we try to find out where they're at," Moore said. "Yeah, we're huntin' 'em."
In Eastover, there are no fast food joints boasting about billions and billions served. You can't order the exact same lunch in Eastover as somebody in West Palm Beach. Most every business here is homegrown and uniquely Eastover. Moore shared something with me that her late husband shared with her as a guiding principle. "And I probably live by it," she said. "If you've got something in your community, a service that it can provide for you, go to it. Even though you pay more, those people – if something were to happen to you – they'll help you, whereas these chains won't. And it's true."
I finished my locally flavored burger and fries; Silas finished his hot dog with ketchup. A man had pulled up with a trailer load of watermelons to sell along Dunn Road – something you're not likely to see outside a restaurant that serves lunch in numbered combos pictured on overhead menus. I regretfully resisted the temptation to thump the side of one and carry it home.
We rode on up U.S. 301 to Eastover Artworks and Furniture Sales, a business Mayor McLaurin and his brother have owned for four decades. He's quite the artist, as my son delightfully noticed. "Daddy! Daddy! Daddy!" Silas interrupted as we grown-ups exchanged small talk. He was excited to find a picture of Nemo – that is, a clown fish like the one in the animated children's movie "Finding Nemo."
McLaurin has a gallery of his own watercolor paintings, most of them with fish and birds and other wildlife as his subjects. He also makes wood carvings of the wild things – a gar fish with its long, fearsome snout caught my attention. Wonderful as his art is, he can't make a living selling it alone, so he sells custom pictures frames and furniture to avoid the starving artist syndrome.
And for five years, he has been Mr. Mayor. Like a good many of his constituents, he doesn't care for big boxes to set down in his small town though there is talk of a Wal-Mart Express coming to Eastover, which is smaller scale than the trademark Supercenters. "So it won't be the great big box store," he said. "I think we want more of a quaint, village-type atmosphere, doing it in an orderly fashion."
A sign along Dunn Road announces "Eastover Town Center Coming Soon." It bears an artist's rendering of smallish brick storefronts lined up in a row. This is what the mayor means by a village-type atmosphere. Growth is sure to trickle its way east and over the river. Eastover now has its own sanitary district, providing water to residents without relying on the Fayetteville faucet. And the town is framed by two interstates – 95 to the east and 295 to the north. But even with the fast lane making inroads here, Eastover still respects and revels in its rural roots. Fleas and all.
featured