A Place In Time

10/01/2012 01:35PM ● Published by Anonymous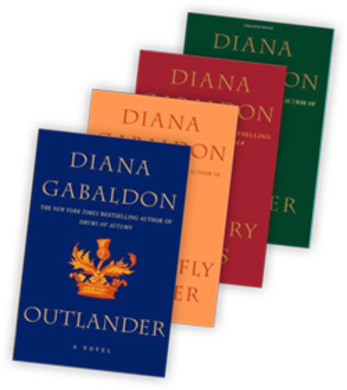 Diana Gabaldon's best-selling novels re set in our region in the late 1700s
by Rebekah Sanderlin
Diana Gabaldon is the author of the award-winning, number one New York Times - bestselling Outlander novels — a series that includes some 18 books, with more than 18 million copies in print worldwide. A writer for Salon magazine once described her books as "the smartest historical sci-fi adventure-romance story ever written by a science Ph.D. with a background in scripting "Scrooge McDuck" comics." Gabaldon says that's probably the most accurate description she's seen of her work, which is based on the premise that a modern British woman time-travels to 18th century Scotland, where she falls in love and gets a first row seat to both the Scots Uprising and the American Revolution. Much of the action in her books takes place right here, in the Cape Fear River region of North Carolina, in the middle-to-late 1700s. Gabaldon is also a sought-after lecturer on Scottish history. With a new Outlander novel set to be released next year and a television mini-series in the works, CityView talked with Gabaldon to learn more about her work and what our region has meant to her stories.
Q: How do you research your books? A: "Research is an organic sort of thing. You look for a loose end and pull and see where it leads. Normally I look for an overview book or two to find major events and people and then I go from there. Now I have 1,500 books on Highland culture and language. The internet is an excellent source. The research is in support of the story. The point is not to know everything about Scotland in the 18th Century, it's to write a novel. I do the research concurrently with the novel, they generally feed off each other."
Q: What made you want to write about Scotland in the 18th Century? A: "I chose Scotland pretty much on a whim. I've known since I was eight years old that I was supposed to be a novelist — I just didn't know how. I decided a historical novel would be the easiest to start with and one time would have done as well an another. I saw a "Dr. Who" rerun and the doctor had a young companion from the 18th Century, a fetching young man in his kilt. [laughs] I found myself still thinking about it the next day in church."
Q: Why did you have your characters immigrate to North Carolina? A: "I followed Scottish history and found that about half went to Nova Scotia and the other half went right up the Cape Fear River. They went to the Cape Fear River area because they had kin there. Having survived horror in Scotland, life in the new land was better for them, there was good land and nobody was trying to kill them."
Q: What have you learned about our area in your research? A: "Fayetteville/Cross Creek was not a political hotbed when they settled there. Scots, in general, had a lot to do with the American Revolution. They're very determined. The Jacobite Rebellion was one of the roots of the American Revolution. Why did some of the Highlanders fight on the English side? People assume it was all about freedom, but the Jacobite Rebellion had nothing to do with freedom from England. They were fighting to restore the Stuart Dynasty. But if you'd been through the Uprising, the sight of a Red Coat would stiffen you up. The sensible person of the time would have fought on the British side." "In North Carolina, Moore's Creek Bridge was the last Highland Charge anywhere in the world. Brits got little support from Highlanders — Highlanders were tired of fighting and many moved across the mountains into Tennessee to get away from it. The New Englanders were more gung ho because they hadn't lived through war already. People often start from the wrong assumptions about the Scots during that time."
Q: Why do you think people everywhere are so interested in Scottish culture? A: "Scottish culture is persistent almost anywhere in the new world, New Zealand and Australia, too. There's an oral identity through music. Even if you're only partly Scots, you want to be a part of it. Scots have always been willing to marry out, too, partly because they had to leave Scotland to find opportunities. Highland culture was a tribal one and because of that they fit in very well with the Indian culture here. Often they lived with Indians. Even though they blended with other cultures, they brought their own culture with them.
Q: What are you working on now? A: "I'm working on a book called "Written in my Own Heart's Blood", which is coming along well. It should be out in the fall of 2013. I'm beginning to e-publish some of the shorter pieces I've written for anthologies over the years." "I've got a deal with Sony Pictures to develop the novels into a cable TV series like "The Tudors" and "Game of Thrones" — it's not a done deal yet, but it is a deal."
art