Coming Home

10/01/2012 04:42PM ● Published by Anonymous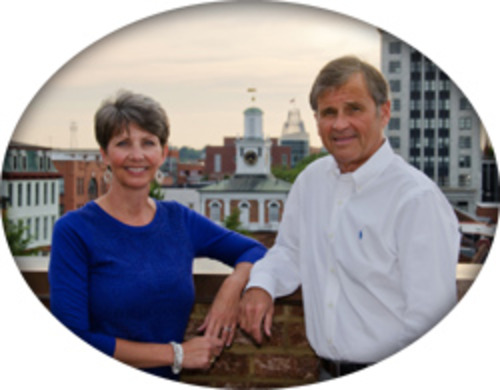 Historic living in the heart of downtown
By Shari Dragovich
When a young Tony Chavonne left Fayetteville in 1973 to attend UNC Chapel Hill, his hometown's hub was still strong. Back then his whole world revolved around downtown: shopping, eating, socializing and taking in a movie. The idea that the place of his own wonder years would soon lose its lifeblood couldn't have been further from his mind. In fact, like many young people, Tony Chavonne left Fayetteville thinking he would never return.
But he did return, and, ironically, never left again. Not only did he not leave, but he gained a front row seat to the slow decay of his boyhood home. The 1970's and 80's were hard on America's urban centers, and Fayetteville was no exception. As the Skibo Road area began to thrive, downtown began to dwindle, slowly mutating from the hub of productivity to a refuge for marginal living. "My first job was in the First Citizens Bank Building on Green Street," remembers the man who is now Fayetteville's fourth term mayor. "I was able to witness the deterioration of downtown firsthand."
Seeing his town turn away from itself converted Chavonne from being a young Fayetteville deserter into one of its truest believers and deepest investors. Now sitting in his new downtown home, with its 166 Bow St. address and its sweeping views of Fayetteville's revitalized downtown, Chavonne reflected on watching the transformation of his city.
Over the course of 30 years Chavonne would spend a full career with The Fayetteville Observer and, with his wife Joanne, raise two sons, frequently going for runs around downtown with YMCA friends to inspect the early progress of the area's revitalization. Sometime during the mid-2000's, the Chavonnes were attending a loft tour sponsored by the Downtown Alliance and featuring the 300 Hay Street development. They immediately became excited, recognizing the special impact of marrying residential and business spaces for stimulating downtown growth.
"When people are considering a move to your area, they want to know how you treat your downtown, because it's your living room," Chavonne said, speaking from his perspective as a former chairman to the Chamber of Commerce and Economic Development Team.
"Downtown had become a competitive disadvantage for us." However, with the development of the Hay Street lofts, the Chavonnes could see what was once a competitive disadvantage, now had the potential to be an advantage. "There was something special for me to be a part of the revitalization," Tony Chavonne said. "We were in a good place," added Joanne Chavonne, "our boys were away at school and we were ready. You have to have an urban mindset. You have to be ready for it and want it. We wouldn't have made this decision if we were in a different place in life." They began planning in earnest for what would eventually become 166 Bow St. — their new home.
In choosing a location, the Chavonnes had much to consider. They studied both old buildings and open lots. In the end, with historic building codes being much stricter for existing structures, the Chavonnes decided on a decade-old barren lot near the intersection of Person and Bow Streets; empty space between two historic structures. "We took a tooth that was missing and put it back in place. That's been a special part of [the process]," the mayor said.
Instrumental to the Chavonne's building success was their dream team: Bob and Lynn Leath – a residential design and interior design couple; and George Rose – a residential and commercial builder. The project carried with it a slight learning curve, especially for Rose, having never built a residential structure in an urban setting before. Rose's greatest challenge was in staging. "Traditionally you're building someplace where you can stage your building materials," explained Tony Chavonne, "here, there is no place to stage materials. [George] had to plan deliveries for exactly when he needed them."
Besides being tasked with building in a historic urban setting, the team was given one very specific condition by the Chavonnes: as much as possible, the constructing and decorating of their home was to be done by local businesses. "We intentionally had that discussion with the builder upfront," Joanne Chavonne said. "It added to the team and to the pride of the project and enjoyment of it," Tony Chavonne added. "I will walk into a store and someone will mention, 'Hey I worked on your house!' Everyone who worked on the project took such pride in it." In fact, 95 percent of the Chavonne's home was built using local vendors — from the tile to the molding to the artwork.
While the Chavonnes felt pressure from all the above, it was pressure from the public eye which they felt the most. "This could have been a high profile failure," the mayor said with all candor. "We wanted to make sure it was a high profile success." In the end, the Chavonnes can't remember any major snags or overwhelming problems throughout the project. They credit the Leath-Rose team. "Their professionalism gave us complete trust and confidence in them," Joanne Chavonne said.
Walking through their home, one can't help but notice the Chavonne's pride in their hometown. Two rooms boast local artist Greg King's bold and colorful strokes of downtown scenes, captured at unique angles. Throughout the home, where there is a window, there is a view — church spires, historic structures and even a picture perfect real life portrait of Market Square. "This was Tony's design," shared Joanne Chavonne with a smile, as she walked over to touch the side kitchen window. "He really wanted a view of Market Square, but because it's a fire-wall, a window wasn't allowed." The mayor refused defeat and subsequently spent hours researching ways to create a window that would meet regulations. His answer? A metal shutter set on a heat sensor, tied to the alarm system. The shutter closes automatically when the alarm is triggered. The building met code requirements and Mayor Chavonne got his Market Square view.
The Chavonne's home also reflects the importance of family, coziness and easy entertaining. Though limited in space, Leath managed to create an open floor plan with spaces flowing from personal to functional to social, simultaneously allowing as much natural light as possible to stream into the space. Where windows were not an option, skylights were installed. This helped create a home begging to be enjoyed. "The boys love this space," said Joanne Chavonne with delight. "They will bring their friends over to cookout and enjoy the downtown views from the rooftop."
The Chavonne's life-changing investment is one which is building upon itself. Old structures continue to be sold and businesses continue making downtown their home. Until recently, Hay Street had enjoyed the bulk of downtown revitalization, but now Person Street has begun to follow suit. The Chavonne's home may currently stand on the edge of development, but they know that's not the case for long. "This is not the end of downtown revitalization," said Mayor Chavonne, "I think this is an exciting time for downtown for the next few years."
One of the most exciting trends unfolding alongside the historic district's urban renewal, is the influx of military members who call it home. The new downtown digs are appealing to young professional soldiers, many of whom have lived in urban settings before. More than ever, young singles and married couples are breaking with suburban traditions and moving downtown. The Chavonnes, who have actively championed Ft. Bragg families for years, couldn't be more thrilled. "[Our soldiers] are a very important part of our community," Joanne Chavonne said. "We are blessed to live in a community with the real heroes of today and that brings with it a responsibility," — a responsibility Joanne Chavonne has taken very seriously, volunteering thousands of hours of her time for soldiers and military families. In their efforts to see downtown revitalized, the Chavonnes have expanded their military support, perhaps without realizing its rippling effect. They — along with other committed residents — are helping redefine 'typical' for the typical military town; raising the bar for military towns across the nation and expanding the horizons of local support and pride in our local military personnel.
When reflecting on the past eight years, all the Chavonnes can do is repeat this simple word: "special".  From never looking back to never looking elsewhere, Tony and Joanne Chavonne now can't help but look forward now, and they couldn't be more proud to call downtown Fayetteville their home. They remember that moment of confirmation: an overwhelming sense of peace and blessing as they looked out from their newly finished rooftop. They stood with their family, as the sunset perfectly illuminated historic Market Square, the church spires and their vibrant downtown. "We may live in other places in other times," said Mayor Chavonne quietly reflecting back to that moment, "but there will never be a more special home."
living