Happy Hauntings

10/01/2012 05:07PM ● Published by Anonymous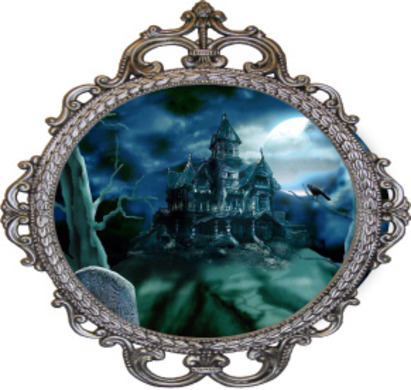 Find the people who'll say 'boo!' to you
Want to meet some of Fayetteville's most infamous criminals and legendary spirits? Interested in hearing about the female serial killer who once lived here and the police chief who was gunned down in his home? If that's the sort of thing that makes you shiver in a good way, you're in luck. It's time again for the annual Historic Hauntings Hayride and Hallow's Eve Walk. (And if that's not enough "Hs" for you, there's a heaping helping of hair-raising happenings planned elsewhere around town, as well.)
Historic Hauntings: A Ghastly Ghost Tour will take place the weekends of October 18 — 20 and 25 — 27. Guests will be treated to eerie encounters in downtown Fayetteville as ghostly re-enactors and story-tellers take you through Fayetteville's most infamous haunted and creepy locations. Be on the look out for Confederate soldiers as you make your way through Cross Creek Cemetery—by torchlight. Perhaps you'll hear about (maybe you'll even hear) the banshee who protects the Kyle family and certainly you'll walk away seeing our city in a whole new, albeit much spookier, light.
Reservations are required and because the Hayride includes a stop where patrons will embark on a 10 minute walking tour, it is not intended for patrons with mobility issues or with children in strollers. Tickets for the Haunted Hayride are $15 each and can be purchased by calling 910.323-1934 or online at www.etix.com.
If you aren't scared enough after the hayride ... hang around to tour the Heritage Square Haunted House. This tour will take place in the dark, damp, spirit-ridden basement of the Woman's Club. Tickets are $5 and can be purchased by calling 910.323.1934.
... And if you dare to tempt the dead, take a walk on Hallow's Eve (That's October 30 for you spirit world newbies) through Cross Creek Cemetery. Fayetteville's City Historian, Bruce Daws, will guide participants on the hour-long Hallow's Eve Cemetery Walk, regaling revelers with tales of murder and mayhem and a few facts about some of the oddballs who made that cemetery their final resting place. Proceeds from the Walk will help pay for restoration to the headstones caused by the horrible vandals who no doubt will find themselves haunted for all eternity. We hope.
For pint-sized princesses, grade school ghouls, miniature monsters — and grown ups who just love the holiday, Fayetteville has plenty of other happy haunting options.
October 1, 4 p.m. Tween DIY: Halloween Bordeaux Branch Library Tweens 9-12, learn how to create crafts and decorations for Halloween. No reservation required. Information: 910.424.4008.
October 10, 7 p.m. In a Dark, Dark Room…We Told Ghost Stories! If you have a favorite ghost or scary story you like telling around Halloween, come to the Spring Lake Branch Library.
October 16, 7 p.m. Our Halloween Traditions North Regional Branch Library Learn how our Halloween traditions are a combination of ancient Celtic and Roman beliefs blended with Medieval European Christianity. Information: 910.822.1998.
October 18, 6 p.m. East Regional Library; October 23, 6 p.m. Hope Mills Branch Library October 26, 6 p.m. Headquarters Library Put Your Face Back On: Zombie Make-Up 101 Get ready for the Zombie Walk on October 26 by learning some simple and not-so-expensive make up tips.
October 19, 10:30 a.m. Hurry Up, Halloween! We're Ready! Come dressed in a costume and enjoy Halloween stories and songs. Hope Mills Branch Library.
October 23, 6 p.m. Bats! Learn the truth about nature's nightshift and find out why you should appreciate bats. Lake Rim Park.
October 25, 3:45 p.m. A Not-So-Story Story Time — Halloween Edition Cliffdale Regional Branch Library. Kids in grades 3-5 are invited for a fun filled "story time" unlike your normal story time. Come and enjoy fun activities to help celebrate Halloween.
October 26, 7 p.m. 4th Friday Presents: Apocalypse When: Are You Prepared For Any Disaster? Convinced you could survive a Zombie Apocalypse? You may not get very far... Downtown.
October 29, 6:30 p.m. Ghost Hunting in Fayetteville Headquarters Library. Do you believe in ghosts? Ever experience something you just couldn't explain? Or maybe you're just a fan of the hit TV series.
October 30, 3:30 p.m. Ghostly Get Together! Children in grades K-5, stop by the library in your Halloween costume and hear some ghost stories. Hope Mills Branch Library.
October 31, 12:30 p.m. Bats! J. Bayard Clark Park and Nature Center. Learn the truth about nature's nightshift and find out why you should appreciate these fascinating mammals instead of fearing them.
October 31, 2 p.m. Ghosts of the Sandhills J. Bayard Clark Park and Nature Center. North Carolina has a long and mysterious history. Come and learn about some of the local lore and legends as you listen to stories of this region's haunted past.
November 1, 6 p.m. Judgement House 2012 Destiny Now World Outreach. Learn what the Bible says about Judgement Day in this dramatic, interactive, retelling.
featured