Toy Soldiers

11/01/2012 03:39PM ● Published by Anonymous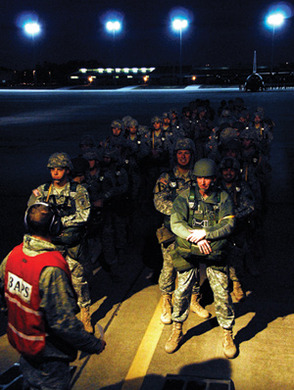 by Kirsten Harr
Fort Bragg is gearing up for its 15th year of Operation Toy Drop, which may sound like there will be toys dropping from the sky, but actually only qualified paratroopers will exit the aircraft.
The Randy Oler Memorial Operation Toy Drop is a week-long toy drive in which thousands of paratroopers and other members of the military community bring new, unwrapped toys to benefit needy children on Fort Bragg and in the surrounding communities. From bicycles to dolls, Operation Toy Drop has collected and donated more than 66,000 toys over the years.
Operation Toy Drop, named in memory of the late Sgt. 1st Class Randall R. Oler, was first conducted in 1998 when Oler organized a small airborne operation involving a few paratroopers on Marine Corps aircraft. While the first Toy Drop had few participants and collected a small number of toys, the operation continued to grow over the years.
Eventually, the unique, holiday-focused operation began to combine the efforts of Army, Air Force and civilian service organizations and established a tradition on Fort Bragg. The Fort Bragg community named Operation Toy Drop in Oler's honor on December 13, 2003. The event became a memorial the following year when, on April 20, Oler suffered a fatal heart attack at the age of 43 while performing jumpmaster duties.
The operation has expanded over the years to include aircraft support from Pope Air Force Base's 43rd Airlift Wing, Soldiers from Fort Bragg's XVIII Airborne Corps, 82nd Airborne Division and Special Operations Command. Today, participating paratroopers have the chance to make a parachute jump with jumpers from around the world, one of Oler's original dreams for the event. For Operation Toy Drop in 2011, 11 allied countries sent jumpmasters to participate in the operation: Cambodia, Canada, Chile, Estonia, Germany, Latvia, the Netherlands, Poland, Thailand, Ukraine and Uruguay. By donating a toy, paratroopers receive a lottery number that offers them the chance to earn foreign jump wings from an allied country. Last year, airborne units on Fort Bragg received 4,000 spaces on the aircraft for the parachute jump. Although only 300 of the seats on the aircraft were for lottery winners, over 3,000 soldiers showed up with toys hoping to win a lottery spot for one of the seats.
In the five years Oler organized Operation Toy Drop, he ensured that toys were not only given to military families in need on Fort Bragg, but also to those in need outside of Fort Bragg's gates. Since the operation's commencement, soldiers have collected and distributed toys to thousands of children in local children's homes, social service agencies and to every child who lost a parent in the tragic attacks on September 11, 2001. Last year Operation Toy Drop reached beyond North Carolina and distributed toys to children's homes and social service agencies in Texas, California, Washington, Missouri and New York. As the toys travel beyond Fort Bragg and North Carolina, so does support for Operation Toy Drop.
Many businesses in Fayetteville, Spring Lake and Lumberton place toy collection boxes in their stores to garner support from members of their community. In 2011, the Fayetteville FireAntz also sought support by dedicating one of their ice hockey games at the Crown Coliseum to the Toy Drop. One of the biggest contributors of Operation Toy Drop is the Kids Wish Network. Earlier this year, Kids Wish Network committed to support the operation for the third year by donating thousands of brand new toys for families and children in need.
This year, Operation Toy Drop will also receive support from other Army units across the United States. Army Reserve units in Austin, Dallas, San Antonio, Baton Rouge, Los Angeles, Seattle, St. Louis, and New York City are participating in Toy Drop events in their areas. These units will collect toys and distribute them to local social services agencies, children's homes and hospitals.
With the support of Kids Wish Network, soldiers and local businesses, the toy collection and distribution in 2011 doubled the total for 2010, with over 20,000 toys given to needy kids. This year, organizers expect to collect and distribute 25,000 toys.
SIDEBAR
Airborne All the Way!
Operation Toy Drop Lottery will take place at Green Ramp on Pope Field Friday, Dec. 7 and the main jump will occur Saturday, Dec. 8 at the Sicily Drop Zone on Fort Bragg at 9 a.m. The public is invited to attend the main airborne operation on Saturday.
giving