Ice Advice

12/31/2012 10:25AM ● Published by Anonymous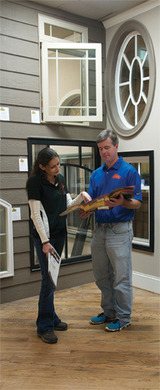 Winterizing your home takes the chills out of your bills
By Nathan Walls
Timothy Gallant knows a thing or two about winterizing homes in our area. He is the sales manager at Massey Hill Hardware, where he has worked for 30 years. "There are simple things you can do in the summer, or before the winter, when the cold really sets in," Gallant said.
Gallant makes recommendations and sells a plethora of items to his customers to help them winterize their homes. From insulating pipes, repairing PVC pipes, caulking windows, installing storm window kits, wrapping up outside faucets, insulating hot water heater copper pipes, using the right heating air pipes and changing wicks in kerosene heaters, to simply not heating unused rooms, can equal a savings to homeowners.
"Caulking is very essential because of moisture getting into cracks and making things brittle," Gallant said. He has helped many customers, and himself, with avoiding and repairing water problems.
"The biggest problem in the winter is water problems," he said. "Make sure your lines are properly connected. Last summer I had a line underneath my toilet that busted. I had to replace the part on it, but I would have had to have paid $154 to PWC before they readjusted the water bill, and I didn't know I had lost nearly 10,000 gallons of water."
Massey Hill Hardware sells pieces of pipe insulation for as little as $3.25, typically in 3/8-inch to ¾-inch in diameter. The insulation splits down the middle and has a piece of tape on it so customers can adhere it to the pipe. Thermometer strips, electric and kerosene heaters, items to keep outdoor water pumps warm, wood stove items, screen doors and window screens are also available at Massey Hill and other hardware stores.
Gallant also reminds customers to keep kerosene and electric space heaters at a safe distance and to not leave them plugged in when not in use. Speaking of heating your home, Nathan Hall and Nathan Stephen Hall are experts in the field. The father and son are co-owners of Nathan's Heating and Air. They recommend new digital thermostats and heat pumps to see big savings in the cold winter months.
"The digital thermostat is the way to go," Nathan Hall said. "The old mercury thermostats, with the lever on the side, are usually two or three degrees off. You can move a digital thermostat one degree. With the old thermostats, the person becomes the thermostat because they have to keep moving it up and down." Heat pumps are the most efficient way to heat your home and the Halls have seen a tremendous transition in Fayetteville, with many homeowners switching to the units.
"Everyone is going to heating pumps," Nathan Stephen Hall said. "The heat pump is the only piece of equipment you will actually make your money back on. With gas or oil, you are constantly paying a fuel bill. An efficient heat pump will pay for itself."
The Halls also said the way you use a heat pump really helps with efficiency.
"If I move up the thermostat three degrees, my elements from the emergency heat come on, so you're using three times the amount of power and that's what really costs you," Nathan Hall said.
"With the heat pump, just keep it at a comfortable temperature, as low as you can, and leave it there," Nathan Stephen Hall said. "People crank it up at night and knock it down too far during the day, so when you do that, you lose everything you save during the day when no one is at home," Nathan Hall said.
Will Blanton, the owner of Blanton's Heating and Air Conditioning, also suggests having your heating system checked annually by a North American Technician Excellence (NATE ) certified technician. "This can save money and lives," Blanton said. "If your heating system is over 15 years old, this may be a good time to invest in a new Energy Star-rated system. A new WiFi thermostat can alert you and your repairman if your system isn't working properly before you come home to a cold house."
According to Toliver Parks, the owner of Parks Building Supply, the windows on a home play a major role in how a person will fare through the winter. "The big push this time of year is windows," Parks said. "Everybody is looking at energy. Many are upgrading their windows and looking at the type of glass they have, especially the older homes. Weather strips and thresholds to [chimney] keeps are also popular."
Eddie Guyton, of Allbuild Home Improvements, said his business stays busy with helping customers winterize their beach homes.
"If people leave the home during the winter for a period of time," Guyton said, Allbuild cuts the water off out at the line, drains water lines and faucets, cuts the hot water heater off and recommends customers "leave heat on as low as it will go."
You can drain a hot water heater, but that is difficult, Guyton said.
One of the most important things you can do to winterize your home and save on heating costs is to insulate your attic and crawl space well. For insulation or any home winterization ideas and service, local residents should look no further than the pages of the phone book. Many local contractors in Fayetteville and Cumberland County perform winterizing services for customers.
And if you're a do-it-yourselfer, get tips at home improvement stores or do the research online by visiting websites like the Do-It-Yourself Network, Ehow and Youtube. The Internet is full of self-help tutorials that teach an array of winterization skills.
So whether you're Bob Vila, Timothy Gallant or an amateur, winterization skills will save you money and, according to Gallant, "It's the simple, basic things that can save you a lot of money."
living