Take the Plunge

12/31/2012 10:25AM ● Published by Anonymous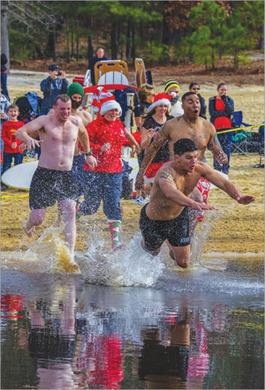 About 225 people accepted MWR's chilly challenge
It was a brisk 44 degrees at Fort Bragg's Smith Lake on December 15 when the 225 soldiers that were brave, or maybe just crazy, enough to accept Morale Welfare and Recreation's second annual Polar Bear Plunge challenge took to the water.
Participants showed up in crazy holiday hats, sweaters and festive garb to go along with the winter theme. Even Santa, Frosty, Rudolph and the Grinch were available for photo opportunities with families, spectators and those who took the plunge.
At the sound of the horn, the participants ran from the sandy beach into the frigid waters, swimming out and back. MWR's Branch Chief of Outdoor Recreation Sabina Bryant served hot chili in bowls to attendees and said she was pleased with the turnout of participants and spectators.
Warming tents and bonfire pits provided heat for the Polar Bear Plungers, who shrieked in delight at the sheer craziness of the event. Rick Hendrick Jeep sponsored this year's event and provided t-shirts to the participants.
Following the plunge, the ski rixen was open for the afternoon for participants to take some laps around the lake. The ski rixen, which reopened this past summer after being closed since 1998, consists of five metal pylon structures that tow wake boarders around a track. Think of it as water skiing without the boat —complete with ramps for stunts. The track can accommodate nine people at one time and if one takes a plunge, he or she can swim to the dock and walk back, or wait for the lifeguard personnel in boats to offer assistance.
With the recent closing of the Fort Bragg Riding Stables, this venue has been a hit for MWR — even in the winter time, it seems.
military