Soldier Cents

12/31/2012 10:25AM ● Published by Anonymous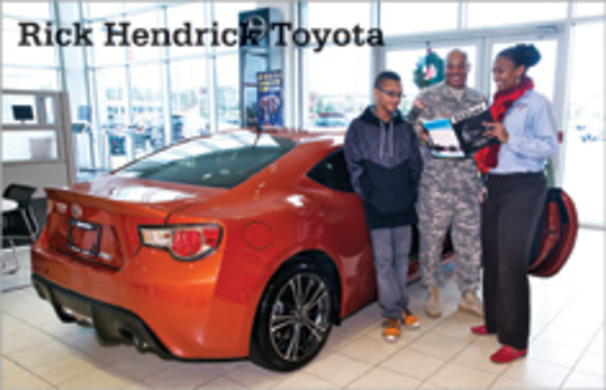 By Michael Jaenicke
One of President Obama's better stimulus programs may have been returning military personnel to American soil.
Since the first week of September, nearly 10,000 paratroopers have filtered back into Cumberland County, providing an economic boost to Fayetteville-area retailers. More returned around Thanksgiving and others came before the ringing of the Christmas bells.
Upon their arrival, roadways became more congested, lines became longer and cash registers began to chime on big box items, such as houses, vehicles, appliances, electronics and furniture. Smaller items such as tools, toys, clothing and any and every thing hobby-related have been flying off the shelves like an F-14 in freefall.
The 82nd Airborne Division Headquarters brought back 750 Paratroopers, the 1st Brigade Combat Team brought more than 3,000 Paratroopers, the 4th Brigade Combat Team delivered about 3,500 Paratroopers and the 82nd Combat Aviation Brigade filled our streets with 2,500 Paratroopers — nearly 10,000 soldiers in all.
"When soldiers come home it definitely helps the economy," said Rhonda Bright, manager of Bailey's Jewelers in Cross Creek Mall. "It seems the soldiers have shopped most for engagement rings and then Pandora."
Pandora is a line of popular charm bracelets, rings, earrings and necklaces.
The buying power of the more than 57,000 soldiers — and their families — stationed at Fort Bragg has kept the economy stable in Fayetteville and caused a bit of a rumble in the final quarter of the 2012, according to Dax Yarborough, owner of Dax's Deals, auto dealerships on McPherson Church Road and Raeford Road.
Thankfully, we're in a recession-proof business with our proximity to Fort Bragg," Yarborough said. "Business comes in waves and we see a difference when the troops return home. They like to come in after a deployment to treat themselves to a nice car."
While service members may prefer home cooking, they don't seem to mind having their countrymen as chefs. Restaurant owners are experiencing the euphoria of over-filled tables. While they couldn't make official statements, management officials at Outback Steakhouse, Ruby Tuesday, Olive Garden and Joe's Crab Shack said they've noticed more camouflage attire, closely cropped haircuts and Army families in their establishments. Nightclubs such as It'z Entertainment City, Barcelona and Sky Lounge have had many busy nights where customers filled their establishments.
"We have fairly steady sales in normal times, but yes, we've seen an increase," said Brian Schrock, general manager at Huske Hardware House, a restaurant, bar and night club located Downtown on Hay Street. "We have a solid military customer base and definitely see it impact our business. Sales have increased the past few months."
Before and after filling their stomachs, military personnel have been window shopping, price checking, comparison shopping and, most importantly, purchasing. And they've caused a bit of a bustle. Officials at the Cumberland County Sheriff's Department said they have put extra hours into planning to keep the road moving, particularly the high-traffic commercial byways.
Some military personnel are gliding through the city with new rides — cars, trucks, SUVs and motorcycles.
"It's helped us since they came off deployment," said Trent Taylor, a sales manager at Crown Ford. "Two months ago we saw a bigger increase than we have in a while. F-150s, Explorers, Fusions and Mustangs have been moving. Sometimes when they're on R-and-R a lot of things happen."
The movement is also happening at Powers Swain Chevrolet on Bragg Boulevard.
"We've seen a big increase in traffic the past couple months," said Gary Brown, general manager of Power Swain. "We got less civilian traffic before the elections because people were just feeling unsure of what was going to happen. Having a military push then more than evened us out."
Tom Costello, the general manager of Rick Hendrick Toyota on Skibo Road, had this to say: "Business is consistently good at Rick Hendrick Toyota; however we always have a spike in business upon the return of our troops to Fort Bragg."
Many retailers offer discounts and rebates on goods and services to the military.
"It pays off in more ways than one," Brown said. "It's our way of showing our gratitude for the job they do and it is also a good business practice to develop loyalty and stay connected. I'm just thankful they're home."
So is Eddie Miller, store manager of H.H. Gregg on Skibo Road.
"Washers, dryers and big-screen TVs are walking out," Miller said. "This is better than any time troops have returned. It's a definite stimulant for the economy."
Miller said that while customers were concerned about the nation's economy and were cautious, many did research on their big-ticket purchases.
"The public is more consumer-conscious than ever, and particularly the soldiers," he said. "And I'm guessing about 40 percent of our customers in the past three months have been military. They're catching up on their lives, and actually stay very-well informed about things such as the latest gadget or technology."
Officials at Home Depot and Lowe's reported an influx of military, as did Harbor Freight on Clifton Road.
"For some reason our weekdays in the middle of the month are now swamped," said Charles Kershaw, manager of Harbor Freight. "It's military-driven and a good thing for us and all the local home centers. We've been selling a lot of saws, nail guns, compressors and tools used to work on cars."
Dick's Sporting Goods employee Christina Bruwell said the Fayetteville store has seen more traffic as of late and many of the customers are filling their shopping bags with PT clothing.
Military personnel have been using other services, as well. Jimmy Hege, general sales and operation manager at Jiffy Lube on Yadkin Road knows at least one trend of the Army:
"We're generally busiest the two weeks they get paid," he said. "But we've had a few weeks to buck that when we were slammed. It's been good, with us doing 30 to 50 cars on days that were not as busy in the past."
And what better way to reward someone for patiently waiting and tending the homefront than with a small box from a jewelry store.
"We've seen a small spike in business, guys coming in for gifts, making up for when they've been gone maybe a few engagement rings," said Wally Hinkamp of Hinkamp Jewelers.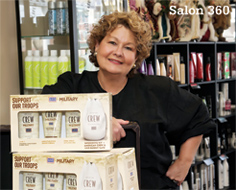 Beverly Hall, owner of Salon 360 on Raeford Road, didn't anticipate the troops returning, but has gotten new military customers after last year's remodel and reorganization. The salon is one of the oldest in Fayetteville.
"We generally stay the same customer-wise since we've been around forever, but yes, I do see an increase in the past few months," Hall said. "One thing that recently surprised me was when a military woman came in and told me other retailers and shops didn't give the military a discount. We've done that all day and every day for as long as I can remember. That really upset me thinking others don't offer a discount. I'm thankful for the job they do and for all the business our military gives everyone in this town and country."
That's a sentiment echoed by Colleen Wellons, owner of Tangles Salon on Raeford Road.
"The men and women of the military are vital not only to Tangles Salon, but to our community as a whole ... our business, like so many others, thrives in the wake of their homecoming. We will continue to proudly serve our soldiers and their families, and we thank them for their business and their service to our country."
business