September/October 2013

02/09/2013 01:47PM ● Published by Ashlee Cleveland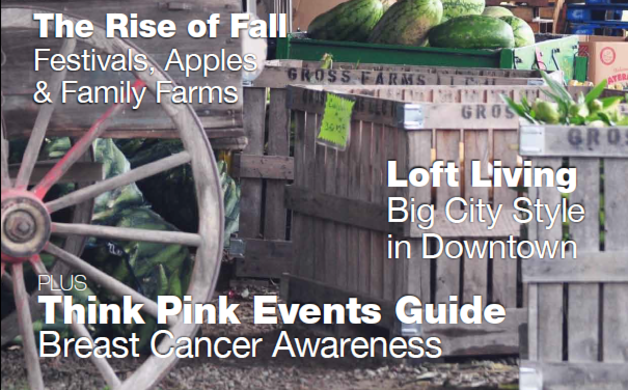 Fall Festivals and Fairs
Kelly Twedell, Features Editor:
I am so excited to usher in the stories and photos on the pages of this fall issue. This issue ends our Fayetteville Police series highlighting a few of the departments. Go behind the scenes with me to meet our CSI professionals, who gave me a greater appreciation for the level of expertise these ladies have as they work long hours putting together shreds of evidence to solve crimes on a daily basis.
The month of October also brings Breast Cancer Awareness month. We have a guide to some local events and some poignant survivor profiles. A unique hook to these stories was my interview with Massey Hill Classical student, Ryan Will. The oldest of three siblings, he lost his mother to breast cancer in March 2012. Since then, Ryan has taken on an active role in raising awareness for breast cancer in honor of his mother, Stephanie.
A heartfelt thanks to our Breast Cancer survivors, those still battling the disease and to their loved ones. What a strong group of women we have in the community - from mothers, military spouses, career women in and out of uniforms, to volunteers, people are really making a difference in the lives of others. It's inspirational.
Miriam Landru, Associate Editor:
I am looking forward to experiencing a "real" fall again after nearly three years of living in our
50th state. While Hawai'i certainly had plenty of beautiful sights, I missed the colors, smells and most importantly the tastes of autumn in the contiguous 48.
Read about the variety of fall festivals across North Carolina, discover creative ways to cook one of fall's favorite fruits, the apple and hear stories from breast cancer survivors in this issue.
Many of us know women who are battling breast cancer and many of us know those who have overcome the disease. My grandmother, who I affectionately called "Granda," suffered breast cancer in the 1970s, receiving a mastectomy. Until her death at 93 in February 2012, she lived a blessed, healthy life and took part in raising me, motivating me to be the person I am today.
In closing and at the risk of sounding like a public service announcement, remember to get your yearly mammogram so you can go on to motivate your children and grandchildren for years to come.
Marshall Waren, Publisher:
This issue has profiles about cancer survivors. Cancer is one of those diseases that touch us all and surviving it is a gift from God. My father and son died from cancer and many friends over the
years have suffered from it. The profiles and list of local events that bring awareness and benefit both survivors and those in the battle will resonate with most people.
As we celebrate the fall season, we are highlighting many festivals and places to travel this beautiful time of year in our great state. Another favorite part of fall is when the weather cools off especially at night and football season kicks off. I like high school and college football but really follow the NFL much more closely. This year will be a time to see how the Carolina Panthers can compete. The Washington Redskins are a perennial favorite of mine especially with the emergence of RGIII
as an outstanding quarterback. I recall the days of my youth when people in Fayetteville became Redskins fans because at that time the only televised NFL games on Sunday afternoon were the Washington Redskins. Go Panthers and Redskins!!
We are promoting our Food and Wine issue in October with a Launch Party on October 3, at SkyView on Hay. This is the first ever of this type event we have done and are looking forward to the response. Current advertisers will receive a complimentary invitation and it will be open to the public for a $15 ticket. Check out upcoming information about the event and how to buy your ticket on our website and Facebook page.
Savor the Moment
I am all for "teachable moments." As a mother of two daughters, both long past the toddler years, I appreciate the opportunity a parent has to encourage curiosity in children by using the world as a classroom. Read more
Feasting that Honors God
Feasting is an essential activity for the spiritual life. From its beginning, the church set aside Sunday as a feast day. Read more

Brick, Mortar & Steel
From all the great wars to Hay Street's revamp, this loft has been there the whole time Read more

The Fruit of Fall
All varieties of the apple make for delicious autumn fare Read more

Behind the Mask
Artists aren't made. They are born. This longtime Fayetteville resident has always had an appreciation for art. Read more

Gross's Greatness
The family has maintained the farm through five generations. It was begun by John Gross's great-grandfather over 100 years ago. Read more
Portraits in Pink
Three profiles of true thriving breast cancer survivors in Fayetteville. Read more

A Local Student's Impact for Breast Cancer
Ryan Will lost his mother last year but 'walks on' in her honor. Read more

In the Healing Business
Fayetteville Supports Breast Cancer Awareness Read more
Great Escapes
Summer is not the only time to schedule getaways to remember. Read more
Fallin' into Fun
A guide to fall festivals across North Carolina Read more

Meet Fayetteville's Real-Life CSI
Myths and Realities of Crime-Scene Investigation Read more
Read the online edition today!
cityview
fall
festivals
september
october
fairs