In Tune

06/02/2013 02:21PM ● Published by Ashlee Cleveland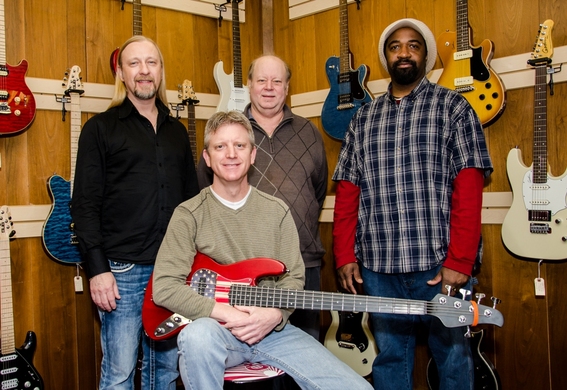 Cape Fear Music Center is instrumental to Dogwood Festival fun
The owners of Cape Fear Music Center are used to creating opportunities out of obstacles. In fact, it was adversity that created store. In 2006, Jeff Stone, Tony Harrison, David Wallet and Tyrone Green were employees of Brook Mays Music Group, a chain-store music company specializing in servicing area schools with instruments. The men heard rumblings that the decades' old company was shutting down and, rather than take a 'wait and see' approach, they planned. They coordinated their diverse skills and created a business model during the evenings, so that when Brook Mays closed, Cape Fear Music Center was able to open the very next day.
The new store spent the first nine months in the back corner of the Gas House on Rowan Street. Though the store was cramped, loud and nearly invisible, the partners forged ahead to build a music business much like the one they left. "We wanted to do the same thing we had been, but with a slightly different focus," explained Stone, who had been teaching private lessons on the side and saw great potential for adding such a component to the new store's model. Because of each partner's unique music inclination, Cape Fear Music Center became multidimensional: retail, school service and repair, and private lessons in guitar, drum and voice.
Nine months into Cape Fear Music Center's existence, the Gas House caught fire and everything was lost. The partners were unthwarted, however, moving to Maxwell Street in 2007. They were thankful for a new location, but hopeful it wouldn't be home forever. "We used to walk around at lunchtime, daydreaming of the ideal spot," laughed Harrison, reminiscing in near disbelief that one day their "ideal spot" — 110 Old Street — would eventually become home to the business. In 2009, the store front came available, though its condition was pitiful: bags of old clothing filled the storefront, the carpets showed signs of water damage and the place was overflowing with trash. Ever determined, Stone, Harrison, Wallet and Green hired some of their students (ones who were old enough to drive) and for two and a half weeks the crew labored to create a music-ready facility.  
From the beginning, the partners recognized that finding acceptable performance opportunities for young, contemporary-minded musicians would be tough. In 2009, after much brainstorming, they hit upon the Dogwood Festival. Patiently, they cut through rolls of red tape for the opportunity to create a stage under the Eugene Plummer Memorial Bridge. The excitement was palpable. Students shined at the chance to perform live. Parents were thrilled with the family-friendly venue for their budding musicians. In 2010, the Festival offered Cape Fear Music Center an opportunity to sponsor Second Stage, complete with high visibility and full support. The only things the Center had to provide were instruments, amplification, and – of course – musicians.
"We could never afford to do this on our own," explained Stone, itemizing the daunting costs involved. "We couldn't even consider it." 2013 will mark the fourth year Cape Fear Music Center has sponsored Second Stage. True to their original intent, the Center organizes their acts to showcase student talent, alternating with performances by local and regional bands. Last year, seventy of their approximately 200 students performed and this year's schedule will feature two ensemble groups — one boys' and one girls'.
By the looks of the Center's quiet storefront on its even quieter downtown street, one might be deceived into thinking the business' musical impact on the area is – well — quiet. Not so. Cape Fear Music Center services nearly a dozen county schools — both directly and as a hub for other companies. After school hours during the week and on Saturdays, 110 Old Street becomes a buzz of students and their parents. Instructors, all experienced performers themselves, focus students on fundamentals and theory, creating individualized curriculums for the students, allowing students to pursue the style of music they love while encouraging them to explore other genres, as well. Cape Fear Music Center also hosts annual Rock-n-Roll summer camps and is currently building a bass, for which they are taking advance orders."These guys are fantastic," said Richard Flannigan, one of the Center's adult students. "Their approach is great and they are patient."
Maybe it's the patience that brought them through the obstacles, or maybe it's the obstacles that grew the patience. Either way, Cape Fear Music Center's persistence has paid off. They are honored to be a part of Fayetteville's downtown arts scene and optimistic about their future there. "Downtown Fayetteville has a very artsy feel and we've always wanted to be a part of that," explained Harrison, describing the Center's current efforts to purchase 110 Old Street. "We are committed to Fayetteville's historic district and very proud to be a part of Downtown."
Things to know:
*Cape Fear Music Center's summer Rock-n-Roll boot camps are currently open for registration. Participants must be proficient at playing their instrument, but need not be a current student of the Center.
*The Center's instructors are available to participate in Career Day presentations at area schools. They also offer Rhythm Section Clinics for Middle and High School Jazz Ensembles.
*For a complete look at CFMC's offerings, visit them online: www.capefearmusiccenter.com
business
music
cape fear
guitar
drum
piano