Houston, We've Got Lift-off

06/02/2013 02:24PM ● Published by Ashlee Cleveland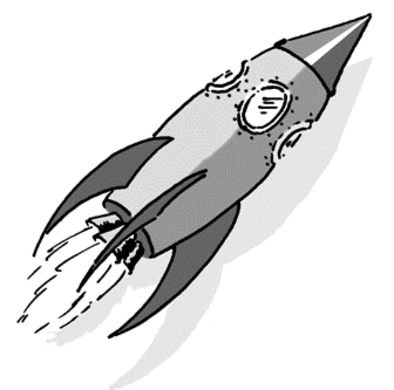 By Dr. Larry Toney
I was driving toward the bridge that connects Fort Fisher to Wilmington. My wife, Peggy, and I had driven to the coast from Fayetteville for the day. We left Fayetteville on Route 87 South and followed 87 all the way to Southport. Once we got to Southport, we unloaded our bicycles and rode around the quaint streets. Then we had lunch at the Yacht Basin Provision Company. It's a unique place to eat because it's by the water and you eat outdoors under a large awning. There's usually a nice breeze coming in from the ocean, too. I find the restaurant's name humorous because you might think it sells provisions for yachts. I don't know if they sell anything to yachts, but what I do know is they sell mouth-watering seafood served on paper plates in a one-of-a-kind environment.
After lunch, we took the ferry across to Fort Fisher. My wife loves riding across the mouth of the Cape Fear River on the fan-tail of the ferry with the salt air in her hair. She likes to watch the seagulls looking for something to eat dive-bomb the riders standing on the back of the ferry. From there we drove past the North Carolina Aquarium at Fort Fisher to the pier at Kure Beach, where we parked and walked on the pier for free. You have to love Kure Beach. And then it was time to head for home. It had been a perfect day…but things were about to unravel.
Houston, the count-down had begun…T-minus ten…nine…  
Truth is I had just returned from my third deployment. I was stressed. I was edgy. I was tired; physically, emotionally and mentally. My world had been turned upside down after three tours downrange. My dear wife, who is my best friend, was going through the glove compartment of my car. She was trying to help me by getting rid of things I no longer needed such as old registration cards, dated insurance cards, and just plain junk.   I politely told Peggy not to worry about the glove compartment…eight…seven…six.   But she wanted to help and kept fingering through things. "Do you want to keep this?" she cheerfully asked. Or, "What would you like for me to do with this?"  Once more, I asked her gently not to worry about it…five…four…three. She responded pleasantly: "I don't mind. I want to help you."  With that she picked up a deck of playing cards and asked me what to do with them. At that moment, the launch sequence was nearly complete…two…one…
Houston, we have lift-off. 
My reaction to the stress I felt took over. My eyes darkened. I smiled at my wife, the way Jack Nicholson smiled in the scary movie, "The Shining," and asked for the deck of cards. She gave me a strange look. I took the cards from her. We were driving across the bridge from Fort Fisher to Wilmington. There was a lot of traffic. A number of cars were trailing me on the four lane road. I took the cards in my left hand and told my wife: "This is what we will do with the cards." I held my left hand out the driver's side window, thumbed the cards the way a dealer does at Vegas.  The cards shot up in the air and then just as quickly began raining down on the windshields of the cars behind me. Cars started swaying in the traffic trying to avoid the playing cards. Others turned on their windshield wipers. Peggy looked back in horror at what was happening. Her mouth was agape. I had gone from calm, gentle Larry to a deranged madman in seconds. My reaction to stress had gotten the best of me. Ever had an experience where your stress got the best of you?  
Stress is a universal experience. It doesn't matter whether you are a mom or a combat veteran or someone working on a deadline, we have all experienced stress. What can you do to help manage the stress in your life? I'd like to suggest a couple of tools you might use as firewalls in your life to help you cope with stress: 
1)    Take a time out.  When I am under stress, I will do and say things that can be hurtful. I have learned I need to step-away for a moment to try and calm down. Note the word "need." In hindsight, I wish I would have told my wife I needed a time-out.   
2)    Get exercise. I run, bike, work out and go hiking several times a week. I do that to try to stay shape, but I also do that to help me keep my sanity. When I'm exercising I work out the anxiety and frustration I am feeling. Allow me to add this takes a lot of energy and discipline because most of the times I don't feel like exercising. I feel like sitting in my Lazy Boy in front of the TV. 
3)    Do something for yourself. If you can, find a moment when you take care of yourself. I may go buy an espresso in the afternoon to enjoy while I work at my desk. Or, I may go for a 10 minute walk in the area where I work in downtown Fayetteville. Sometimes I even stop at McDonalds and get my favorite french fries, but then I have to do more exercise and spend even less time sitting in my Lazy Boy in front of the TV. 
4)    Engage in meditation or some kind of discipline for your emotional and/or spiritual well-being. Some people do yoga, others drink a cup of coffee in the morning to get their thoughts together. Some engage in a spiritual practice such as doing devotions or reading religious literature. I read religious literature because it helps me regain my perspective on life. I don't know if you are like me, but I can lose my focus. Engaging in a spiritual practice helps me regain my focus.  
5)    Share with someone appropriate about your stress. Since I am a combat veteran, I see a therapist at the VA several times a month about the stress I have faced and continue to face. I have learned I do far better if I process what I am feeling with someone. When I was on the bridge in Wilmington, I had not talked to anyone about my stress. 
6)    Our physical, spiritual, and emotional batteries can get low and when that happens we are far more susceptible to reacting to stress rather than managing it. When your batteries are feeling low, look back through items 1 through 5 again. 
The bottom line is: stress can overwhelm anyone. In order to manage it, we need to build in firewalls like those listed above to help us cope. Otherwise, we can find ourselves in situation like mine on the bridge: "Houston, we've got lift-off."
Dr. Larry O. Toney is the Associate Pastor of First Presbyterian Church in downtown Fayetteville and a chaplain in the Army Reserve. 
stress
ptsd
combat stress
larry toney
first presbyterian church
relief