The Pointy End

06/02/2013 07:32PM ● Published by Ashlee Cleveland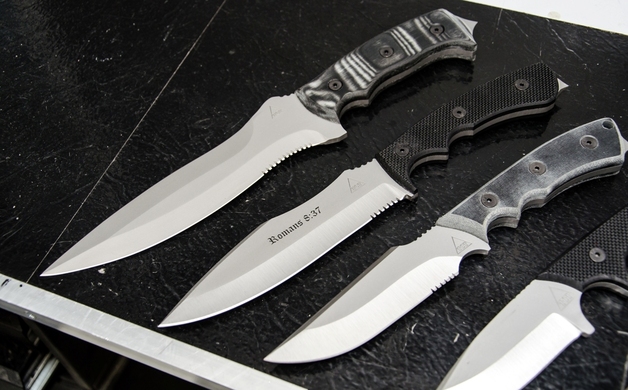 Damascus knives are born from a detailed process that consists of multiple layers of the different steel. The Damascus steel is layered carbon steel with nickel that is finished in an attractive decorative pattern that emerges after being dipped into an acid finish. The result turns the carbon steel black, but not the nickel, giving it an almost marbled appearance.
Gallery: The Pointy End [5 Images] Click any image to expand.
A retiring soldier forges a new career as a craftsman
By Kelly Twedell
Many fine knifemakers exist in the world. Some excel at making weapons, others at creating art. At his Tactical Combat Tools studio in Fayetteville, Darrin Sirois does both. Officially in the blade business since 2008, Sirois makes knives, many featuring custom handles, for collectors — and for local folks who pride themselves on knowing how to use a knife.
While many military guys retire into jobs they don't have a passion for, Sirois, a soon-to-be retired soldier from the special operations community, is living out his dream in the time-honored tradition of knifemaking.
With a 25-year military career under his belt serving with the 75th Ranger Regiment, 7th Special Forces Group and culminating at Fort Bragg's U.S. Army Special Operations Command, Sirois has found his niche as a master knife craftsman.
Tactical Combat Tools became official around five years ago when Sirois' custom-made knives became popular as word quickly spread about the quality and craftsmanship behind them.
"It's rewarding to hand over the finished product, and seeing that smile at my work," he said. "Mission complete. That's my motivation, right there."
Sirois has been fashioning knives since boyhood and recalled the first knife he crafted from a popsicle stick in kindergarten. He carefully sharpened the wooden stick down on a curbstone, working on it for days, and the rest, as they say, is history. At the age of 8 he received his first pocketknife from his father and used it to carve bigger knives out of wood. It seems a love of knives is wired into Sirois, something that shines through in his work. His particular skill set and military experience equip him with the knowledge of just how a knife should function and feel in the hand, giving him an edge, so to speak, in the industry.
In 2005, following the loss of a highly respected soldier named Bob Horrigan, Sirois found inspiration to pursue his passion more fervently. Horrigan had been the go-to craftsman knife maker inside his Fort Bragg unit and Sirois decided to continue the tradition. 
Originally working out of his garage, he now works in a custom-designed workshop where he takes raw bars of steel and fashions them into finely polished works of art and function. From farewell or retirement gifts prominently displayed, to more practical uses for hunting, in the field, or just to be carried around in a sheath attached to a pants pocket, TCT knives mean different things to their owners.
"I want people to connect with the knife, feeling the passion, vision and craftsmanship behind it," Sirois said. "That's what Tactical Combat Tools is about".
The average knife takes him around eight hours to complete. Being in his shop with all the specialized equipment, tools and custom-built machinery lining the perimeter, it is easy to see that Sirois' knife-making is an art, not a science. Rows of knife samples line the workbench atop drawers of bits and pieces used to craft each knife.
Vested in the community, with many emotional untold stories behind the recipients of TCT knives, Darrin made the conscious decision to use his talents as a way to give back. Organizations often auction Sirois-donated knives to raise funds, including: the Patriot Charities, Purple Heart Homes, Wounded Warrior Foundation, Combat Veteran Sportsman Adventure, Steven R. Elrod Memorial Scholarship Foundation and the Station Foundation.
Though his work has become a hot commodity and his TCT knives have gone for high prices at charity events — and to some famous named people — Sirois' is characteristically humble about his talent.
Tools and weapons always seem like an easy choice of gifts for a man. Giving the gift of a knife is much simpler than the process of purchasing a gun, these days. From dads and grads, to battle hardened soldiers who appreciate his well-honed skill and final product, Sirois' knives are in demand. He also fashions knives specifically intended for ladies, complete with a pink colored handle and sheath. You can view his handiwork on his website: www.TCTknives.com and might have already seen them displayed around town at three local distributors: Sharp and Pointy, Carolina Military Surplus and Guns Plus, where 80 percent of his sales come from. Others happen upon his work at Lizardtactical.com, an internet distributor.
Sidebar: The making of a knife
The laborious process has a stunning outcome. Here's how he does it: First, he cuts the raw bar stock to the desired length and then pushes it through the grinder, where the two-dimensional profile is formed using various sized wheels that give it its shape and grinds down the edges. Next, the knife gets stamped with Sirois' logo and gets the 'Made in the U.S.A.' stamp under the 20-ton hydraulic shop press. The press can also serialize numbers or custom stamp letters from other companies onto the knife itself. The knife is then sent through the heat treatment process in a kiln, like an electric oven from 1500 to 2000 degrees depending on the steel, after which it goes into an oil quench or air quench for cooling, depending on the type of steel. Finally, the metal needs a temper, another oven treatment process, before getting the scale removed, final edge sharpened, and having the finish sandblasted. The handle and sheath are designed to finish off the product.
knives