Take a Bow

06/02/2013 07:37PM ● Published by Ashlee Cleveland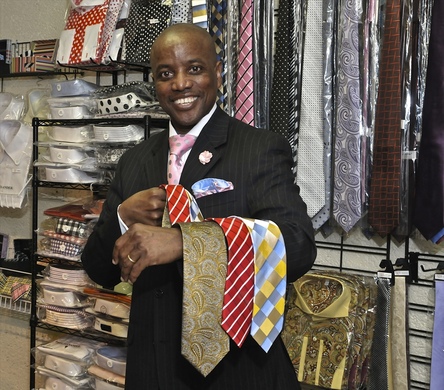 A Bragg Boulevard store finds a market hungry for distinctive neck ties
By Michael Jaenicke
Thirty years ago Micheline Alexander's eyes popped when she saw a gentleman make a grand entrance at the NCO Club in Fort Ord in Monterey, Calif.
"He came in wearing black slacks, a white shirt, a black and white jacket and a bow tie," she said. "He was well-mannered and dressed nicely. I remember him saying he would never wear a pre-tied tie."
Marcus Alexander kept his "no-tie" fashion promise a year later when he tied the marital knot with Micheline.
Five years ago the retired United States Army 1st Sgt. started impressing the public with his distinctive designer ties, cuff links, ascots, scarves and shirts. He sold them from cardboard boxes that he shuffled in and out of a truck.
"It caught fire quickly," he said. "I was selling merchandise as quickly as it came in. It was almost hard to believe the demand that was out there."
In 2011, the operation was upgraded and renamed as Ties by Marcus opened its doors at 1338 Bragg Boulevard. Marcus Alexander said attire and accessories at the store are unique and cutting edge chic, whether the items are classical, modern, nouveau or extreme artsy styles.
"We specialize in originality," Alexander said. "Everything in the store is one-of-a-kind. People frequently come in asking for something they saw and we have to say, 'Well, we sold that yesterday or last week. You're not going to buy something here and walk out and see someone else wearing a duplicate of it. Our styles are like none other because and we only buy one or two of many items."
Bow ties are a marquee item in the store.
"They're really popular now after making yet another comeback last spring," Alexander said. "They're being worn by the young, middle aged and older populations. For some people a bow tie may be just something fun, new, creative or something to put into their clothing inventory."
Some people — George Will, Louis Farrakahan, Tucker Carlson, Mo Rocca, Paul Reubens, the late Steve Jobs — have used the bow tie as a trademark or signature style. But they merely revamped the style from such notaries such Frank Sinatra, Jerry Lewis, Charlie Chaplin, Winston Churchill, Albert Einstein and Sigmund Freud, who borrowed the bow tie bonanza from the upper class French society of the 18th century, who ironically borrowed the look from Croatian mercenaries during the Prussian Wars a century earlier.
Alexander said his current line puts a new twist on bow ties and he will soon unveil even more innovative touches.
"I did a lot of research into what we carry and have a brand new style that no one has ever seen before that evolved from the B2 line (code named after the B-52 bomber)," he said. "People are really going to take notice when C2 (Command and Control) comes out."
"In my opinion bow ties already pop or stand out, but we're looking into different colors, designs and maybe taking a corner off," Alexander said. "We're still testing products but know this is something that will blow the top off."
The store carries an extensive line of shirts, all of which carry the Alexander label.
"That comes from my grandfather, Paul Alexander, as a tribute to what he meant to me," Alexander said. "I always wanted to open a business but, to be honest, thought it would be a line of fishing tackle. My father, Haywood Alexander, and I had a real love for fishing."
Alexander, who was born in Birmingham, Ala., and raised in Los Angeles, felt the tug to ties, shirts and all things debonair shortly after returning from a deployment in Afghanistan in 2003.
"He always dressed the part so I just felt it would be natural for him and told him to go for it," said Micheline Alexander, who works in the shop with her husband.
Service is foremost at Ties by Marcus.
"We take great pride and thrive in helping our customers," Marcus Alexander said. "That's been one of the real keys to our success. We get to know them, make suggestions but always want them to feel cared for and understood."
He said the business community has embraced the endeavors of the shop.
"There are some really great people in this community," he said. "Their support has been pivotal to our success. All of this wouldn't have been possible without the help of many people."
That success could lead to add another location for Ties by Marcus, although Alexander said the business would never become a chain store that has a distinguishable style from its competitors.
"Well, first off I'm not even sure who has the kind of products we sell," he said. "We've had great success, with people coming from 30 to 50 miles away to buy the product. They keep asking us to open a store in their towns. So we are interested in adding a second store, perhaps as soon as next year."
The store also carries a wide variety of standard neckties. Alexander said the latest trends in fashions are on display.
"Everything with bright, vibrant color and multi-colors are hot," he said. "Pattern on pattern is also a trend that is wide open and popular."
Store hours are Tuesdays through Fridays from 10:30 a.m. to 6 p.m. and Saturdays from 10 a.m. to 3 p.m. For information, call 910.223.5413 or visit www.tiesbymarcus.com
bow ties
ties
suits
CV SHOP LOCAL