Powered by Volunteers

06/02/2013 07:51PM ● Published by Ashlee Cleveland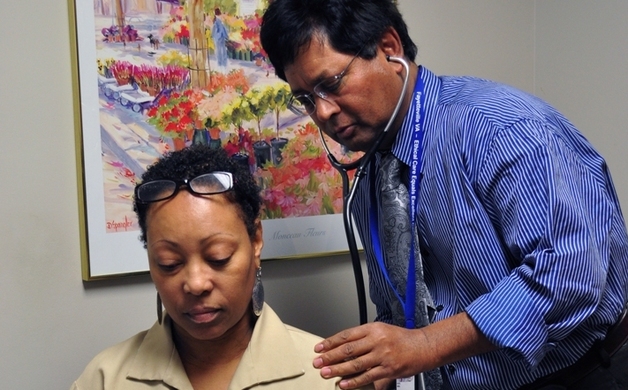 By R.J. Minnick
Ask six people at The CARE Clinic on Robeson Street why they volunteer, and you will get six answers.
"Because I value health and want health care to be available to those who need services. The CARE Clinic allows me to use my gifts and abilities in the service of others," said Brenda Booth, a licensed nurse practitioner and the chair of the Clinic's long range planning committee, who has volunteered with at the Clinic for 20 years.
It is a testament to The CARE Clinic's capacity for organization that it runs almost exclusively on the power of volunteers. The sheer number of volunteers and their surprising longevity speaks well of the clinic, its mission and the people who execute it.
Conceived by doctors Richard Barbaro, Skip Whitman and Charles Hoffman, and attorney Don DeCort, The CARE Clinic — which stands for Compassion, Assistance, Referral and Education — opened its doors in 1993 through the work and assistance of Catholic Social Ministries and under the direction of Sister Jean Rhoads, an effective organizer whom many credit with establishing the vital pool of volunteers which set the standard upheld today.
At the time, children were a focus, but as more care options for children became available, the primary target for The CARE Clinic became the uninsured adult population of Cumberland County. Patients are eligible to receive care if they are uninsured, a resident of Cumberland county and have a household income less than 200% of the Federal poverty level. Clinics, which are held in the evenings, are medical and dental in nature. The medical clinics provide primary and specialty care. Dental clinics focus on extraction and referrals. All clinic visits are done by appointment only.
Visit The CARE Clinic when it is receiving patients and it feels like you've walked into a party. The attitude is cheerful and generally light-hearted — except when it comes to the serious business of making people well and taking away their pain.
Clinical Director Katheryn Jenifer, a registered nurse and an energetic woman who is always ready with a smile and a solution, celebrates the camaraderie. "We have a good time," she said, "and we take good care of our patients."
"The people we serve are our neighbors, friends and families," said Brenda Booth. "They are hard-working people who are grateful for the medical and dental care we are able to offer them through the generosity of our medical volunteers and our supportive community."
There is a patient at every board meeting to testify to what The CARE Clinic has meant to them and their health. It is a portion of the meeting that never fails to inspire or bring tears. Such as the patient who shared her story and then donated back all the money she could afford, a jar of pennies she had scraped together.
"It might surprise others to know that our patients, as a group, made donations totaling $16,450 last year," Booth said. Patients have donated $220,000 over the clinic's lifetime.
Some of the volunteers at The CARE Clinic are numbers-keepers. Assistant Treasurer Walt Swing reports that it takes $500,000 a year to operate the Clinic. The CARE Clinic applies for an average of 15 grants per year from various organizations and receives donations from individuals. Other revenue comes from three major fundraisers: An Evening of CARE Dinner in February; A Wine Tasting in April; and a Golf Tournament in October. This year will see additional events to celebrate the 20 years The CARE Clinic has been serving Fayetteville. (See sidebar).
Last year The CARE Clinic benefitted from over 238 health care provider volunteers spanning several disciplines, several student provider volunteers, and a large number of administrative volunteers who did everything from cooking food and entering data to handling patient intake and sterilizing dental instruments.
Volunteers also comprise the seven committees who support the Clinic and the 26-member Board of Directors that guides the facility.
Support comes in other guises as well.
Southern Regional Area Health Education Center (Southern AHEC) has created a partnership with The CARE Clinic to serve each other if one facility is down. During such a crisis, patients and personnel will be accommodated at the other location. Some Southern AHEC physicians volunteer and supervise residents volunteering for rotations at The CARE Clinic.
Similarly, Dr. Richard Chupkowski, the dental director at The CARE Clinic, rotates the dental residents from his program at the Veterans' Administration Medical Center on Ramsey Street through the clinic. Often he finds his residents at the Clinic more frequently than the program requires.
"When they inquire about this program, the volunteer time at The CARE Clinic is mentioned. They're already enthusiastic about it then," Chupkowski said.
Local churches assist by providing dinners for volunteers working on clinic nights. Brenda Booth says the Long Range Planning Committee wants to go one step further. "One new initiative, Mission Fayetteville, is a challenge to the area churches to build a team to staff the Clinic for an evening - bring their doctors, nurses, support personnel. If a congregation can adopt a clinic night once a month or once a quarter, we can easily grow our services," she said.
The CARE Clinic has only two full-time paid employees: Executive Director Cathy Ory and Gloria Williams, the special projects coordinator, who is in charge of public relations, fundraisers and events. It also employs seven people part-time. Everything else is done by volunteers.
What makes volunteering at The CARE Clinic so special?
The CARE Clinic's faith in and dependence on its volunteers is summed up by one eight-and-a-half- by eleven-inch sign. taped to the inside of the glass door volunteers pass through to exit the building. It reads:
"Thank you for Volunteering! Please remember to sign up for next month before you leave."
SIDEBAR
HED: What Volunteers Say
*"I have the time now that I'm retired, and it gives me a good feeling when I see the results of the help I provide.  (And I hate to dust!)" — Rachel Violette, CARE Clinic administrative volunteer and chef, and 9-year volunteer.
*"Basically I think everybody should volunteer and give back to the community." —Richard Chupkowski, DDS, CARE Clinic dental director and 19-year volunteer.
*"As a Christian, I am called to care for the well-being of my fellow man. While I don't have the skill to treat the patients who come to the clinic, I believe I have been called to ensure that the financial resources are not wasted and will be available to give the medical volunteers the supplies and equipment they need to provide effective medical treatment." —Walt Swing, CARE Clinic assistant treasurer and 20-year volunteer.
*"I wanted to do something to show my gratitude to my own doctor, Dr. Catherine Kelly, for all she's done for me. When I asked her what I could do, she told me to volunteer at The CARE Clinic. She is a long-time volunteer there herself, and she told me that 'The CARE Clinic is her heart'. So I did, I volunteered." — Judy Krantz, administrative volunteer and 7-year volunteer.
*"I originally became involved with The CARE Clinic because the mission of The CARE Clinic and the mission of where I work, Southern Regional Area Health Education Center, are similar, and I wanted to explore how the two health care organizations could partner." — Karen Mantzouris, current Board President and 9-year volunteer.
For More Information:
The CARE Clinic
239 Robeson Street
To make a clinic appointment, call: (910) 485-0555
To inquire about volunteering, email the clinic: care@thecareclinic.org
To learn about volunteering, donating, clinics and events visit www.thecareclinic.org
20th Anniversary Celebration Events
The CARE Clinic celebrates its anniversary and continued devotion to Compassion, Assistance, Referral and Education with events throughout 2013.
*19th Annual Golf Tournament will take place on Friday, October 4 at Gates Four Golf & Country Club.
*Clinic Evenings Mini-Celebrations for patients will be held during the anniversary month of November with food and a gallery of pictures of volunteers.
*The BIG Event: 20th Anniversary Celebration Volunteer/Donor Appreciation Community Event with founder and guest speaker, Sister Jean Rhoads will be held on Saturday, November 16. This event is open to the community. More information will be made available on the web site.
*CARE Clinic Sunday is scheduled for November 17 in local places of worship with a special prayer/offering for The CARE Clinic.
care clinic
COMMUNITY