Back to the Basics

06/02/2013 08:05PM ● Published by Ashlee Cleveland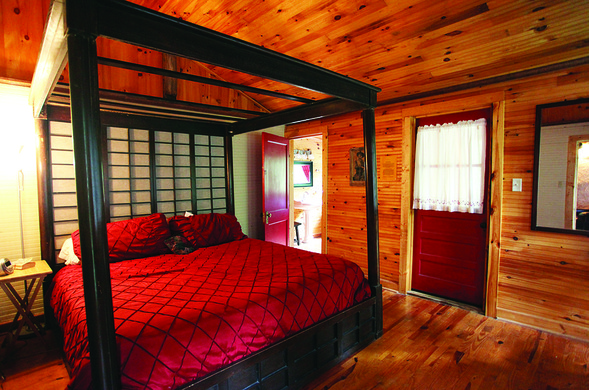 By Shari Dragovich
It is 7 a.m. and Kelsey McDaniel has already tended her garden, picked ripe tomatoes and is preparing sandwiches for her guests in a cottage named Firefly. She builds each sandwich to order, using her mother's fresh baked bread and only local ingredients from her small-but-flourishing farm and other farms nearby. She finishes each sandwich, wraps it in tinfoil along with a pickle, careful to keep pickle juices from soaking the sandwich. She wants the sandwiches to be compact and well-secured for easy storage in a hiking pack. She delivers the sandwiches, knocking softly on the cottage's bright red painted door just as its occupants are stretching off their sleep with a cup of hot coffee on Firefly's back porch, which overlooks rushing mountain waters. After handing over the sandwiches, offering final hiking advice, and loving on the occupants' dogs, McDaniel takes her leave, heading to the old Rock Pavilion. There she meets her fiancé, Danny Wilcox, who is already elbow-deep in renovations of their historic property. In two weeks Brown Mountain Beach Resort will host a wedding, and though they are on schedule, there is much to accomplish. McDaniel says her 'Good mornings,' reviews the day's plan, then dips a fresh roller into white paint and joins in his labors. Together they are continuing the legacy of Wilson Creek — one rooted in North Carolina's mountain and farming history, nurtured by a community, focused on sustainability and set apart from a busy world as an unplugged utopia.
Just south of the Blue Ridge Parkway, east of 181 near Morganton and accessible only by dirt road, runs Wilson Creek. Its 23-mile stretch of waterways — part of the Grandfather District of the Pisgah National Forest — begins just below Grandfather Mountain outside Blowing Rock and empties into John's River. It is part of the National Wild and Scenic River System. Together with its surrounding mountain area, Wilson Creek has provided the backdrop for some of North Carolina's most vibrant history. The Cherokee Indians used the Wilson Creek region as their summer hunting grounds until the mid-1700s, when pioneers settled the land, logging the dense forests. A lumber company was established — The Ritter Lumber Company — as well as a smaller textile mill, providing jobs for the community's 800 residents. Life hummed along until a series of forest fires and floods swept through Grandfather Mountain to Wilson Creek between 1916 to 1940, eventually destroying both mills and the accompanying narrow-gauge railroad. After a second flood swept away the sawmill, textile mill and railroad — a second time — the industry moved out and the Wilson Creek community went dormant.
No mountain logging community would be complete without its local entertainment hub and Wilson Creek was no exception. In its heyday, Brown Mountain Beach Resort's 1904-built site, positioned near the mouth of the creek, was the area's hang out and speakeasy. Alcohol, often sold illegally, poured freely while ladies danced in the Rock Pavilion and young men cruised up and down Brown Mountain Beach Road, whistling at the pretty girls they passed. "I've heard some stories," shared McDaniel, grinning at her family-centered retreat's sordid past. It is not uncommon for visitors to stop by the resort, white-haired and bent over, asking for access to the old Rock Pavilion, searching for initials carved in wooden beams and reminiscing of days gone by.
When the McDaniel family discovered the old landmark, it served as a campground with rough cabins used by hunters, fisherman and outdoor enthusiasts. McDaniel's father, Ron, fell in love. In 1998, the McDaniels purchased the "resort" — a generous name for a collection of leaky one-room shacks and a dusty old pavilion. They envisioned a way to pass the treasure of Wilson Creek on to other families. "This place isn't for everyone," explained McDaniel, a 2009 graduate of Appalachian State University with a degree in Recreational Management. "Not everyone wants Wilson Creek rustic; cabins with no T.V's and no cellular service. We're not trying to create the Hilton on Wilson Creek," she said.
The work was painstaking, but, cottage by cottage, the McDaniels renovated the property. They added vegetable and flower gardens, farm animals and an industrial grade kitchen. Their most recent additions are a sandwich shop and Glamping — glamorous camping sites with larger level tent sites and an upscale bath house. With every upgrade and addition, the McDaniels move closer to their ultimate — creating a place for families to come and get back to being families. A place that highlights God's playground, showcases local sustainable living and opens the way for people to immerse themselves in it — together.
Because of the Resort's ideal positioning, guests can fill hours without leaving: a 27-foot swimming and fishing hole, rock-hopping, inter-tubing or simply relaxing with a good book on Rock Pavilion's porch. Wilson Creek is famous for its trout and small mouth bass fishing. As such, the Resort has welcomed guests from as far as London, England, offering private waters and help for the fly fishing novice — from cast demonstrations to guided tours. Turning left out of the resort, one directly enters the Pisgah National Forest where an endless supply of trails awaits, often leading to North Carolina's most beautiful waterfalls, earning Pisgah its name: "Land of the Waterfalls." McDaniel and Wilcox have their favorites and easily guide guests to the best suited trails for each family's needs. Follow Wilson Creek north and discover class IV and V rapids for kayaking, more swimming, rock hopping and fishing options. Less than five miles from the Resort to the south, sits an extensive offroad trail system — 38 miles of dirt, rock and mud trails for off-road vehicles owners to enjoy. McDaniel also recommends short day excursions to see the Brown Mountain Lights, Table Rock and nearby boutique mountain town, Blowing Rock. "Anything you can imagine doing outdoors, you can do within 15 minutes of here," said McDaniel, circling her fingers on one of the cottage's thick wooden tabletops.
For McDaniel and Wilcox, Wilson Creek is more than a protected scenic river. It is a place rooted in history; a continuing legacy to share with future generations. And in a technological age that shamelessly steals us away from reality and into cyberspace, such treasures are more important than ever. "We know how much we love Wilson Creek," shared McDaniel, speaking through years of memories. "We want others to build relationships through the shared experience of exploring Wilson Creek and getting back to basics; living outdoors and eating food you know the origins of."
SIDEBAR
Before You Go
*Check out Brown Mountain Beach Resort's Website: http://www.brownmountainbeach.com .
*For help exploring Wilson Creek:
http://www.hikewnc.info — search either Wilson Creek or Pisgah National Forest, or click on Trailhead and find the Pisgah National Forest, Grandfather Mountain Region.
http://www.fs.usda.gov/nfsnc - click on Special Places, then Wilson Creek.
*Though Brown Mountain Beach Resort's cottages do not have televisions, they are all wi-fi connected, so bring your laptop or tablet to search hikes, activities and area offerings.
*A word to the wise: Do not hike Pisgah without sound directions, a new map and compass. The trails are not always well-marked. Know the numbers of the trails you are taking and read up on their routes before heading out, and let someone at the Resort know your hiking plans and what time you plan to return.
travel
brown mountain beach resort