Pedal Power Fights Crime

07/02/2013 11:03AM, Published by Brian O, Categories:
---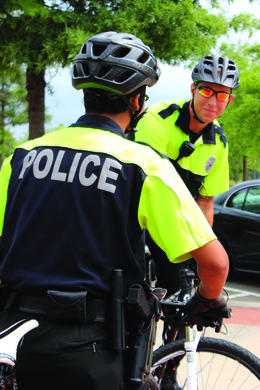 ---
By Kelly Twedell
You probably have seen them rolling through town, during the Dogwood Festival or Fourth Friday events. The Fayetteville Police Department's bike patrol Officers Johnathan Seaman and Tresa Aughburns have been a team over the past year, stealthily riding throughout the downtown areas on hidden paths and places that patrol cars cannot go.
Starting off each day with a warm-up through Linear Park, the downtown patrol officers are alert, scanning the wooded lined paths and secluded area for things that only a trained eye can catch.
Cruising downtown past the public library on the tree lined, shaded paths behind Maiden Lane then over to Adam Street where much of Fayetteville's homeless population hang out, Officers Seaman and Aughburns greet and know each person by name as they pass them on park benches nearly everyday. It's evident on the ride that the officers are compassionate toward the homeless residents and that they are not ones who pose problems downtown.
"We've attended crisis intervention training that has equipped us to better deal with situations as they arise," the officers confirmed. "The biggest problem sometimes is the mental illness combined with substance abuse."
Crossing a bridge in a neighborhood, Officer Seaman leaned over and whispered, "Do you smell that?"  I replied "Yes!" as I smelled the sweet aroma of Carolina jasmine growing nearby. Apparently he was not talking about the flowers! The officers signaled for me to be quiet and wait at the other end of the bridge as they stowed their bikes and quietly moved in unison. They moved with purpose down on opposite sides of the brush, heading underneath the bridge to investigate the scent of marijuana smoke.
I was relieved and stopped holding my breath when I saw both officers reappear and mount their bikes. They said the individuals must have just left as there had been signs of where they were, leaving behind their nickel bags and trash.
"Many times people are not expecting to see police on bikes," said Officer Seaman. "You get to ride up on things that you otherwise would not happen upon and you get to hear everything, unlike being inside a patrol car."
The officers told stories of how they have chased people down while on patrol and have called in for backup when they arrest someone. Other victories have been when they have heard a call come across the radio. They zip over on their bikes to the scene beating the patrol cars stuck in traffic, or behind the train. It's a running joke and source of pride between the officers.
"This past year with the Dogwood Festival we've had more participation and interest. It was a well organized plan," said Officer Aughburns proudly, talking about the 12 bike police that patrolled each night during the festival.
One ongoing investigation that the officers are close to solving are the graffiti tags that randomly appear on the exterior of the historic buildings downtown. "We've had zero gang graffiti down here," said the officers. "For the most part they are just kids that are bored." Over time the officers have geo-tagged and mapped every location where the graffiti popped up. Through surveillance and tips from local businesses they have identified the suspects and vehicles involved. Graffiti is a classified as a crime.
When it comes to being a female on the force, Officer Aughburns feels like she has an advantage with brains over brawn. "When it comes to a lot of situations, I have an advantage because I'm very good at talking to people. I have more patience now than when I first started out," she said. "Not everything you go into is going to be a fight, I try to control the situation through communication."
A highlight of the day was cycling up to the rooftop of the Franklin Street Parking Deck downtown that overlooks the city. Just as I had hoped, we got to exit the parking garage circling down five stories without brakes and the wind zipping by just like we did as kids when we had no fears. The Franklin Street Parking Deck was recognized in May by the International Parking Institute (IPI) with the Award for Architectural Achievement, their highest award of excellence.
Another familiar area we rolled through was Festival Park. Officer Seaman uses the park as his go-to location when he provides bike training for other officers. He teaches them how to manipulate the bikes to ride up the two stairs using the right combination of gears, brakes and power.
Riding in their tactical wicking material patrol shirts and snug fitting cargo pants, the officers each donned specially designed camelback type hydration systems to carry them through their five-hour shift on the streets.
Bike Patrol History
The bicycle has been around in more or less the same form since the late 1800's. Surprisingly, police have been utilizing this mode of transportation since shortly after its inception. Whether it be for chasing down reckless carriage drivers in New York City for Theodore Roosevelt way back when, or making a felony drug bust today in Fayetteville, the bicycle has an important impact on police work.
Initially Fayetteville had mounted horse patrols, but the bike patrol has taken over the duty. "You don't have to feed this horse," joked Officer Seaman, as he patted his bike. "It bridges the gap between the horses and the foot beat. It's still something interesting that the residents don't see everyday." Three years ago Officer Seaman started with the department on the foot patrol beat and noticed the bikes stowed in the closet. He took an interest and started riding them. Eventually, he received permission to start the assignment and has been an integral part of watching it grow as opportunities and training increase for Fayetteville's police force.
Last September, five officers from Fayetteville had the opportunity to ride on patrols for the Democratic National Convention in Charlotte. As part of the gear and equipment packaged issued to them, the officers got to keep the black and white Scott mountain bikes. The officers enjoyed their time in the city and the camaraderie with other bike patrols from cities as far away as Austin, Texas. The bike patrols took part in security operations for each one of the many protests that took place that week.
Initially the force started off with a few Fuji models but has now grown to 20 Cannondale models. Stations are located on both sides of the city, downtown and on Santa Fe Drive near Fort Bragg.
The downtown patrol officers are currently working on a program to promote awareness for students out of school in the summer and overall bike safety tips. Next time you see the team of officers patrolling through town on their bikes, don't hesitate to stop and ask them questions. They are eager to share about their jobs and put a friendly face on our local police force.
The element of surprise, and the quiet travel only a bicycle provides, can lead to a quicker and easier apprehension of a suspect. Expect more success stories behind the pedal power of Fayetteville Police's Bike Patrol.
---
---
police bikes bicycles july august 2013
---