A REEL Good Time!

07/02/2013 11:25AM ● Published by Ashlee Cleveland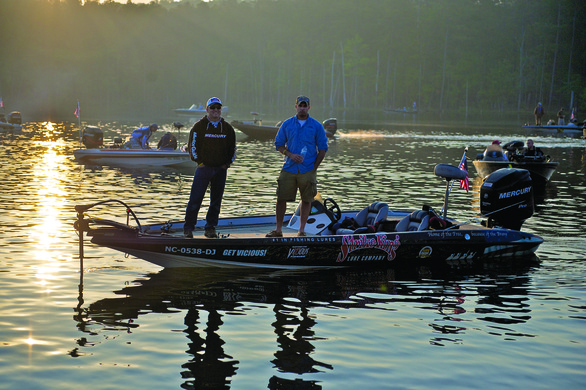 By Kelly Twedell
Fishing is a favorite pastime for many and it is true to say that many at Fort Bragg are hooked on fishing. One annual event brings meaning and memories for service members as the community and professional sportsmen alike unite at one of the largest military appreciation events on the east coast, Warriors on the Water.
This past year on April 19, more than 75 military service members teamed up with professional and semi-professional bass anglers for the 8th Annual Warriors on the Water fishing tournament at Jordan Lake.
North Carolina bass are currently in their spawn and post-spawn patterns that made for some big bags and large fish coming to the scales.
The first place finishing team was Will Blanton and Fort Bragg's SSG Dylan Mask with a catch totaling 21.20 pounds.
"We all tournament fish and we all want to win money, but this is not a money tournament and guys say they look forward to this tournament all year long," said Hal Abshire, tournament director for WOW. "They honestly get it, they know it is not about them. It's about the military men and women who are in the boats with them."
For another participant, Sgt. Dexter Taylor, a USARC paralegal noncommissioned officer, the Warriors on the Water event was only the third time the New Bern, N.C. native had been fishing."I've been twice with my wife, but we never caught anything," Taylor said. That changed thanks to his professional partner, J.W. Moreno from Piney Flats, Tenneesee.
 "He was great!" Moreno continued, "He didn't know how to use a spinning reel at the start of the day. By the end of the day, he was throwing it up under trees. He's patient and that's what it takes to be a good fisherman."
Taylor broke his fishless streak and landed one! Even thought it didn't meet the required 14-inch minimum for the tournament, he's hooked on fishing. "I'm looking at renting a boat and getting back out there!" Taylor said confidently.
More than 150 boaters signed up for the tournament, with some coming from as far away as Pennsylvania. Prior to the tournament, there were three major events held at Fort Bragg's Sports U.S.A., the Icebreaker, a Little Heroes Tour and a VIP Day where swag such as fishing poles, tackle boxes and t-shirts were given away to participating soldiers and airmen.
Bassmaster Elite Pro Mark Menendez and former Elite Angler Jarett Edwards, host of "Jarrett Edwards Outdoors" on The Sportsman Channel and the World Fishing Network made special guest appearances for photos and autographs at Fort Bragg, further adding to the festivities.
warriors on the water
fishing