A Socialite in the Silver Age and Today

07/02/2013 11:26AM ● Published by Ashlee Cleveland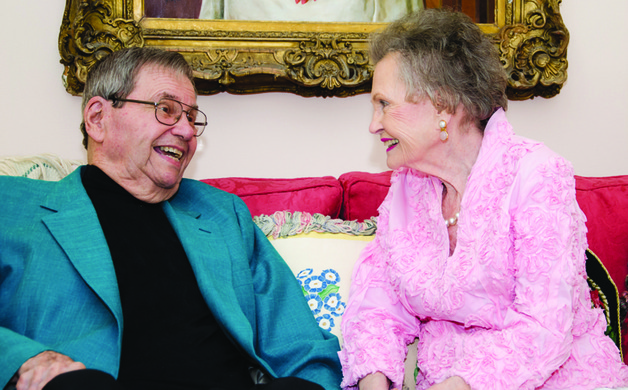 By Kelly Twedell
Many years ago in Myrtle Beach, Elizabeth, known as Betty to friends and family, was first introduced to Dennis Williams by her family's butler named Boatwright when he was visiting the Williams' maid. They began dating while Dennis worked in his father's hardware store and the rest as they say, is history.
The Williams celebrated 65 years of marriage this past June.
Betty recalls her wedding day in Florence, SC many years ago. She carried a bouquet of Lily of the Valley and gardenias accompanied by hand strung pearls created by her aunt. Her dress was a one-of-a-kind gown worn by Lana Turner in the 1947 film "Green Dolphin Street". Betty had to have it to don on her walk down the aisle. "Look at the long train on my dress," said Betty while showing a photograph from her special day. "I'll be so glad when the brides do away with strapless dresses, I'd like to see more sleeves and trains." 
Her bridesmaids wore different dresses, yet color coordinated, a popular trend among bridesmaids of today. All things seem to come full circle when fashion is concerned. For her bridesmaid gifts she presented them each with a silver tussy mussy (a floral bouquet holder).
"Etiquette will always be etiquette and I'm from the old school," said Betty talking about bridal traditions in her day.
Moving from Greensboro 58 years ago, Dennis and Betty settled in Fayetteville. Dennis ran his family's business and Betty already had social connections in town. He was a successful hardware supplier for Odell Hardware Company and worked with the original lumber and hardware stores in the community.
Initially, they lived in Vanstory Hills owning the first home built in the subdivision on Mirror Lake. They lived in the two-story New Orleans-style home for 18 years. "Different houses serve different purposes in life," declared Betty. "When you need all the room, you have it." The Williams', feeling the need to upgrade, purchased another home in Vanstory. This pile of bricks boasted 6,000 square feet. They lived there for 10 years until her boys went off to college before downsizing to a home off Summertime on Farley Place. Betty said she loved the authentic Williamsburg reproduction home with old pine floors, cabinets and fireplaces.
In the time that followed, Mr. and Mrs. Williams thought about retirement and felt Myrtle Beach would be the perfect place to settle down. However, they only lived on the coast for three years before coming back to Fayetteville.
Now the couple simply make weekend trips to the beach to get their fix.
The local builder Buzz Loyd designed and built her latest Haymount residence on the historic Pugh Street many years ago and Phillip Hall was responsible for the kitchen remodel. The home was designed to intentionally to carry the pair into their later years, complete with an elevator to the second floor.
A clear showstopper is Betty's newly remodeled kitchen, "It's a major thing putting in a new kitchen!" she exclaimed. "I love it and I love to cook." From the hand-painted Portuguese tile backsplash to her six-burner Viking range, it all looks as if it came from the pages of Southern Living. Her grand kitchen is commensurate with her lifestyle of service in making countless meals for others. The Thermador appliances in Betty's kitchen were all purchased locally.
Entertaining company for lunches has always been an enjoyment to Betty. "I study cookbooks," Betty said seriously. She shared that she loves to use her "pretty things" and for the holidays she'll bring out the spread for her family and guests. The incomparable hostess has a fine collection of heavy silver clad serving dishes and tea sets that have been privy to the ladies chatter at many luncheons and teas over the years.
While her mother's special recipe was "Chop Suey", her go-to dish is hearty, gourmet soup. For years she was known as 'the soup lady', delivering food and soup all over town for others. To obtain the fine ingredients for her soups and other dishes, a trip to The Fresh Market in Southern Pines is a special treat.
Betty isn't the only chef in the household, her husband was quite the grill master in his heyday. His specialty? Steaks. "The best place to buy meat was Haymount Market," said Betty speaking of the location where the BP Station on Morganton Road now stands. "They had the best meats and they would plan a menu for you. They would cut your chickens up and make the hamburger patties and even delivered twice a day – it was another era."
Family Memories
In the front foyer Betty has a display case of miniature Battersea (pronounced batter-shay) boxes that her mother collected. They are English enamel Battersea boxes which are reproductions of the 17th and 18th Century snuff boxes and keepsakes.
The front room prominently displays a Bill Fields hand painted portrait of Betty at age 28. The portrait was in storage for 30 years and finally made its way out onto the wall in Betty's Pugh Street residence. She often enjoys a good book in this comfy space. Her favorite genre? 18th Century romantic novels.
Ever the fashionista, Betty recalls the beautiful designer clothes her father insisted that she treat herself to. "If he didn't get a large bill from Montaldo's or someplace every month, he was furious with me. So I had more than I could wear," chuckled Betty.
While Betty's life may seem as if it has slowed down some, she still quickens the pace. She walks her dogs daily, cooks lunch for Dennis and makes time for her children and grandchildren. You'll never catch Betty on Facebook or Twitter, the thought of the impersonal connection goes against everything she stands for. She prefers time for an afternoon cup of tea and to sit and visit in person. Now that's a treat and a lesson in etiquette that we could all learn from.
community
betty williams