The Firehouse in Eastover is filled with music and dance

08/06/2013 12:11PM ● Published by Ashlee Cleveland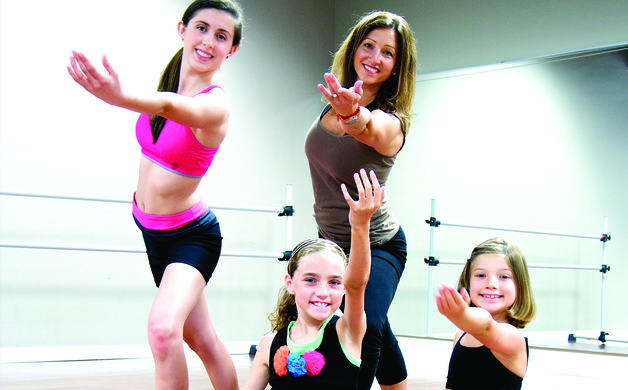 Gallery: Firehouse Dance Studio [3 Images] Click any image to expand.
By Kelly Twedell

While managing a household of four active kids, three dogs, two cats and a growing business, one Eastover mom finds balance and contentment in her busy life.
Renovated last year, this local military spouse saw a vision and a way to dive into this small Cumberland County community by starting up a business and revitalizing The Firehouse, Eastover's Studio of Performing Arts.
Toni Brinker spent most of her life dancing and though her professional path as a physical therapist took her down a different road, her love of dance has come full circle and now she is able to share her passion and talent with others while she makes time for her own family.
"Sometimes it's hard as a military family to really break into the community when others view you as transient." Toni added, "After sitting in an Eastover Civic Club meeting, I realized there is a lack of participation by the younger generation."
Fayetteville slowly seems to be expanding out to Eastover and that is a plus for The Firehouse. Taking charge of her own marketing, Toni launched a huge social media campaign on Facebook which helped get the word out in the community. This paid off last August when The Firehouse  exceeded initial enrollment figures with 60 students.
In their second year of business, The Firehouse offers more than just dance classes. Her staff also offers lessons in voice as well as guitar and piano lessons. The guitar lessons can be private or group lessons. "My voice teacher instructs the students in a classical manner, but she allows them input in the selections they sing," said Toni. The Firehouse also features a retail shop complete with all the extras her students may need.
One main focus of The Firehouse is to give back to the community through sharing everyone's talents. Over the past year the students and staff have put this into practice by performing at nursing homes and churches. "It instills in kids at an early age the importance of giving back and what it means to be part of a community," shared Toni. "The kids love the opportunity and it also gets us exposure while getting extra practice in front of an audience."
This past summer at their inaugural recital performance was a crowning achievement. "I always had imagined that it would be a huge undertaking," conveyed Toni, "but it really wasn't crazy, it all came together and the parents were so supportive!" One of her favorite parts of the recital was a joint performance with her talented staff. Her music teacher played the piano, the voice teacher sang and Toni danced a lyrical number for the parents and students.
"I'm more of an introvert. While I'm not afraid to get on the stage and dance, don't put me in front of a microphone," Toni said as she giggled.
Her husband Kirk, a career officer in the Special Forces, graciously helped write her closing remarks for the recital. He playfully reminded her, several times, to deliver the words without crying. Mission accomplished – well, almost. The first year of a business from beginning to end is always filled with trying times as well as great successes. One of those successes was the moment Toni found her studio's location.
When Toni called her husband excitedly at work to come home immediately to check out The Firehouse, Kirk had an inkling that his wife had found the place she was looking for. He had his doubts when he first saw the old building brimming over inside with trash, rusted metal wares and miscellaneous junk. He even speculated out loud that it was a lot of work for somebody. However the supportive spouse knew his wife had a vision and if anyone knew how to accomplish the task it was Toni.
"I liked the idea of taking something old and revitalizing it and making it new and part of the community," said Toni as her eyes lit up talking about her beloved makeover project. "My mother-in-law separated all the trash inside the old structure and had it hauled away, some of it was recycled."
Given the state of the economy at the time, Toni recalls lending being tight for small businesses but she forged ahead establishing a business plan while taking some basic classes before landing the SBA loan. Using some of the North Carolina Center for Economic Empowerment & Development (NC CEED) resources Toni accessed some of the tips from classes when she created her business plan. Starting a business was a subject so unfamiliar to her, but she carried on.
Dancing since the age of three under the same teacher, Toni serves as a protégée for her Texas instructor whom she considers to be a mentor advising her on everything from costume companies to tips on covering the mirrors before a recital.
As a mother of four, Toni appreciates the sacrifice her kids have made while she runs the business, especially when dad is away. The kids often eat dinner and do their homework around the kitchen table inside The Firehouse while mom instructs classes, and yes, they are each naturally talented and surely one of the girls will follow in her mother's footsteps.
The Firehouse does not charge an admission for the recital. That's right, tickets for all family and friends are free. "While it's a professional business, they aren't yet professional dancers, and parents should be able to invite grandparents and siblings and not have to pay to watch."
Using a few local high school students who needed volunteer hours, Toni had all the help she could ask for backstage in order to ensure that the parents truly got to enjoy the performances. There were no "stage moms" running back and forth assisting with costumes, hair and make-up.
Staying true to her self-proclaimed type-A personality, Toni joked that there is no such thing as over communication when it comes to parents. "Parents like to be informed and I even have one mom who makes fun of me because I send so many emails, well ahead of events," she said with a sigh. "A mom of four kids needs to know in advance that pictures are a few Saturdays away!"
Make no mistake about it, while Toni is meticulous about the details, she takes it all in stride and not much seems to ruffle her feathers. If a mother doesn't want her child to wear make-up on stage, she completely understands and makes that parent feel at ease with their decision.
Competition dance teams begin this year at The Firehouse and Toni feels that the musical training side of the business will really grow over the next year as well. The mini junior and senior company teams range in ages from seven to 18. Dance classes offered include ballet, tap, jazz, hip-hop, lyrical, clogging, tumble and cheer and adult with fitness classes from ages two to 18. New this year is a dance fitness class for kids centered around core strengthening and flexibility principles along with endurance to help keep kids fit and moving. "When fighting obesity in children, it is important to make fitness fun so that they will continue exercising throughout their adult life," Toni shared.
Demonstrating her teaching skills outside The Firehouse Toni had the opportunity to choreograph an award- winning routine for this year's Dancing with the Fayetteville Stars couple,  Adam Collier and Michelle Williams.
Enrollment is open and classes begin on September 3. View more details on the website at: TheFirehouseEastover.com,  search the "The Firehouse" on Facebook or contact Toni at the studio at 910-487-FIRE.
dance
firehouse
studio
eastover