A winning tradition in sports and academics

08/06/2013 12:53PM ● Published by Ashlee Cleveland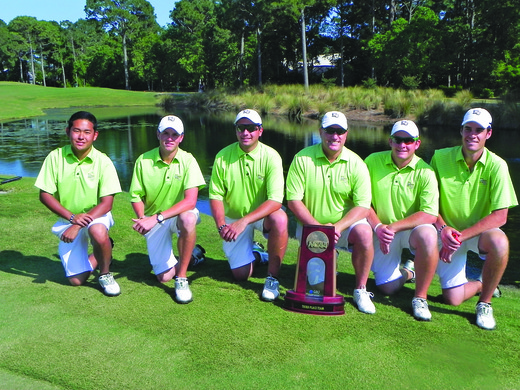 By Miriam Landru
When an outsider thinks of Fayetteville, usually the first thing that comes to mind is Fort Bragg.
But for those who spend much of their time "on the green", they know our city is home to one of the best collegiate golf programs in the nation. One that consists of national champion men's and women's golf teams and an academic program that places golf professionals at some of the most famous courses in the nation.
Methodist University's fully accredited PGA Golf Management program started in 1986… with zero facilities.  In the mid 1980s, Jim Suddy was the head man in charge and his vision is what got the golf ball rolling. "I was told 'you get the kids and we'll get the facility'," chuckled longtime Methodist Men's golf coach, Steve Conley. He was instrumental in bringing in 55 students from across the country for the inaugural class in the Fall of 1987. Throughout the years, Methodist University has made good on their promise, implementing facilities to include a driving range and a picturesque 18-hole golf course that's closed to the public and only available to Golf Management students or those on the golf teams.
The PGA Golf Management program is unique in that it's a full-fledged business degree. "At the big state schools, you can find that the degree is usually based in the hospitality or recreation schools," said Conley. Methodist believes it should be a business degree with the emphasis being in accounting, economics, marketing or business administration. Essentially, it's a "very strong minor in golf management." A minor that is so strong, since the program's beginnings there have been 1,000 graduates, most of whom are working in golf nationwide. One alum is even teaching golf in China!
Conley has served as the head men's golf coach for over 26 years and has seen many students stick with the program and work as golf professionals. "Golf is a big deal here. We have many students coming down from up north for the weather and a private school education, a very attractive combination," Conley said proudly. And it's proven to be a winning combination considering the men's team has won 10 NCAA Division III national championships while the women have walked away with 15. "I think coaching has something to do with it," Conley chuckled. Though he added, "We have so many very talented players, we all play a role."
Many Methodist players dream of having a professional career, but one of the reasons their golf management program was created was so students will be getting their degree and building their golf career. Conley said, "We want our students to have something to fall back on."
golf
methodist university