All in the Family

08/06/2013 02:40PM ● Published by Ashlee Cleveland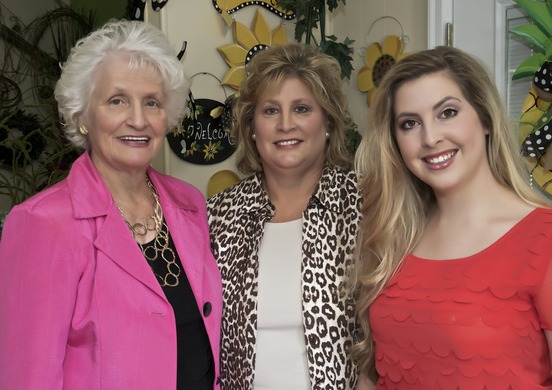 By Kelly Twedell
Spanning three generations, it all began when Adel and Bob Johnson were newlyweds operating the Stedman Soda Shop. It was a time when a hamburger cost a quarter and soda came in bottles.
Adel always had an interest in floral design and began hosting her own flower shows from home, selling all the arrangements she created. Quickly realizing she was meeting the demand for fresh flowers in the area, they moved the business into a portion of their residence. Not long after, they outgrew the space and opted to purchase property in the heart of Stedman.
Adel and Bob's daughter, Emily Jones began working in the family business after college utilizing her natural talent and flair for flower arranging. Following the death of her father in 2004, Emily took over the books and deliveries, along with floral design. Making it a true family affair, her daughter Summer became more involved in the business when she saw an immediate need for more marketing and leveraging social media. Though she still works at the business on weekends and during holidays, she is employed in Charlotte by Belk, Inc. in merchandising.
Summer shared her vivid memories growing up in her grandparent's floral shop. "I am pretty sure I had my first taste of coffee in a bottle and the highlight of my afternoons growing up as a child was going on deliveries with my grandpa," she fondly recalled. "My grandmother would take a break from writing out her monthly statements in the afternoons to sit with me and go over nursery rhymes and manners like yes ma'am, no ma'am, thank you and please."
The youngest florist admitted that growing up she always thought it would be easier to make money and have less liability if she worked for a big company. Summer still believes that to be true today, but being a part of a family business is rewarding and allows her to be creative. She enjoys seeing her daily efforts come to fruition. "It is more than just a small business." Summer added, "It is being a part of your community. It is celebrating with brides and grieving with families at funerals. It is hard work with little to no vacations, but all in all it gives me a sense of pride and accomplishment that no other industry can."
The Johnson family business motto is to believe in putting people first and really knowing their customers. "I have witnessed more weddings than anyone you will meet and know the funeral directors on a first name basis. I was taught what hard work truly was and watched my family create a successful business," explained Summer.
The shop has changed in some ways, but has stayed traditional in others. Unlike many bustling floral shops today, they still operate by old fashioned pen and paper. No computers allowed, but they do have a credit card machine.
Through the years the business has changed from a focus on weddings and funerals, rentals and receptions to custom designs with an emphasis on holiday décor, birthdays and special occasions. New lines have been introduced to bring in accessories and add-ons for wreaths. Keeping up with the times, the aesthetic appearance has changed in the shop with modern renovations. Most recently, they have painted using bright colors to appeal to our more whimsical customers.
Each year design shows bring new ideas and trends. "Femininity and elegance have made a huge comeback. Basically any flower that Pinterest is making popular that month is the trend we see," stated Summer. And as homes transform to a more open concept layout, so have the design of arrangements. Summer explained that the design has to be pretty from all 365 degrees.
Formal events also attract a large amount of business. Years ago, only basic flowers such as carnations were requested for prom arrangements. Nowadays trend-setting high school girls bring in their dresses or swatches to perfectly match their style.
Talent runs deep in the Johnson family and each woman has an area in which they are the most skilled. "Granny can do a magnificent casket spray and whip out dozens of roses. Mom has an attention to detail and a luxurious design style that helps her create outstanding custom wreaths." Summer proudly declared, "My focus is on the customers, marketing and innovation. I do dabble in some design work."
Buying local is important to those in our community and this family-owned and operated business mixes a bit of southern charm, creative designs and superb customer service to create a business within Cumberland County that makes our residents proud.
florist
stedman
johnson florist