CityView August Special Issue

08/06/2013 03:21PM ● Published by Ashlee Cleveland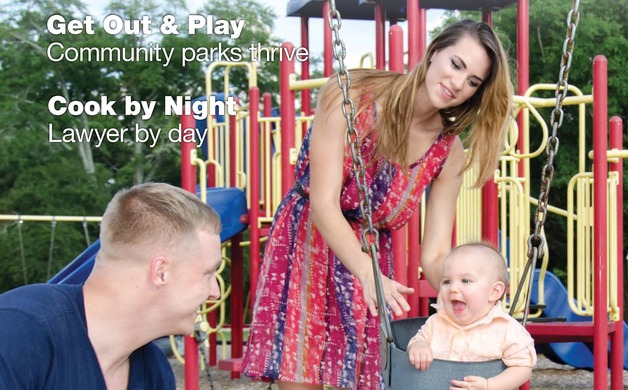 From our features editor, Kelly:
Historic buildings and architecture are alive and well in the downtown district of Fayetteville, but this also rings true for outlying communities. This issue's Art story features a firehouse in Eastover that has been revitalized and ignites an artistic flame in the youth it serves. Read about how owner Toni Brinker saw potential in the old brick structure and slowly watched her dream come to fruition and thrive as she begins her second season of instructing dance at the studio. She is furthering the performing arts in the Eastover community while holding down the
household.
From our police heroes, to our local Habitat for Humanity and even lawyers who can cook, professionals living in our community are truly making a difference and a have a passion for what they do. Enjoy this August special issue as your summer winds down. Catch us next month for the final part in our police series as I spend the day with the forensics division where they'll debunk CSI myths and more.
From our associate editor, Miriam:
A reader who recently moved to Fayetteville wrote Kelly and me a very kind e-mail, coining our city "Fayettenice". I agree with this sentiment as I am sure you do too. The spirit of Fayettenice extends to other parts of Cumberland County as well. Though I haven't had the opportunity to explore it thoroughly (I've barely made it past Haymount), the stories inspire me to explore anything and everything within the county lines. One thing that all of these places have in common is their own sense of community, like the three generation family-run floral business in Stedman or that iconic Greek eatery on Raeford Road.
Next time you're out at your neighborhood's small business, whether it be a cafe or dry cleaners, ask them how their vision began. Chances are you'll learn something new about those who dwell in your own community as I have about my newly beloved historic Haymount.

From our publisher, Marshall:
t is August and the end of summer is fast approaching. This issue of CityView is about
community, something our magazine has been about since day one. We share stories about life in our city and county that you will not read elsewhere. Speaking of community, stories in this issue are about people who make up the fabric of Cumberland County, from Stedman to Eastover and in between.
With summer soon to pass, I was thinking about my childhood compared to my grandchildren's
during summer months. When I was growing up my summers were consumed with playing golf. I played every day and went to numerous tournaments across the state from June to August. My first tournament was at the age of 10 in Raleigh. It was a big event and kids from all over eastern North Carolina were there. Because this was such a tremendous tournament, the News and Observer in Raleigh covered the competition. I had a good opening round in the 10-year-old "Pee Wee" division and was actually interviewed. My quote became kind of a legend back home. The reporter asked me if my father taught me how to play, I said, "No it was my mother, and I started playing before he did." As expected, I was kidded about that for years.
These tournaments I played many summers ago were a means to a lifetime of friendships with people I met and competed against. After the "Pee Wee" division, we grew up and played high school and college golf against each other. About 10 years ago, 20 of us from all over the state got together for a weekend of golf in Southern Pines. It was a fun gathering 40 years later to play golf and reminisce of days gone by.
My grandsons are experiencing similar summers like I had years ago, but their sport is tennis. It is much more focused and organized than junior golf 50 years ago. The United States Tennis Association (USTA) sanctions junior tournaments all over the USA, with North Carolina as one of the biggest states in junior tennis. My grandsons are 14 and 10 and dare I say…they are quite good! Marshall III has been playing competitive tennis for four years. My youngest grandson Griffith has been competing in tournaments for three years. Although they have been playing for a relatively short time, both are ranked in the Top 30 in the state in their respective age groups. In fact, almost like a professional tennis player, Marshall III played in events for 12 straight weekends
from March until June. He played in tournaments all over the Southeast from the Carolinas all the way down to Georgia.
I celebrated my 64th birthday in Wilmington July 14th and was given a great present when both my grandsons won their age divisions in a USTA Level 3 tournament played there. They are experiencing the same kind of summer I had fifty years ago, playing competitive sports and meeting kids from all over the South they will know for years to come. I am excited for them and we have all been blessed by God.

Some of the articles you'll find in this issue:


Principals' Recess
Two local former educators build their dream lake haven filled with family and fun Read more

The Firehouse in Eastover is filled with music and dance
An old building gets new life Read more

From the Courtroom to the Kitchen
Deno Frangakis takes care of more than just that traffic ticket Read more
Healthy Teachers
New teachers and new doctors create unique partnership Read more

A Habitat for All
Fayetteville's branch of Habitat for Humanity continues the organization's quest for helping others Read more

A winning tradition in sports and academics
Methodist University students excel on and off the green Read more
Miss Manners - 08/06/2013

Park Play
Three Great Community Parks that Keep Thriving Read more

Bearcat to the Rescue
A look inside the Fayetteville Police Department's protective vehicle and its capabilities Read more

All in the Family
In Stedman, the Johnson Florist and Wedding Chapel thrives as a third-generation business Read more
Read our August Special issue online!
park
cityview
fayetteville