The Fruit of Fall

09/03/2013 12:27PM ● Published by Ashlee Cleveland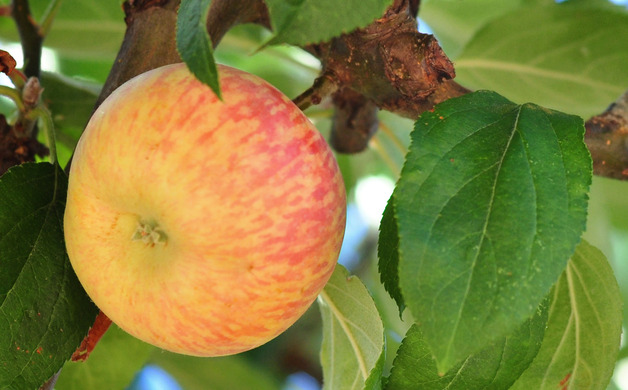 Apple season
By Katie Gard

When the breeze becomes brisk and soft emerald leaves make their chameleon-like shift to rubies, umbers and rich goldenrods, our preoccupations with warm-weather foods transition as well. Plans for outdoor spreads of grilled steaks, burgers and corn-on-the cob on a red and white checkered tablescape morph to comforting thoughts of baked casseroles, poultry and pies stuffed with fruit set in a warm kitchen.

And no fruit dominates seasonable autumn kitchens more than the apple.

While summer runs rampant with berries and peaches, abundant apples move in come fall. Everywhere we turn, people bob for them, juggle them and whittle their skins into long twisting snakes. William Tell, quite famously, once used one for target practice atop his son's head… (Not
that we'd ever recommend that.)

But the fun doesn't stop there.

From greens, to yellows, to oranges and reds, their hues match those of the vibrant fall foliage and their flavors are as diverse as the recipes that showcase their charms. If you're in the mood for something savory, pan-fry some pork chops with a caramel apple glaze. Something sweet?
How about a baked apple strudel, tart or a pie? From sauces to stuffings and drizzles to drinks, the uses for one of nature's most tempting little fruits are limitless.

"Betty Crocker" pros of the world preach the virtues and uses for the multitude of varieties like wine paired with cheese, but the fact of the matter is that almost any kind of apple will taste delicious in a recipe that calls for them. Generally, though, sweet, crispy varieties, like Fuji and Golden Delicious, add a satisfying crunch to salads and snacks. Tart Granny Smiths make excellent fillings for
strudels and pies, while the tender McIntosh variety work well for sauces.

While most consumers choose from an impressive selection of varieties at their local grocery stores or farmers markets, visiting the orchards where they're harvested, cleaned and churned into cider, juice and other delights is a wonderful way to spend an autumn afternoon. Fortunately for apple enthusiasts, western North Carolina is dotted with such treasures where families can visit and see just how apples fall from trees to their tables.

Some orchards, like Hills Orchard and Vineyard near Thomasville, let visitors pick their own apples right from the trees. Produce doesn't get any fresher than that! Other orchards, like Sky Top Orchard in Hendersonville, offer a multitude of activities in addition to picking. From hayrides
to playgrounds and a petting zoo with goats, chickens, turkeys and sheep, Sky Top has activities the whole family can enjoy, along with panoramic views of the mountains. A fantastic resource for seeking out the perfect apple pickin' getaway for your family is the North Carolina Orchards
Directory, where results can be filtered based on location.

What should you do with all of those apples after a funfilled day of picking?


apple
fall
festivals
orchards