Behind the Mask

09/03/2013 12:30PM ● Published by Ashlee Cleveland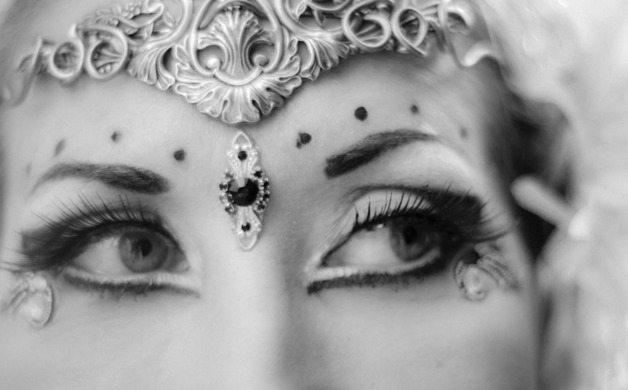 Gallery: Behind the Mask [6 Images] Click any image to expand.
By Kelly Twedell

Meet Deborah Belles, an artist and co-owner of Reliable Signs with her spouse. When not working,
Deborah creates dramatic headpieces from latex and other mediums. What started out as a mere hobby, has turned into a business with customers purchasing her wares from all over the world in her Etsy store: PunchMonkey Designs, named after her cat.

Artists aren't made.  They are born. This longtime Fayetteville resident has always had an  appreciation for art and said it ran in her father's genes. He was a painter and her brother, a sculptor. As a kid, Deborah said she was more of a tomboy with a penchant for drawing insects, bugs, dinosaurs and reptiles. Though she grew into loving to paint throughout high school, the family joke was that her work always went straight from the walls into the closet, in a quick manner. "I remember hand-painting album covers on t-shirts and banners to take to concerts," recalled Belles. "Ozzy Osbourne, Rush, Iron Maiden and bands like that." Her mother preferred more traditional
and refined works of art.

After joining the military at Fort Bragg in 1986, Deborah spent three years in the supply section for the 82nd Airborne Division and managed to unleash her creativity for the good of the Army. Her chain of command used her to paint murals on dayroom walls so others could appreciate her talents. While she might not have found a career in the military, she found love. After 28 years, Deborah recalled how they first met in the dining facility and been the best of friends ever since.

If you've found yourself at Fourth Friday, chances are you have seen Deborah in her belly dance attire. Belles has been practicing the Middle Eastern dance art for many years and performs with two different troupes. 

Through this form of dance expression, Deborah explained how the music and costume attire embody the experience. It was in 2010 when she created her first headpiece for a themed show that was inspired by the forces of good and evil battling each other. Portraying the evil force, Deborah's headpiece was dark and mysterious. After receiving numerous compliments on her headpiece and successful feedback on Facebook, she had an idea to try to create them and sell them on Etsy.

"I would have loved to have been a costume designer if I loved to sew," confessed Belles. "But I have a short attention span and get bored easily on a project."

Every artist has their go-to place where they create their work. For Deborah, that's her "woman cave" at home, where she has her supplies and plays music.

The first round of headpieces were created from leather. After she drew out a pattern on the cowhide, she would then wet the material and shape it before painting and embellishing. When the price of leather began to rise, Deborah started looking into other materials for her creations.
Now, the artist uses lightweight latex to complete her designs.

Many of her pieces are edgy and
rock and roll inspired with metal spikes and bedazzled rhinestones to accompany her costumes. Most of her pieces begin with a simple headband, then the materials she finds coordinate
with the theme and music of the dance to be performed.

The process of making a latex headpiece can often takes several weeks. Her fire inspired "Flaming Feathers" headpiece that she used for the 2013 Dancing With the Fayetteville Stars took three weeks to make since she cut each individual flame out and painted the latex to resemble a flame.

Though Deborah has a radiant smile and her eyes sparkle as she talks about how her creations come together into a finished product, she maintained being drawn to the more "mysterious" side of life. "Life is full of mystery and is not always rosy. I feel like I can relate to the darker side of things," said Belles. "Sometimes I feel like you need to embrace that sadness to appreciate the happiness that life brings."

Look for Deborah's latest creations during upcoming Fourth Friday events. She is toying with the idea of creating some masks for the annual zombie parade in October.



art
belly dancing
mask
halloween
etsy