Gross's Greatness

09/03/2013 12:53PM ● Published by Ashlee Cleveland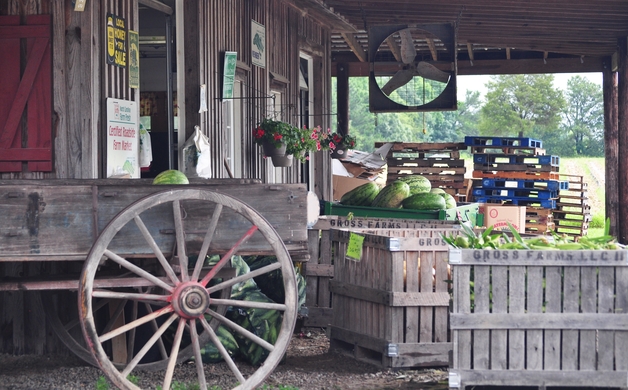 Gross Farms
Gallery: Gross Farms [4 Images] Click any image to expand.
By: R.J. Minnick
Photography by Dave Minnick
In business, companies look at diversification as a means to remain profitable. Bringing in revenue takes resourcefulness and creativity. What does that mean to a small business geared toward bringing food to America's table? It can mean diversification of crops, seasonal plantings that allow for year-round product, or even creating additional sources of income to supplement the harvest.
Gross Farms, owned and operated by John and Tina Gross, is approximately 1000 acres of non-adjacent fields four miles south of Sanford, NC. Each year, they put in 200 acres of tobacco and 700 acres of wheat and rye, with soybeans planted in the wheat fields after its harvest. Their
major commercial buyers include Cargill, Murphy-Brown and Butterball. In addition, they grow strawberries, sweet corn, pumpkins, asparagus and onions for local consumption.
A former tobacco barn at the front of the farm serves as their produce stand, welcoming the public from April to November.
The family has maintained the farm through five generations. It was begun by John Gross's great-grandfather over 100 years ago and came under his own direction in 1983, when he was a mere 11th grade high school student. With his father being ill, the young man stepped in and started by introducing tobacco. Currently, only his immediate family is involved in day-to-day operations, but the extended family pitches in with special projects.
Farming is at the mercy of the season. It can be tough. Tough enough to translate into more cost than income. Crops respond to weather and the wrong weather at the wrong time can mess with a plant's growth cycle, ruining the usefulness of a harvest. Machinery can quit, break down or get stuck, taking up valuable resources and time. Family farmers in particular have to be creative in supplementing their income.
For some, the solution is outside employment. For others, it is finding a way to diversify that brings in the public.
That is where the Gross Farms Corn Maze and Pumpkin Patch come in. In their own words, "Gross Farms has provided a unique way to show the public one of the many positive aspects of farm life and offer a healthy source of fun and entertainment for the entire family."
The annual Corn Maze and Pumpkin Patch have been a part of Gross Farms for nearly 12 years, bringing in families, school kids, church groups and more. In 2012, over 10,000 people visited the farm and walked the 15-acre maze, purchased pumpkins from the pumpkin patch, took the hayride
around the farm and let the little ones play on the playground with its giant wooden train and more activities.
Last year's maze walk was nearly 5 miles long. It is one of the largest in the area and was done in a design called "Celebrate Life." (See aerial photo). It consisted of three puzzles with stations to check walkers' progress through the maze. In addition, 2012 saw the addition of F.S.I., Farm Scene Investigation, a new "whodunit" crime puzzle.
"It was a real hit," said John Gross. It will be returning this year. There will probably not be any new features, because the weather is taking up a lot of time. "We're working hard just to get the corn planted in time," he stated.
Fall is when we celebrate the harvest, count up what we reap from what we've sown. Gross Farms makes this a great time for families to have some fun with a return to a real, working farm. Bring a basket for the produce, sturdy shoes for walking and a thinking cap to solve the puzzles. Prepare
to see farmers in action and enjoy the nurturing countryside. The Gross family is ready to welcome you all again this year.
Visiting Gross Farms
1606 Pickett Road
Sanford, NC 27332
(919) 498-6727
RATES & HOURS OF
OPERATION:
These can be found at the Gross Farms Web site,
www.grossfarms.com
. Be sure to check out their advice under "If You're Coming". They take group reservations, too.
HOW TO DRESS: Dress appropriately for the outdoors. Wear comfortable clothing, particularly shoes, and be mindful of the weather.
ACTIVITIES: Corn Maze, Pumpkin Patch, Hayrides, Playground
LOCATION: Directions can be found on-line, but the farm is located 4 miles south of Sanford, NC on NC87. There are signs to point the way, with a large one opposite the entrance.
gross farms
farming
watermelon
hay ride