9/11 Events in our Community

09/11/2013 03:10PM ● Published by Ashlee Cleveland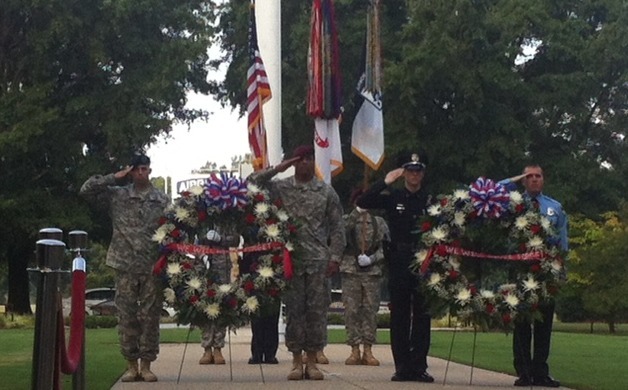 Gallery: Area 9/11 Events [8 Images] Click any image to expand.
By Kelly Twedell

There were six events in and around our community on 9/11 to honor that fateful day in history that we all remember.
At Fort Bragg's annual remembrance ceremony they honored the nation with remarks from Fort Bragg and XVIII Airborne Corps Commander Lt. Gen. Joseph Anderson followed by guest V.I.P. Dave Roever. The band played, the All-American Chorus sang, Chaplain Michael Charles played a tribute on his guitar, two wreaths were presented by local fire and police personnel, TAPS and a 21-Gun Salute wrapped up the ceremony.
If you have not been to see Fort Bragg's 9/11 Eternal Flame monument, it's open to the public and easy to find. Head to the circle where Iron Mike oversees the golf course and the Main Post Parade Field sits behind it.
On the Main Post Parade Field at Fort Bragg, the monument tucked away in a tranquil setting proudly stands to commemorate those soldiers killed in the 9/11 attacks and the sacrifice of over 5,500 service members who have died while fighting the wars in Iraq and Afghanistan.
The $140,000 project was taken on by Lt. Gen. Frank G. Helmick, commanding general of Fort Bragg and the XVIII Airborne Corps, along with other Army and civilian leaders. The monument was dedicated in 2010.
The stone came from Curahee Mountain in Georgia, the site of Camp Toccoa, a World War II-era paratrooper training ground. The fire bowl is cast from steel salvaged from the wreckage of the World Trade Center after the terrorist attacks on the buildings on Sept. 11, 2001.
Today our community did not forget.
fayetteville
around town
around town with kelly
9/11
online extras
fort bragg