CityFit: Zumba with CoCo at J's Fit Factory

09/16/2013 11:00AM ● Published by Miriam Landru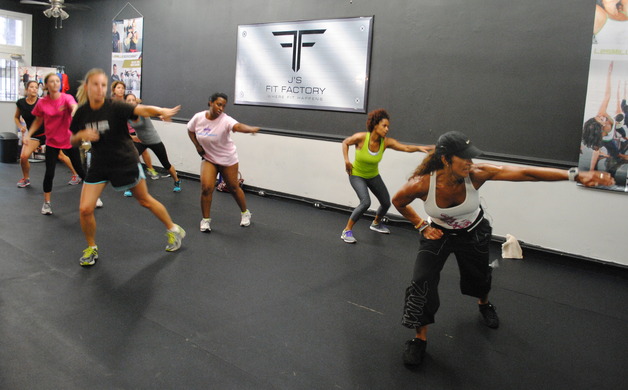 CoCo leads the Zumba class through a dance at J's Fit Factory
Gallery: Zumba at J's Fit Factory [0 Images] Click any image to expand.
The Latin dance-based work out fitness fiends all know and love was created in the 1990s by Columbian dance and choreographer Alberto Perez.
Another Colombian is bringing the heat to your Zumba workout here in Fayetteville.
CoCo Ramirez has been practicing the sport of weight training for over 30 years. In recent years, she is competing in the figure division of body building competitions. (Figure is a style between bikini and traditional female bodybuilding.) She is a national level competitor and most recent accomplishment was 6th place at the NPC Nationals in Pittsburgh.
CoCo began teaching Zumba in Colombia, but prior to the late 1990s it was known as "Rumba." She said, "A lot of people used to learn to dance from our classes!"
Zumba classes are great for every fitness level. I have been taking Zumba for several years now and credit it to be a great cardio workout. It's so fun just to dance and burn off the calories! A typical Zumba class is an hour long and burns 500-1,000 calories!
CoCo is a natural athlete and motivator, bringing enthusiasm to her Zumba classes at the Fit Factory. I was only there to take photos and ended up kicking off my heels and "cha-cha-cha'ing" in my skinny jeans!
A true fitness professional, she teaches "Muscles Class" at the Towle Gym on Fort Bragg every Monday at 4:45 p.m.
CoCo's Zumba class is held at J's Fit Factory on Anderson Street in downtown Fayetteville on Tuesdays at 5:30 p.m. and Saturdays at 9:30 a.m.
For more information and changing class schedules visit www.jsfitfactory.com

In her spare time CoCo also promotes and plans 5K races. For more information, click here: http://www.cincodemayo10k.org/NPC_Coco.php
exercise
dance
cityview
around town
around town with miriam
fitness
cityfit
zumba
j's fit factory
coco ramirez
hispanic heritage month
workout
cityviewnc