Around Town with KELLY

09/25/2013 03:00PM ● Published by Ashlee Cleveland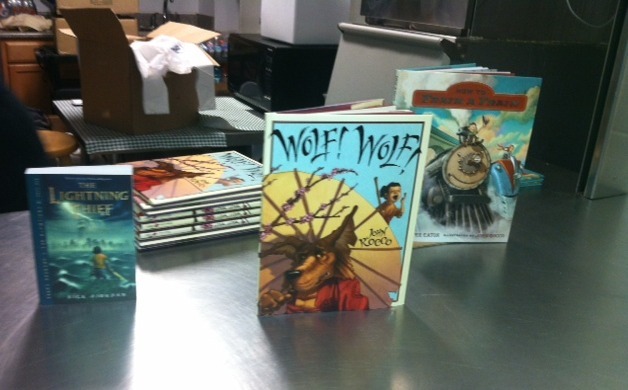 Gallery: Fay Academy [2 Images] Click any image to expand.
By Kelly Twedell

Renowned book cover illustrator John Rocco visited Fayetteville Academy on Monday night, Sept. 23 to share a bit about himself and how a book gets an eye-catching cover.
Rocco is most recognized for his the Percy Jackson book series, but he has also provided his artistic endeavors for Dreamworks "Shrek", and his own 2012 Caldecott honor award book "Blackout".
Fans lined up to have books signed and purchased copies of his latest book to be released this week with author Jason Center Eaton, "How to Train a Train".
Considering his success in the business, Rocco is a humble artist and had the crowd laughing as he told about his career exploits that led him to where he is at today.
Talking about "The Lightening Thief", the first book in the best-selling series, Rocco shared that he had agreed to illustrate the book jacket with confidence, admitting to the audience that he had never done it before in his life. After reading the book he got excited and had a vision for the cover.
"I saw this demi-God kid, stuck in a bad situation between two adults who were fighting about a lightening bolt," shared Rocco describing the scene in his head. "When you are a kid and are stuck between arguing adults, you feel pretty alone, and that's how I wanted it to feel."
Rocco's fresh perspective on the cover design ended with his final drawings, painting and graphics before landing on bookstore shelves selling over 300,000 copies in the first month. Its success turned the series around landing him the illustration job for the subsequent series.
Fayetteville Academy's Headmaster Ray Quesnel arranged the special visit with the illustrator thanks to his lifelong connection with his childhood friend from Barrington, Rhode Island.
Read more about John Rocco and what inspires and learn who his favorite superhero was as a kid in our next issue of CityView Family.
around town
around town with kelly
fayetteville academy
john rocco