CitySounds: Get AMP'd at the Bulldog Bash Tonight

09/27/2013 11:59AM ● Published by Miriam Landru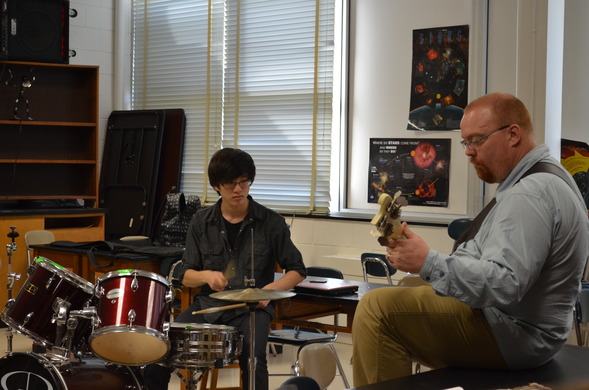 Jeonghun Lee fills in on the drums, while Mr. Brian Thompson strums the guitar
Terry Sanford High School is throwing a Fourth Friday TONIGHT party to celebrate their centennial!
Fayetteville Transportation Museum will host the "Bulldog Birthday Bash" this evening, which also includes an exhibit featuring memorabilia from the school's first 100 years.
Musical entertainment will be provided by the school's AMP (All Music People) Club, led by Physics teacher Brian Thompson and junior Johnny Nobles who is lead guitar.
Band members include Jeonghun Lee on the keyboard, Seth Moellmer on drums and Chantal Thomas provides vocals. AMP starts playing at 6:30 p.m.
SET LIST:
"Rock n' Roll"- Led Zeppelin
"Message in a Bottle"- The Police
"Gravity"- John Mayer
"Black Magic Woman"- Santana
Check them out tonight at the Fayetteville Transportation Museum and party with the Bulldogs!
All ages are welcome to this free event.
around town
around town with miriam
amp
terry sanford high school
terry sanford centennial
fourth friday
all music people club
fayetteville transportation museum