Business: Wine Not Paint a Masterpiece?

09/30/2013 08:30PM ● Published by Ashlee Cleveland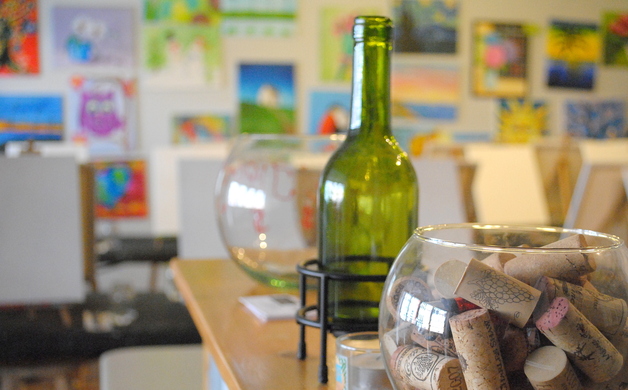 Gallery: Wine, Paint [7 Images] Click any image to expand.
After a long and busy week at the office, the last thing we want to do is think. It is this drained creativity and motivation from overwork that changes the common phrase, "Thank goodness it is Friday!" To, less excitedly, "Now what should we do?"
There is always dinner and a movie, which has become the standard date night go-to. It is  enjoyable, and it requires minimal thinking beyond choosing the show, the time and answering the question, "Did you save any room for dessert?"
For those hoping to break away from the typical, however, there is an exciting new trend emerging in Fayetteville that can be a creative and social alternative. Many couples, coworkers and groups of friends are picking up their favorite bubbly and a paintbrush and making a piece of art.
"We get a lot of first dates in here. It isn't as threatening as meeting at the bar, but you get to drink some wine to loosen up," said Beth Bradford, owner of Wine, Paint & Canvas.
There are two different wine and paint locations in the Fayetteville area: Wine & Design located in downtown Fayetteville and Wine, Paint & Canvas in Millstone Towne Centre. Each offer all the painting supplies and instruction needed to lead you from a blank canvas to a frame-able, hang-able, dare I say, masterpiece?
"Regulars tell us about the gallery of [their] paintings they have displayed on their wall," Beth, said with a smile and a laugh. When you walk in, the environment is colorful, fun and full of laughter and music—sometimes people are singing.
Each visitor puts on an apron, sits down to a prepared palette and white canvas and follows along as a qualified instructor leads them carefully through each step of the way. The instructor jokingly begins by warning guests to put their wine and their water, for rinsing brushes, in two very different places. People enjoy being able to sip wine and paint along in a friendly environment.
"Initially we were a little concerned about people having too much to drink," explained Crystal Roberts, co-owner of the Wine & Design in Fayetteville, "But people have been very responsible and either drink one glass or bring a designated driver. Most people tend to drink a lot less because they are so focused on their painting."
Both companies were created in North Carolina. Wine, Paint & Canvas has two locations: one in Hope Mills and one in Cameron. Wine & Design first started in Raleigh and has since added over 25 other locations—including the one in downtown Fayetteville.
"The customers are as diverse as the community," said Crystal, "Anyone can have fun, guys or girls…It really brings out their creative sides."
Both locations also feature programs and classes for kids throughout the year; they get all the fun and education—the whole experience—sans the alcohol.
"Parents are trying to expose them to it [art]," said Crystal, "We just don't have art in school curriculums anymore."
Business owners, Crystal and Beth, hope each person has fun and leaves with improved technique, an appreciation for the arts and something to hang on their wall and cherish. "Dinner and a movie is dinner and a movie, this is an experience." Beth continued, "That you share not just with the person [or people] you brought, but with everyone in the class."
In order to sign up for a class go online, choose a location, painting and date and pay. Oh, and don't forget to bring some wine!
Wine & Design, Fayetteville:
Website:
www.wineanddesignus.com/location/
fayetteville-nc/home
Phone: 910.483.0433
Address: 113 Donaldson Street in Fayetteville
Wine, Paint & Canvas:
Website:
www.winepaintcanvas.com
Number: 910.223.0589
Address: 3350 Footbridge Lane in Hope Mills
cityview online extras
wine
paint