Decision 2013: The Mayoral Election

11/04/2013 11:51PM ● Published by Miriam Landru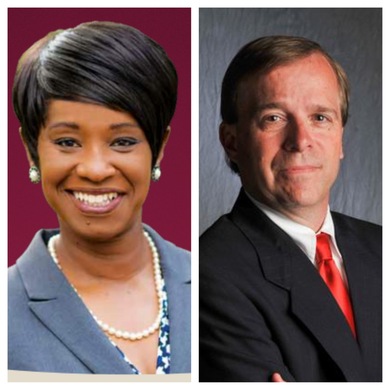 Decision 2013: Applewhite vs. Robertson
Current city councilwoman Val Applewhite and former city councilman Nat Robertson go head to head tomorrow in Fayetteville's mayoral election.
Neither candidate is a Fayetteville native, but it's become their permanent home,. Each are raising children, building relationships and having successful careers in the All America City. Applewhite hails from Harlem, New York and moved here when she was in the Air Force. Robertson moved to the city during his adolescent years and is a graduate of E.E. Smith High School and Elon University.
I sat down with both candidates last week for a short Q & A session. Both bring leadership and are equipped with the vital skillsets needed to run for public office.
Intelligence and experience are just two of the many key qualities both candidates possess.
When were you elected to the city council? What is your platform and what made you inspired and made you want to start your political career?
Robertson: The first time I was elected was in 1989. I was the youngest city councilman ever elected in Fayetteville. I was 26-years-old. My platform has always been pro-business. If we can fix the economic situation we are in, we will have less crime and more development. It will all just take off from there.
Applewhite: When I got back (to Fayetteville), things hadn't changed much. It could be better. So, with no experience, I ran for office. When you see an opportunity to make things better… you just do it. Instinctively.
What strides will you make as Fayetteville's next mayor?
Robertson: There are many things that plague the community and if you combine all of those it all comes down to what our quality of life is. We must improve our quality of life. Our biggest issues are crime and economic development. If you fix the economic development, you'll fix the crime.
Applewhite: While on the council, I've made progress in improving Fayetteville's mass transit. Any community of choice has great transit. We have always had a diverse population- partly because of the military. I believe in engaging the military community at Fort Bragg more into our own.
What is one positive thing you can say about your opponent?
Robertson: Val is very passionate on her vision that she has for the city.
Applewhite: Nat has a willingness to serve the community. That is always a positive attribute.
For more information on the candidates visit www.valapplewhite.com and www.natrobertson.com. 
fayetteville
around town
around town with miriam
local government
nat robertson
val applewhite
politics