January/February CityView

01/04/2014 05:53PM ● Published by Ashlee Cleveland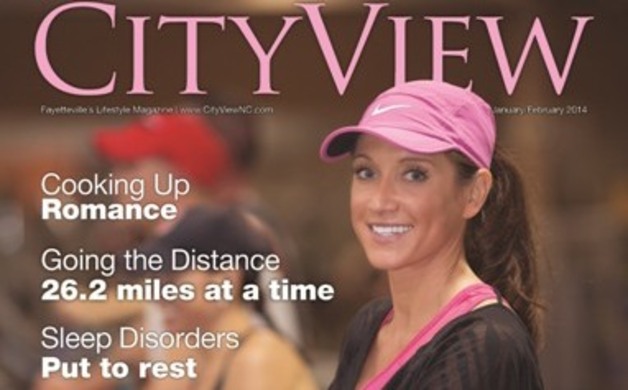 Editor's Corner

Kelly Twedell: This month's issue is themed Health and Fitness. January. It's naturally a time to evaluate your overall fitness goals in the New Year. I readily admit that I do not
take running too seriously, but I enjoy it. Besides time to myself, it allows me to indulge in dark chocolate and other goodies. I'm a fair weather runner, but I've
made myself get out in the rain and the cold lately. Much to my surprise, I did not melt. I did not get sick. And after the heat and humidity of summer runs, I kind of liked it.
In this issue we hear from serious runners. On page 44 meet a woman who runs the country.
Not in the political realm, but literally speaking, logging 55 miles a week. My pastor, an avid runner and triathlete, Michael Fletcher, addresses how he incorporates running and
fitness into his family's lifestyle. Fayetteville has a very active running community, made of both die-hard and recreational runners. UltraRunning magazine named Fort Bragg's
very own, Master Sgt. Mike Morton the ultra marathon runner of the year in 2012. Morton represents the U.S. Army Special Operations Command and won the 135-mile Badwater
race across Death Valley in July 2012, along with setting records at both the Umstead 100-Mile Race and the KEYS 100-Mile Race in Florida. The year culminated when he won his
24-Hour Championship at Katowice, Poland setting an American record with his 172.457 miles. In 2012 there were 717 ultra marathon races held in North America. Check out
more running stories on our website and meet one local woman who is training up to tackle the 100-Mile Umstead Race again this March. CityView is proud to claim Terry Sanford's Cross Country Coach as one of our own.
Longtime running enthusiast Al Munoz can be seen running along Morganton Road at a brisk pace, everyday. His passion for running spans to local students as he coaches them on to greatness, like Terry
Sanford's Phillip Hall, who won the state's 3-A Cross Country title. Al's kind heart and encouragement combined with his knowledge of the mechanics of running make him a success and a treasure in
the Cross Country running community.

Miriam Landru: 2013 was quite the year. And it's the year that led us to Fort Bragg and Fayetteville. Though I was a little hesitant about the move, time and time again I have reiterated
to friends and family my love for this city. And there is a flourishing fitness community here in Fayetteville 2013 was also the year I began my most grueling fitness journey to date. I decided to start
participating in National Physique Committee (NPC) competitions. The majority of my time spent away from work and home…was in the gym. It was a complete lifestyle change from diet
to exercise (pumping iron was the name of the game). I credit the many gyms here to reaching out to the community and helping those in their own fitness journey. Some of those include
our own advertisers, NUCO, Omni and The Fitness Studio Downtown. I credit my husband Casey, trainers Rickie and Francis, the J's Fit Factory team and the numerous friends who
lifted weights, drank protein and walked on a high incline beside me. In this issue, as Kelly mentioned, we take on the topic of marathon running. Marathons can go much further than 26.2 miles.
Speaking of longevity, in the spirit of Valentine's we feature couples that have had longlasting, fulfilling and happy marriages of 30 years or more. It's a pictorial feature by our own
talented photographer, Anna Lester.
Looking for love and a recipe to complete to seal the deal? We are also featuring our city's most professional singles and two couples who heat things up in the kitchen…culinarily
speaking.
Here at CityView, we hope you enjoy this issue and your start to 2014.
Happy New Year!

Publisher's Note:

Marshall Waren: Fayettenam No More We have all heard it, that insulting word, "Fayettenam." I got into a very upsetting discussion with a stranger on a ski lift in Colorado
about 10 years ago. He asked me where I was from and then he went into this harangue about my city, Fayetteville, North Carolina, declaring it "Fayettenam." I replied, "We don't like that reference
because it is not true anymore." I asked him when he was last in Fayetteville and he said…"1977."
After I explained what has taken place here since the early 1970's, he was a bit embarrassed. Needless to say, he couldn't wait to get off that ski lift!
Fayetteville has dramatically improved since the "heyday" of Hay Street. There were a lot of small steps taken. First was the beautification of 100 block of Hay Street, led by
then Mayor Bill Hurley. However, the most dramatic change was the building of the Airborne Special Operations Museum in downtown Fayetteville and the investment by
Ralph Huff and company with a substantial condominium project. I remember that day years ago when then Major J.L. Dawkins presided over a ceremony with a crane and wrecking ball to start the destruction of the 500 block of Hay so
the construction of the museum could take place. I was standing with my friend, George Breece, and I remember what he forecasted, "This is the beginning of something great.
I'm not sure how, but it feels like it."
How prophetic were his words. Downtown Fayetteville used to be a joke. Now, it is a treasure. People from out of town mention to me all the time how surprised they are with the metamorphic changes
in our city. We as a people should be sure to publicize and talk about all the changes and forever get rid of the name "Fayettenam." We are going into 2014 with a new Mayor and a new City Council. I was most impressed
that a large majority of the city council thanked God and Jesus Christ at the administering of the Oath of Office at Fayetteville State University on December 2. We
can pray they will all remember their words if the bickering starts. Let's all support them as they move our great city forward in a positive fashion.
In our first issue of the New Year we are celebrating some longtime marriages in a pictorial. These are marriages (including my own) that have lasted over 30 years, which
in this day of high divorce rates is quite a feat.
Speaking of feats how about all the recent street paving? I will not name all the streets but Ft. Bragg Road, Morganton Road and Rowan Street are those with major
improvements.
Happy New Year and a special thank you to Tony Chavonne for his great leadership these past eight years as mayor.
By the way, Tony was on the cover of CityView's first magazine in 2006.


cityview
in print