Meet Mayor Nat Robertson

01/13/2014 02:54PM ● Published by Miriam Landru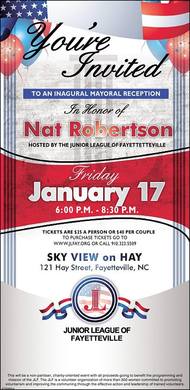 Meet The Mayor
The whole community is invited to an inaugural reception honoring Mayor Nat Robertson at SkyView on Hay this Friday evening, January 17th from 6:00 p.m. to 8:00 p.m. The event is hosted by the Junior League of Fayetteville.
Tickets are $25 per person or $40 per couple. Tickets are available for purchase at
www.jlfay.org
 or by calling 910.323.5509.
Join us and meet the mayor!
around town
around town with miriam
nat robertson
junior league
mayor nat robertson
junior league of fayetteville