New York Fashion Week: My Experience and MORE

02/12/2014 11:29AM ● Published by Ashlee Cleveland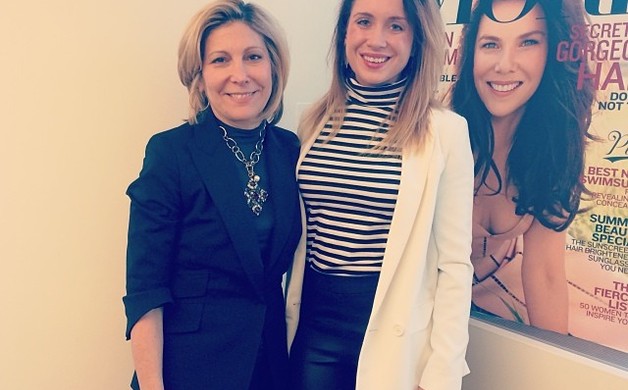 Lesley Jane Seymour, Editor-in-Chief of More Magazine and Miriam Landru, Associate Editor of CityView
You can't just 
go 
to New York Fashion Week. You can't just walk into a venue and buy a ticket to see the Chanel show. 
It simply doesn't work that way. There are lists, there are press passes, there are fashion bloggers, there are Vogue contributors... all whose credentials have more precedence over the average joe (or jane). 
You want to know how I saw the Tibi show? 
I worked it.
Luckily for me, a very close friend of mine works for the label and we had been talking about this for months. 
Thanks to my pink wristband, I was whisked backstage and stood around for over an hour. My friend, who happens to be extremely fashionable and has been featured on popular website
www.refinery29.com
 in their Shop Girl Style section and may even be a celebrity in Korea (she was attacked once by their paparazzi), was interviewed by an Italian magazine for her unique style. 
The Italian reporter loved my shoes.
After a few more minutes of standing around, watching the make-up and hair teams in action (expect wavy/straight hair, thick brows and dark lips to be big in Fall 2014), we were finally told to go downstairs so we could finally start working.
My job was to bring up VIPs and seat them at the show. They were all "front row girls." I escorted Hannalei Mustaparta, a fashion blogger, Vogue contributor and former model as well as the lovely Jane Aldridge, fashion blogger of
www.seaofshoes.com
. 
Then... the show started. It was only about 10-minutes long, but boy was it beautiful! Seeing it all come into play from the backstage to the runway... the whole project complete, was amazing. 
Along with the dark lip/big brow game the models had going on, expect structured hats (they kinda looked like pilgrim hats) and drapey shapes to be a thing for Fall. Of course black was big, but there was a lot of grey and cornflower blue with an splash of red that was seen in an oversized sweater dress.
Tibi rules as the epitome of downtown cool. Check out the YouTube link for snippets from the show compiled by Elle Magazine.
After the show, my friend and I grabbed some grub at Lower East Side haunt "Spitzer's" (hopefully not named for the former New York governor). And not only was the fashion during NYFW to die for, the food is to die for EVERY week in New York! And for as much as New Yorkers pay in rent, dining out is actually pretty affordable.
My favorites:
Calexico, Brooklyn (Quesadilla with their notorious "crack" sauce)
Rotisserie Georgette, Madison & 5th (Lamb Sausage Salad with Artichoke)
Boulton & Watt, Lower East Side (Apple & Quinoa Salad)
The Marshal, Hell's Kitchen (Truffle Mac & Cheese, Maple French Toast stuffed with Apples)
Spitzer's, Lower East Side (Pork Belly with Kale and Potatoes & Roasted Cauliflower)
This trip wasn't just about dining and fashion to me. 
I visited the Meredith Corporation, a publishing house that credits Fitness Magazine, Parents and  More Magazine as just a few of their publications.
I had the wonderful opportunity to chat with Lesley Jane Seymour, editor-in-chief of More Magazine about the changes and shifts in the industry. She gave some wonderful insight to the evolution of the magazine. She has some North Carolina ties as a graduate of Duke University.
On my last leg of the trip, I spent the afternoon at the headquarters of the New York Junior League, learned about the history of the League and toured The Astor House. A special thank you goes out to Flora Rodriguez, their archivist, for arranging this neat experience!
My two prior trips to New York were all about Midtown, Times Square and Central Park. On YOUR next trip to the city, color outside the lines! Visit boroughs and neighborhoods you may not normally venture out to for some real, local flavor.
around town
around town with miriam
nyfw
new york fashion week
tibi
more magazine
lower east side
new york
new yorker
brooklyn