Renaissance Man

04/07/2014 01:13PM ● Published by Annette Winter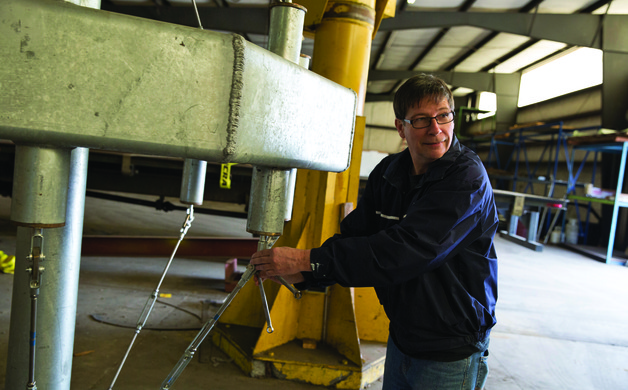 By Miriam Landru
While many know David McCune as being the brains behind McCune Technology and Fayetteville Steel, some also know him as a gifted artist in more than one medium.
After McCune's initial success inventing and fabricating the automobile rear window louver on sports cars in the 1970s and 80s, he went to Methodist University and studied art under Silvana Foti.
Perhaps the medium McCune is best known in is steel sculpture. One can find his sculptures around town from the MedOne building on Owen Drive to the "Arsenal" on Hay Street. 
Notably, his favorite sculpture is at MedOne and is titled "Community." It features three big spirals, representing education, government and business with a medical symbol on top. "It represents how they all work together in the community," McCune said.
He also dabbles in the music world. This year, McCune has invented a sleek, sustainable Cell Phone Boom Box which amplifies the sound of your smart phone to seven decibels.
At one time, McCune's steel works were featured in 27 galleries around the country. "Then the economy collapsed and for some reason people would rather buy food than art," he kidded. Currently, his work is found in 12 art galleries concentrated up and down the North Carolina, South Carolina and Georgia coasts.
In addition to his steel masterpieces, McCune is also a published writer. He has written a novel about his dog's adventures around downtown Fayetteville titled Rufus, a sci-fi thriller, The Edison Project and a memoir, Death, Divorce and Alzheimer's. Fun fact: Rufus has over 150,000 followers on Facebook. McCune has even written songs for country recording artists in Nashville.
"Over the years I have been described as a Renaissance man because I do so many different things," he said confidently.
In true Renaissance man fashion, McCune is also a big giver in the community. The David McCune International Art Gallery at Methodist University was created and funded by him. "I went to school at Methodist and that was one thing that was lacking when they built their new art facility, so that's what I invested in. It's just a wonderful thing for the community." 
In its fourth year, the gallery has exhibited a host of offerings, but none quite as well known as the current Picasso exhibit, which also serves as McCune's favorite. He also considers Picasso an inspiration. "He did it all," he said. Much like McCune.
When asked why he believes in giving and charity, McCune responded, "I have always been giving. This goes back to Christian values. I have had money come in and so I have given money back." The American Heart Association is using his talents. McCune is currently creating steel cut-outs of the red dress used in AHA's successful campaign, "Wear Red for Women."
And like a Renaissance man, he wants to keep learning and doing more. "I do a lot of different things…. I haven't really found my niche yet."
He paused, "But God is a good inspiration." 
ats