Commanding Chorus

04/07/2014 01:27PM ● Published by Annette Winter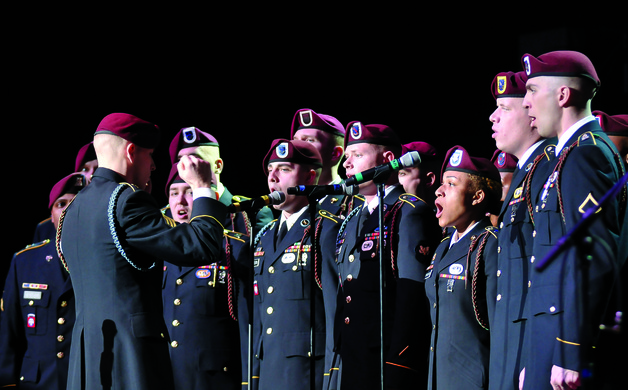 By Kelly Twedell
Fayetteville's Music Hall of Fame has just increased in talented artists after inducting Fort Bragg's lauded a capella group, the 82nd Airborne Division's All-American Chorus. This patriotic group of singing soldiers joined the ranks of other musicians, formed by the Community Concerts of Fayetteville.
At February's ceremony at The Crown Theater, the Secretary of the Army's senior civilian aide gave high remarks to the music makers. 
"They are probably the finest ambassadors for this city, this region, this base, this division and this army that we could ever enlist," Tomm Bolton said. "I don't think they've ever met someone they couldn't easily inspire with a renewed sense of patriotism and pride."
Comprised of 23 talented vocalists, the traveling troupe of musicians is a local favorite. All serve in regular job details at Fort Bragg, where they also deploy and attend mandatory military training throughout the year. But make no mistake about it, their dedication and long rehearsal hours pay off when you hear them singing and performing their routine in unison. 
The prestige and honor that the songs convey as the soldiers sing, and to their fallen comrades as they perform at memorial services are most memorable.
Their smooth harmonic sound can be compared to that of a barbershop quartet. They sing patriotic hymns known by all but mix it up with classic tunes like 'Brown Eyed Girl' and 'Sweet Caroline' to get the crowds clapping and swaying along. Some songs like 'Don't Sit Under the Apple Tree' are a throwback to the earlier Army days.
Sgt. Evan Thomsen, the director of the group since 2012 shared a bit of what is behind their latest song, "Jeremiah Denton." Denton, a naval pilot, was a prisoner of war for eight years during the Vietnam War era and Thomsen explained his courageous feat while in captivity. It was through Denton's courage that our country first learned that our soldiers were being tortured after the P.O.W. exposed it during an interview through communicating the word 'torture' in morse code. 
"The people of the chorus is what makes us great," said Thomsen. "It's constantly being transformed with the influx of soldiers transitioning in and out and we're developing other assets. We have a very talented group, doing outstanding things."
The All-American Chorus has performed at football games, at numerous NASCAR events in our state, more military events than one can count, and they also traveled with the delegation to Kansas City in June 2011 to perform and 'wow' the judges where Fayetteville competed and won the All-America City Award.
From parachuting out of airplanes to singing in front of dignitaries, our community is proud to have the All-American Chorus representing Fort Bragg and Fayetteville.  
military