Fayetteville Flips Out

04/30/2014 02:47PM ● Published by Annette Winter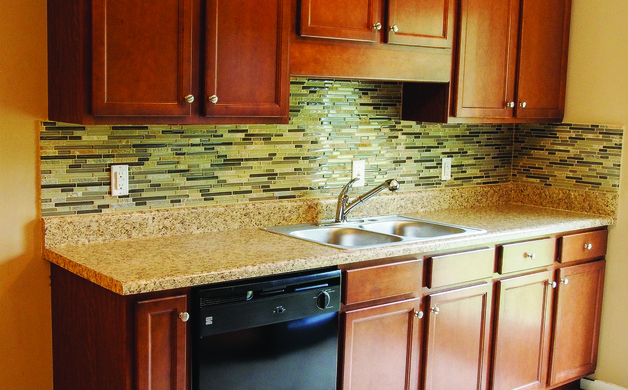 Rich Croegart moved to Cumberland County in 1979 for an opportunity with Black & Decker. In the 1980s, Croegart began buying homes and renovating them for potential renters, thus creating a lucrative second income for the hard worker when the home appliance giant closed operations. "I saw the writing on the wall that they weren't going to be around much longer and I wasn't going to Mexico or China!" joked Croegart. "So then I began buying more homes, more apartment complexes and settled here."
The Illinois transplant married a local girl and settled in the Jack Britt area. Local real estate company owner and agent Ken Lancaster serves as a role model and mentor, while his wife Carolyn is always there to lend her opinions regarding what colors and design he should implement while renovating the out-of-date homes. "I got into this business all thanks to Ken," Croegart confirmed. "Carolyn comes to me with ideas. They're my second family."
Although Croegart has been in the business for over 30 years, he only truly started "flipping to sell" last year and has three homes under his tool belt. "Before then, I was only buying…and keeping (to rent)," he said while chuckling.
Ben Stout, journeyed to Fayetteville in early 2003, directly following his graduation from The University of Georgia. His uncle had a construction business in town and two years later, Stout began flipping homes. "I did not have as much construction experience as I do now. It was a wing and a prayer. I found the crew. Made it happen. Sold it quick. Then, I got the bug," said Stout. He started selling the flipped homes under his own license with ERA Strother. However, when the balancing act of staying on top of real estate laws and handling construction became difficult, he enlisted a trusted friend to help in the process. "Scott Hardin from Remax handles everything I do. He is just as excited about selling the houses as I am."
Find It
Both Croegart and Stout agree that a home with good bones and a solid foundation is the best house to flip. "If everything is good structurally and the mechanics are good, you'll have a house ready to pick," said Croegart. Stout added, "I am trying to buy everything I can get my hands on that's right. I want to find the best product."
Cliffdale Road is the region of choice for Stout's operation. He primarily markets homes to the military population, and the well-traveled road's location in the western part of the county is close to Fort Bragg and Pope. The neighborhoods also feature well-built homes with one to two car garages. "You can sell these at a great price. It's hard to sell a house without a garage in this market," Stout maintained.
Since Croegart has only truly "flipped homes" in the last year, he is not focused on any particular part of town. "I've worked on homes in Haymount, Briarwood and currently Ashton Forest off Hope Mills Road."
Fix It
Both gentlemen are actively engaged in the flipping process, but because Croegart manages residential properties and Stout has other projects going on like commercial renovations, some of the work like flooring and painting is completed by their respective crews. "My volume has grown. So I have to have crews I can call," said Stout. Croegart relies on a husband and wife team to paint the interior and exterior and believes in giving local people the work. He explained, "I do all the finishing details. I put up the blinds, choose colors for the walls."
Croegart and Stout are avid fans of home improvement shows for entertainment, but also to learn what current trends are in décor. Stout and his crew "stage" the homes. Usually, because he sells to predominantly military, the buyers will keep the mirrors and other home accessories used in staging, making the transition easier. He explained, "They just need to back their U-Haul in and move the furniture inside. They're keeping the mirrors, the stuff in the kid's room. I offer a complete package." Stout continued, "I would say that I love the design aspect. Building products and the industry are constantly evolving. Design trends change. Like it was the dark cabinets, now it's the white. Chrome is coming back. I like to keep my finger on the pulse."
At times it can be extremely challenging to do what needs to be done to a home for it to be ready to sell. For example, Croegart's first house flip was in Haymount and belonged to a smoker of 60 years. "That house was brown, from the inside and out. And now, you would never know," he said while smiling proudly.
Flip It
Stout's goal is to sell as many homes as possible, but he is still aware of real estate's realities. "There are ebbs and flows in the market. There can be a huge demand, but with no supply. No demand, but a bunch of houses on the ground. My optimal would be to flip and sell 20 to 25 houses a year," he said confidently. 
Stout has flipped and successfully sold nearly 100 homes in the last decade. And while Croegart is new to house flipping he "loves the transformation and providing a great product." Both men have sold the homes fast, usually in a month.
Stout is most proud of beautifying and making a great impact in the housing community. "It's rewarding seeing an ugly duckling turn into a swan…seeing neighbors come up to you and say, 'Thank you this place has been run down for years.' Then six months later driving by and see the new homeowners enjoying it," stated Stout.
On a final note, the ambitious real estate investor said, "I can drive through almost every neighborhood in Cumberland County and see a home we flipped. It's pretty neat to go to all those different areas knowing that you took something that looked pretty shabby and made it beautiful. I enjoy leaving a footprint in Fayetteville that's positive." 
house flipping feature