A Waccamaw Welcome

07/01/2014 10:21AM ● Published by Annette Winter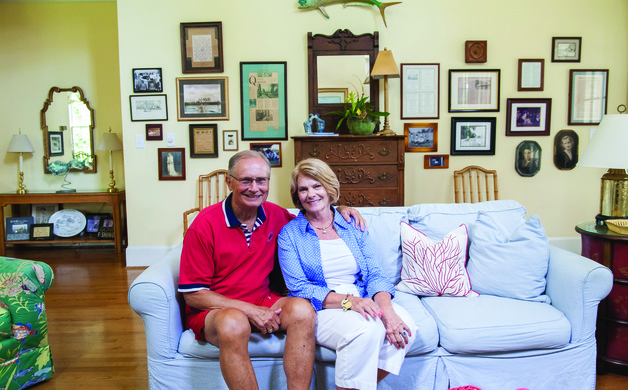 Gallery: A Waccamaw Welcome [6 Images] Click any image to expand.
At first glance, the lake home of Ken and Carolyn Lancaster looks as if it belongs in Islamorada. However the only thing Lake Waccamaw has in common with the Florida Keys may be the abundance of alligators! But don't let that lead you to believe that you have to be a regular "Crocodile Dundee" to brave the rural, yet beautiful area. 
Once you find yourself opening the cornflower blue door to the Lancaster home, you have (safely) stepped inside an oasis perfectly suited for their large, loving family, fusing together tradition and good times…past and present. The walls in the front room are lined with antique portraits and drawings dating back to 1886, when Carolyn's ancestors, the Council family, pioneered the Lake Waccamaw wilderness. In the middle of this "gallery wall," is an antique mirror and chest, relics from Council Tool Company's founding days. There is artwork on the half bathroom wall and on the kitchen table by Wilmington-based artist, Don Craddock, inspired by the Waccamaw nature. Immediately, one feels at home and almost as if they are a part of the family as well. You are ready to relax.
Carolyn's family founded and has maintained the Lake Waccamaw area in Columbus County for the past four generations. In 1905, her great-grandfather resurrected a grand home where their current abode, built in 1998, now stands. 
Though the interior of the home is cozy, there is also plenty of space for outdoor living. Two porches (one of which is the quintessential Southern screen style) two balconies and an extra long pier with plenty of seating space (and hammocks) are perfect for sipping some sweet tea on a warm Waccamaw day. And you're in luck, Carolyn's recipe puts Southern Living's best to shame. 
The interior space is open so Carolyn can keep an eye on things from her kitchen perch. Ken and Carolyn, who have been married 47 years, didn't have any directions for the architect from Step One Designs in Pinehurst. "The only thing we asked the architect is that we wanted to walk in the front door and see the lake! And he just took it from there," said Ken. Carolyn added, "I didn't want to be cooped up in the kitchen. I want to see everyone in the house and know everything that's going on!" And that means keeping watch over their four children, their spouses and seven grandchildren ranging in ages from eight to 16.
The genial couple are junior high school sweethearts and Fayetteville natives. Just as Carolyn's family has roots in Lake Waccamaw, so does their relationship. "The first time I ever met Carolyn's mother was on a day trip here in the late 1950's," recalled Ken. Carolyn continued, "Every summer we would come here. On the last day of school every year, my mother would pick us up and take us straight to the lake."  Ken joked, "She left me high and dry!"
The six bedroom, seven bathroom three-story home sleeps between 16-24 comfortably. The bedrooms are decorated colorfully and are definitely summer-inspired. On the third floor is where most of the grandchildren sleep. The family jokingly calls it the "dormitory" as the beds are all neatly lined up. 
Though Lake Waccamaw is certainly off the beaten path, the comforts of home are to be had to keep everyone entertained and in touch with everyone back in Fayetteville… Wi-Fi and DirecTV are available. This was not the case during the long summers in the early years of Ken and Carolyn's courtship. "I would write her letters." Ken described, "The letters were sent in a leather bag and a man caught the bag as the train went to Wilmington and then delivered the letters to her. That's how we communicated." Carolyn chimed in, "Our children just can't believe that's how we communicated!"
The Lancaster family enjoys spending long, comfortable weekends at the largest natural lake in North Carolina. But on Friday nights, it's not all peace and quiet. Ken and Carolyn explained that their social life is hopping. "Socially there's just so much to do. Every Friday night, we have a 'covered dish cocktail' at this famous pier across the lake." The pier is at the property of 95-year-old Johnny McNeill and is lined with an abundance of flowers. It has been featured in Our State magazine. The family also enjoys sampling the local flavors at restaurants like Dale's Seafood and Lake Cove Grill, which is adjacent to a gun shop. 
The Lancaster's have had the gamut of second homes throughout the years, but feel truly "at home" at Lake Waccamaw with their children and beloved grandchildren. In an age where most children want to stay indoors in the summer and stay fixated on their electronic toys, this is not so at the 5-mile by 3-mile body of water. Carolyn said, "The great thing about the lake is that they really get out and play."
Just stay away from the alligators. 
lake waccamaw