Top 10 Apps

09/04/2014 11:17AM ● Published by Annette Winter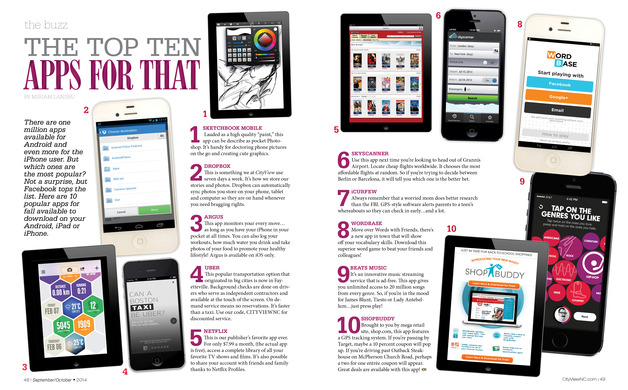 By Miriam Landru
1 Sketchbook Mobile
 Lauded as a high quality "paint," this app can be describe as pocket Photoshop. It's handy for doctoring phone pictures on the go and creating cute graphics.
2 Dropbox
This is something we at CityView use seven days a week. It's how we store our stories and photos. Dropbox can automatically sync photos you store on your phone, tablet and computer so they are on hand whenever you need bragging rights. 
3 Argus
This app monitors your every move…as long as you have your iPhone in your pocket at all times. You can also log your workouts, how much water you drink and take photos of your food to promote your healthy lifestyle! Argus is available on iOS only.
4 Uber
This popular transportation option that originated in big cities is now in Fayetteville. Background checks are done on drivers who serve as independent contractors and available at the touch of the screen. On demand service means no reservations. It's faster than a taxi. Use our code, CITYVIEWNC for discounted service.
5 Netflix
This is our publisher's favorite app ever. For only $7.99 a month, (the actual app is free), access a complete library of all your favorite TV shows and films. It's also possible to share your account with friends and family thanks to Netflix Profiles.
6 SkyScanner
Use this app next time you're looking to head out of Grannis Airport. Locate cheap flights worldwide. It chooses the most affordable flights at random. So if you're trying to decide between Berlin or Barcelona, it will tell you which one is the better bet.
7 iCurfew
Always remember that a worried mom does better research than the FBI. GPS-style software alerts parents to a teen's whereabouts so they can check in early…and a lot.
8 Wordbase
Move over Words with Friends, there's
a new app in town that will show off your vocabulary skills. Download this superior word game to beat your friends and colleagues!
9 Beats Music
It's an innovative music streaming service that is ad-free. This app gives you unlimited access to 20 million songs from every genre. So, if you're in the mood for James Blunt, Tiesto or Lady Antebellum…just press play! 
10 ShopBuddy 
Brought to you by mega retail site, shop.com, this app features a GPS tracking system. If you're passing by Target, maybe a 10 percent coupon will pop up. If you're driving past Outback Steakhouse on McPherson Church Road, perhaps a two for one entrée coupon will appear. Great deals are available with this app!