Cybersecurity is everyone's business

09/04/2014 11:57AM ● Published by Annette Winter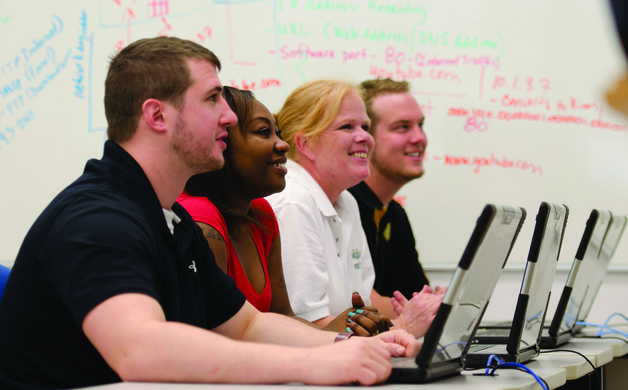 Gallery: Cybersecurity [4 Images] Click any image to expand.
By Kelly Twedell
As advancement in technology reshapes our lives, protecting our infrastructure, be it at home or work, from cyber threats is more important than ever. 
It is no surprise that criminal justice degree programs around the country have been wildly popular for undergrad students, but Methodist University is forging ahead and expanding their curriculum in the field through their Cyber Crimes program.
Methodist University began their classes in 2013 and is in the process of being fully developed. The program is funded by a three-year grant. Funds were used to provide new equipment and software enabling the students to simulate networks and then both attack and defend them.
Digital forensics and cybersecurity instructor Sabrina Koncaba hopes to expand the program to include hands-on internships for students through local businesses where they would provide assessments and consulting services in cyber security.
As technology advances, so do the crimes. "Our vision is to take a student who knows nothing and at the end they will have a well rounded view of digital forensics and cybersecurity," said the instructor. 
Koncaba further explained the intricacies of cyber crimes and how different attack vectors for a company or person can be infiltrated. To break it down, much like in movies or TV shows, the criminal will learn all about procedures, personnel, routines and then use the tech tools to run reconnaissance on their network to determine servers, open vulnerabilities and ultimately exploit them.
"People are the first line of defense," said Koncaba. "It's more than just using the technology and computers." 
From IT automated compliance to the digital evidence, it's all encompassing when solving a crime. 
What can students expect from the program? Methodist University offers a Master of Justice Administration and also an undergraduate degree in the justice studies department. Currently they offer seven courses expanding to a major in the near future. 
Justice study students this past year don't have computer skills, but they gain experience each year and the computer study students and justice study students blend in the classes. 
Student benefits of the program are designed for students to understand PC maintenance and repair, networking, setup firewall and detection systems – the computer techie stuff. The students will also be able to talk about equipment and how it will affect return on investment. 
Many corporations are adopting a "bring your own device" practice – a term used today for people to work more efficiently, but a company still needs to control and manage that since their intellectual property is being used. This is where students as interns could come in and weigh the benefits and risks to the corporation. The students will be able to analyze and consult businesses, educating them on the risks and provide viable solutions that can be put into place. 
Our community is ripe with opportunities through the Department of Defense for qualified individuals with the right combination of education and experience.
Koncaba urges employers to do their homework when hiring out. "Don't just go with certifications on paper, do a background check, a credit check, a medical record for medical debt verification – one could be susceptible for a bribe for bad behavior," she said. "Look at different factors. 1. Do a background check 2. Look at their education 3. Look at experience level of the candidate and have them do hands-on stuff – quiz them on the ports that need to be open for DNS work."
The instructor advised that while professional development classes are important and many are self-taught, make sure your candidate is worth what you are paying them to do.
Even the government has recognized the need to educate and train up more potential employees in the field. In 2013, President Obama signed the Cybersecurity Initiative, which aims to increase awareness and train more skilled workers while providing certification programs that are critical to protect our infrastructures. 
October 2014 marks the 11th Annual National Cybersecurity Awareness Month sponsored by the Department of Homeland Security in cooperation with the National Cyber Security Alliance and the Multi-State Information Sharing and Analysis Center. Do your part in protecting your assets and staying proactive while you stay connected to the Internet at home, work and for enjoyment. 
The Department of Homeland Security posted tips for citizens to follow to leverage practicing good cybersecurity practices:
Set strong passwords and don't share them with anyone.
Keep your operating system, browser and other critical software optimized by installing updates.
Maintain an open dialogue with your family, friends, and community about Internet safety.
Limit the amount of personal information you post online and use privacy settings to avoid sharing information widely.
Be cautious about what you receive or read online—if it sounds too good to be true, it probably is.
Some might think that information security is strictly for the government, but it applies to every industry. "Everyone has intellectual property to be protected – how are you going to do that?" said Koncaba rhetorically. "My vision is to have it change where it is for everybody and everybody needs to take responsibilty in securing their assets...whether it's a personal or professional level."
Hacked?
What should you do if you think you are attacked? Koncaba shared that while business differs than a person – they should figure out where the attack came from, what data was compromised and it could be tough to figure out. For some agencies a clue might be if an official was a victim of a cyber attack – he noticed his computer was running really slowly and he didn't know why – the hard drive kept spinning and when randomly searching, the attacker had copied all the documents then deleted the files. 
Figure out the compromise. Is information being monitored, stolen or is a competitor threatening to determine your trade secrets?
Contain the threat
Decide if you want to go to the authorities. Many don't because you can't quantify what it could do to your revenue or reputation. 
If you've ever been the recipient of identity theft, you are already aware of the damage that can be done by criminals without getting caught. Be safe and listen to the motto for the Department of Homeland Security: Stop. Think. Connect.